UK authorities reject vaccine blood clot fears
By JULIAN SHEA in London | China Daily Global | Updated: 2021-03-16 09:03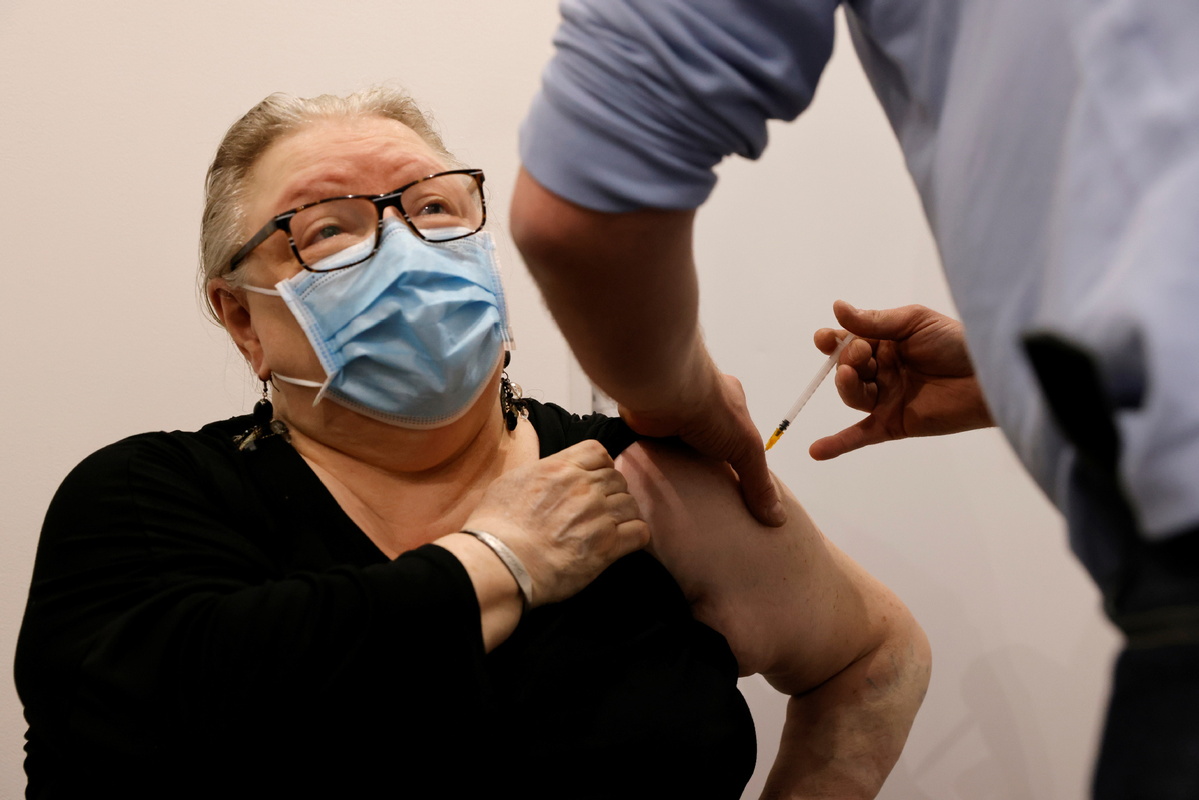 Reassurance follows several nations halting jabs amid talk of side effects
Leading scientists in the United Kingdom have urged people to continue receiving the AstraZeneca novel coronavirus vaccine despite the Netherlands becoming the eighth country to halt its use over concerns about recipients suffering blood clots, temporarily suspending its use until at least March 29.
The Republic of Ireland has also temporarily stopped using the vaccine, although the country's health minister said postponed appointments should hopefully all be rescheduled for later this month. In addition, Norway, Denmark, Norway, Bulgaria, Iceland, the Democratic Republic of Congo and Thailand have all stopped using the vaccine, and certain batches are not being used in Austria and Italy.
Phil Bryan, vaccines safety lead at the UK's Medicines and Healthcare products Regulatory Agency, said people "should still go and get their vaccine when asked to do so" because all available evidence suggested that there was no link between the vaccine and blood clots.
"Given the large number of doses administered, and the frequency at which blood clots can occur naturally, the evidence available does not suggest the vaccine is the cause," he said.
Anthony Harnden, vice-chairman of the UK's Joint Committee on Vaccination and Immunisation, told the BBC there was "no demonstrable difference" in blood clots numbers among those who had received the jab and the general population, and also said he would not be immunizing his patients if he had any worries about it.
"One ought to also remember that COVID causes blood clots. So, the risks of not having the vaccination far outweigh the risks from the vaccinations," he added, saying any genuine cause for concern would be made public straight away.
The head of the Oxford University vaccine group, Andrew Pollard, said that while it was, of course, proper for regulators to look at reports of blood clots among vaccine recipients, he was confident that data would show that there was no link between the clots and the vaccine, and that there are thousands of cases of blood clots each month caused by other factors.
"When you then put a vaccination campaign on top of that, clearly those blood clots still happen and you've got to then try and separate out whether, when they occur, they are at all related to the vaccine or not," he told BBC Radio 4's Today program.
Ireland temporarily halted use of the vaccine at the weekend after four recipients in Norway were hospitalized, but the country's health minister, Stephen Donnelly, said he hoped the 30,000 people scheduled to be given the AstraZeneca jab this week could be rescheduled "very, very quickly".
"So will everybody be done within the time left in March? I'd say pretty close, possibly, maybe there may be a bit of spill-over into April ... we should be able to reschedule then and in so doing not have to delay other people," he added.
AstraZeneca reports that, so far, around 17 million people in the European Union and the UK have received the vaccine, with fewer than 40 reported cases of blood clotting.
"A careful review of all available safety data of more than 17 million people vaccinated in the EU and UK with COVID-19 Vaccine AstraZeneca has shown no evidence of an increased risk of pulmonary embolism, deep vein thrombosis or thrombocytopenia, in any defined age group, gender, batch or in any particular country," said a statement from the company.
Both the World Health Organization, or WHO, and the European Medicines Agency, or EMA, have reiterated that there is no connection.
"It is normal for countries to signal potential adverse events," said a statement from the WHO to the Reuters news agency. "This does not mean that the events are linked to vaccination but it's good practice to investigate them."
The Netherlands government had pre-ordered 12 million doses of the AstraZeneca vaccine, with around 300,000 jabs scheduled in the next two weeks, but national drug watchdog Pharmacovigilance Centre Lareb said that 10 cases of possible adverse side effects had been reported in the Netherlands, in addition to reports from Denmark and Norway.
"We can't allow any doubts about the vaccine," said Health Minister Hugo de Jonge. "We have to make sure everything is right, so it is wise to pause for now," adding later that it should only hold things up for "no longer than a couple of weeks", and saying "we need vaccines to be able to put this nasty period behind us".
A 60-year-old woman in Denmark who had received the vaccine died following a blood clot, but the national medicines agency said she had several existing conditions relating to her blood, and the EMA said the initial warning sent out following her death was because of the "unusual course of illness" around how she died.
Denmark, Norway and Iceland have all suspended vaccinations while they investigate further.
"It is currently not possible to conclude whether there is a link," said Denmark's health minister, Magnus Heunicke, as he announced a two-week delay to the vaccination program. "We are acting early, it needs to be thoroughly investigated."
Geir Bukholm, a high-ranking official at Norway's Institute of Public Health, called the country's actions "a cautionary decision "and in Germany, the state leader of Bavaria, Markus Soeder, has called for more clarity from the health authorities about vaccine safety, saying that otherwise there could be "a problem with its acceptance".
"Is the vaccine good or bad?" he asked at a media conference. "We now need statements that this vaccine is effective and can work."