Cutting-edge technology deployed to decode relics' riddles
By Wang Kaihao | China Daily | Updated: 2021-03-25 08:03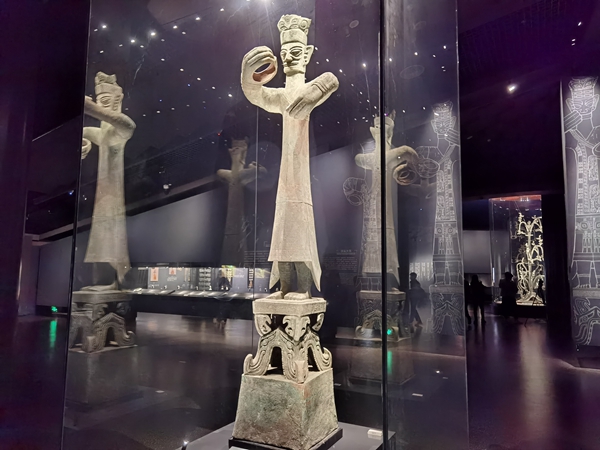 Anyone entering the archaeological site is required to wear a protective suit. No one is allowed to directly step on the surface of the excavation site to avoid any possible disturbance of the relics.
These are the strict rules governing the ongoing excavation of six freshly unearthed "sacrificial pits" that started in October at the Sanxingdui Ruins site in Guanghan, Sichuan province, which dates back more than three millennia.
Even for veteran archaeologist Chen Xiandan, 66, the experience of lying on an elevator to carefully approach the surface of the excavation site from above is new.
"This excavation may be a milestone in the history of Chinese archaeology in terms of new research methods and interdisciplinary studies," Chen says.
"It will greatly benefit our work on existing and future sites."
Chen is a former deputy director of Sichuan Provincial Cultural Relics and Archaeology Research Institute. He participated in the excavation of No 1 and 2 pits-presumably sacrificial in nature-in Sanxingdui in 1986, when over 1,000 artifacts were found, unveiling a brilliant bronze-civilization.
When recalling the excavation back then, Chen says he has regrets.
No 1 and 2 pits were accidentally found by farmers who had dug the soil there to make bricks.
Archaeologists had a race against time to rescue the relics from the pits within two months, and many artifacts were hastily processed.
Now, 3D printing technology is being used to make protective shields for the unearthed relics in the newly found pits.