The matchmaking game, through the eyes of a spectator
By ZHANG LEI | China Daily | Updated: 2021-03-27 10:01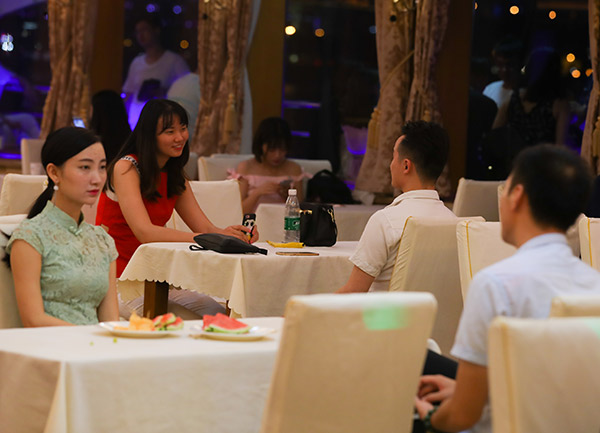 In a cafe in downtown Beijing, an event space hums with life at 7 pm, a soft blackish green sofa, coffee tables, bookshelves and guitars present a warm laid-back feel that contrasts with the chilly death throes of winter outside.
Men and women are pouring in from all corners of the city, taking off their coats and presenting their phones as identity to be allowed entry. Vivian Wang, 32, is one of the many here who frequent blind date parties, hoping to bid farewell to their single lives.
However, unlike many of the enthusiastic female newcomers who have turned up, Wang comes across as somehow detached, something that may even make others, particularly the men, think she is cold and standoffish. Even once proceedings have begun she continues to lounge back on a sofa sipping a cup of scented tea, giving an eight-minute talk session a miss. Later for most of the time she stands alone at a second-floor railing, content to be a spectator.
It is the third time that she has taken part in the 985 blind date event organized by an outfit called HIMMR (How I Met Mr Right) since 2018. Elsewhere she has taken part in no fewer than 20 meet-the-right-match events. She graduated from an Ivy League school in the United States, which secured her the entrance ticket to tonight's party. She earns 400,000 yuan a year and has a 100 square meter apartment in Beijing, she says, and gives her reasons for being single.
"I'm too picky, and I don't particularly expect to find my ideal partner in one of these high-end match makings. But if you treat things a bit lightly, it's a fun place to find like-minded people and cultivate business opportunities."
Although dating platforms such as Momo, Soul and Tinder have more users, HIMMR has a particular niche. More than 1,000 guests provide postings on its official account, and it says it has more than 100,000 certified members. The official account describes HIMMR as "authentic, high quality, and efficient". It has a matchmaking rate of up to 35 percent and can help everyone do the "right thing", says one of its two founders, Yue Liang (alias).
Many users of the dating agencies, such as Su Meixin, 29, of Beijing, say that anyone who can be admitted to a prestigious school is likely to be supremely confident, if not self-centered. A prestigious school is a label, and when someone connects with someone who is also a graduate from a prestigious school, the pair are less likely to belittle each other, they say. They can appreciate and respect each other, which, they say, is critical to establishing a healthy, intimate relationship.
These platform users are elites in the traditional sense. Most are aged between 26 and 32 with an annual income of between 200,000($31,000) and 1 million yuan. The aura of prestigious schools dazzles and attracts them, and to a certain extent anyone with those credentials is likely to be an ideal marriage partner.
Wang says she does not feel too anxious in part because of her economic independence and well-off family. The young women in these dating events seldom lower their standards, she says, but for the men ordinary undergraduates are acceptable if the woman is pretty enough.
When the subject is appearance, Wang's self-confidence seems to drop for a moment. What she considers her plain looks raise questions for her about the real motivation of those who are interested in her, she says.
"Men are visual, and I have to admit I always fret about their true intentions in my relationship. In this evenly matched love game, no one wants to look down on others. An unspoken consensus is that no one drags down the other in terms of social status. People in the blind date try to reconfirm or improve their competitive position in society through marriage and love."
Posting a dating profile on HIMMR's official account is called listing, the word itself provoking a backlash. Anyone who wishes to express their interest in the lister can reply by sending his or her own information.
Anyone who pays a fee for the gold matchmaker service receives help in detailing their most positive points. They can have materials selected for posting, have any text they submit improved, and have pictures selected and air bushed to present them in the best possible light. Women eligible for listing will have the same kinds of credentials as their male counterparts: intellectual parents, wealthy family, strict upbringing, many talents such as being able to play a musical instrument.
Behind the glittering academic qualifications and pride is corresponding contempt, reserved for project 211 graduates (a set of national key universities less prestigious than the 985 schools). The 211 students in turn sneer at those schooled in ordinary colleges. Those admitted to the 985 colleges for their master's or doctoral years are also regarded as inferior to those who hold undergraduate degree in 985 schools.
Wang Liang, who stopped blind dating a year ago, reckons that possessing advanced academic qualifications does not mean a person is endowed with high emotional intelligence and good character.
"In the torrent of these love shows, men and women talk about household registration, annual income, property, family background and hobbies. The one thing they refuse to talk about is love.
"I've met so many of them in these high-end dates, and not for an instant has my heart skipped a beat for anyone I've met. We don't seem to have the ability to love anyone anymore."
Guo Peihui of the University of Shanghai for Science and Technology, who has long experience as an emotional counselor, says the cramming prevalent in China's education system suppresses people's emotions. He has met many graduates from top universities, he says, and many have never liked others or known what romance is, even in their 30s.
"Love is often just like fireworks, a fleeting feeling at a specific time. The burst of this moment can ignite your inner peace. In fact, humans all pursue love and hope to be loved. It is just that people nowadays expect to be loved but don't want to offer love, because they don't want to be disappointed."