Tech makes things easier in northwest cotton fields
By MAO WEIHUA in Urumqi, QIU QUANLIN in Guangzhou,QIU QUANLIN and ZHOU HUIYING | China Daily | Updated: 2021-03-27 10:15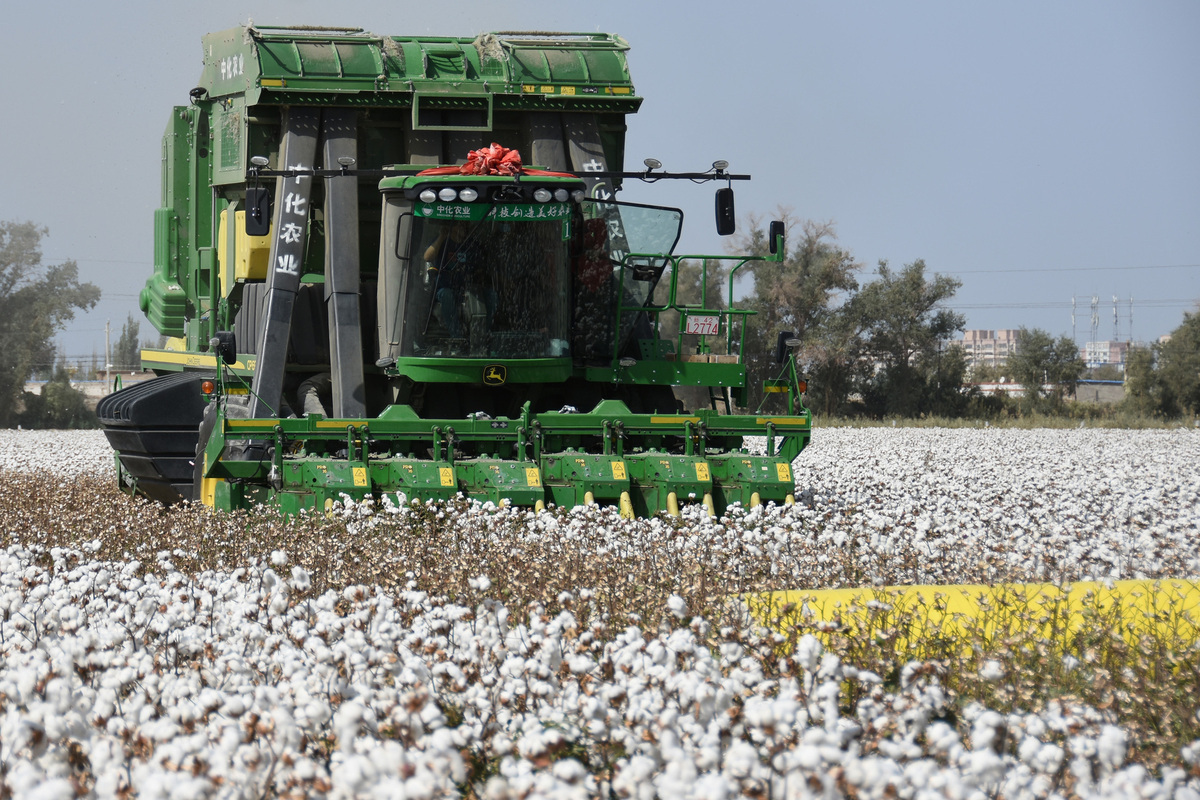 With spring temperatures on the rise, farmers in Kuqa, the Xinjiang Uygur autonomous region, are now busy planting more than 100,000 hectares of cotton.
Kuqa, a major cotton growing area in southern Xinjiang, saw cotton output of more than 550,000 metric tons in 2020, according to the local government.
Kurban Tohti, who rents 2,000 hectares of farmland at the High-standard Cotton Planting Base in the town of Yaka, is looking forward to another harvest with the help of advanced intelligent agricultural machinery and technologies.
At the base, 80 driverless tractors, 23 aerial drones and 60 traditional tractors spread fertilizers and spray herbicides and pesticides to increase efficiency and improve yields.
"The implementation of the nation's cotton price reform policy and rural revitalization strategy in recent years has greatly enhanced farmers' initiative and confidence. I had a good harvest on my 1,333 hectares of farmland, so I rented more this year," he said, adding that planting work was expected to be finished before April 5.
Planting in Yaka began earlier than other nearby areas.
To avoid potential problems with any late-spring cold snaps, farmers use double-layered plastic sheeting.
"A total of 18,666 hectares of farmland will be used to grow cotton in Yaka this year," said Tuniyaz Yakup, chairman of the standing committee of the town's People's Congress. "Most of the cotton will be harvested by machines in autumn. We prepared for spring planting earlier this year."
Northwest China's Xinjiang is well known for its premium long-fiber cotton, which is popular in domestic and global markets.
In recent years, advanced farming technologies and facilities, including drones and the Beidou satellite navigation system, have been widely used in cotton fields in the region.
"The orders for our agricultural drones for cotton growing in Xinjiang have been increasing in recent years," said Zheng Tao, vice-president of XAG Co Ltd, an agriculture technology company based in Guangzhou, capital of Guangdong province.
The company has developed a smart drone system to monitor and manage cotton growing in real time, and set up an operations center in Xinjiang's Yuli county.
"It is a common scene in the cotton fields-with a few clicks on a smartphone, drones, like giant black birds, steadily take off with propellers whirring," Zheng said.
Guangzhou Hi-Target Navigation Tech, a high-precision surveying and mapping instrument and service provider, also uses Beidou navigation and 5G technologies in Xinjiang cotton fields.
Navigation and 5G technologies enable proper distancing between rows along a straight line when seeding machines work in the fields, the company said.
As China's largest cotton-producing area, Xinjiang had cotton output of more than 5.1 million tons last year, 87.3 percent of the country's total and an increase of 3 percent over 2019, said the National Bureau of Statistics.
Last year, nearly 70 percent of the region's 1.6 million hectares of cotton farmland was harvested by machinery rather than by hand thanks to continuous progress in agricultural technology, said the region's Department of Agriculture and Rural Affairs.