Premier urges easier financing
By XU WEI | China Daily | Updated: 2021-03-27 10:35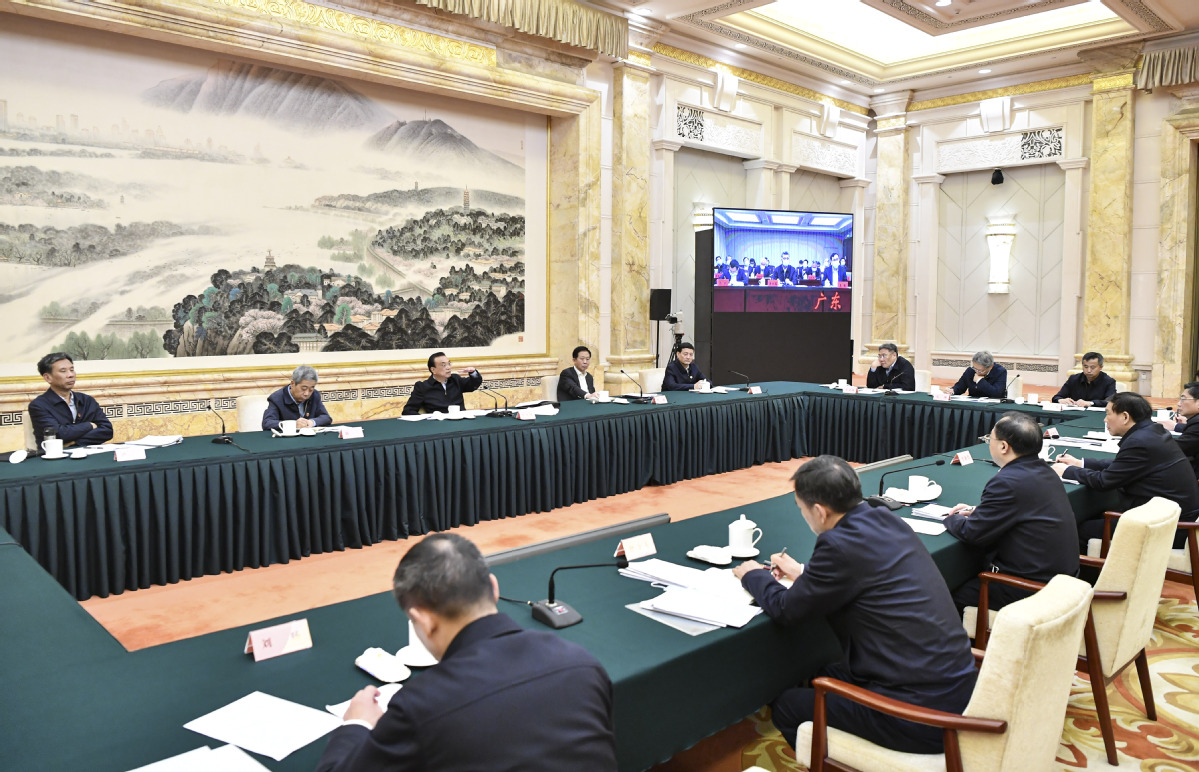 Li stresses need to quicken rollout of tax, fee reductions for smaller firms
Premier Li Keqiang has called for improved financial services for the real economy, with the rollout of multiple measures to make it easier for smaller firms to obtain financing support at lower costs.
Li's remarks came as he held a symposium in Nanjing, Jiangsu province, on the performance of the economy via video link with governors from five provinces on Thursday.
The premier pledged unrelenting policies to protect jobs, people's well-being and market entities, with accelerated steps to channel fiscal funds directly to primary-level government bodies.
He stressed the need to quicken the rollout of tax cuts and fee reductions for small and micro businesses and to find measures to scale up support to self-employed individuals.
He said that the high year-on-year economic growth rate at the beginning of this year can be attributed, to a large extent, to the low base from last year, and economic performance, judging from a month-on-month perspective, is generally stable.
Stabilizing economic fundamentals, avoiding large ups and downs and attaining steady and healthy growth are priorities, he said.
It is important to analyze the situation in a comprehensive, objective and levelheaded manner to properly guide market expectations, he added.
Li highlighted challenges from the complicated international landscape, especially quickly rising commodity prices, saying that the domestic economy is also confronted with problems such as heightened pressure on employment and the slow recovery of some sectors.
The government will strive to create more jobs, increase incomes and stabilize commodity prices, which are key priorities in keeping economic performance within a reasonable range.
The premier underscored that more work must be done to stimulate the vitality of China's 138 million market entities, including more than 90 million self-employed individuals.
It was the resilience of the market entities that shored up the economic recovery, the expansion of the job market and improvement in people's livelihoods, he said.
The government must focus its policies on the entities to promote their further recovery while continuing with measures to expand reform and opening-up to boost market vitality, he added.
He reiterated the importance of furthering the reform to streamline administration, bolster compliance oversight and government services to further cut red tape in administrative approvals for businesses and level the playing field.
The initiative to encourage innovation and starting new businesses must be stepped up to spawn more startups and spur the creativity of the public, he said.
Li underlined the need to make sound preparatory work for the implementation of the Regional Comprehensive Economic Partnership agreement to better connect domestic and international markets and expand opening-up.