China, Iran ink blueprint, oppose unilateral sanctions
By ZHANG YUNBI | CHINA DAILY | Updated: 2021-03-29 07:11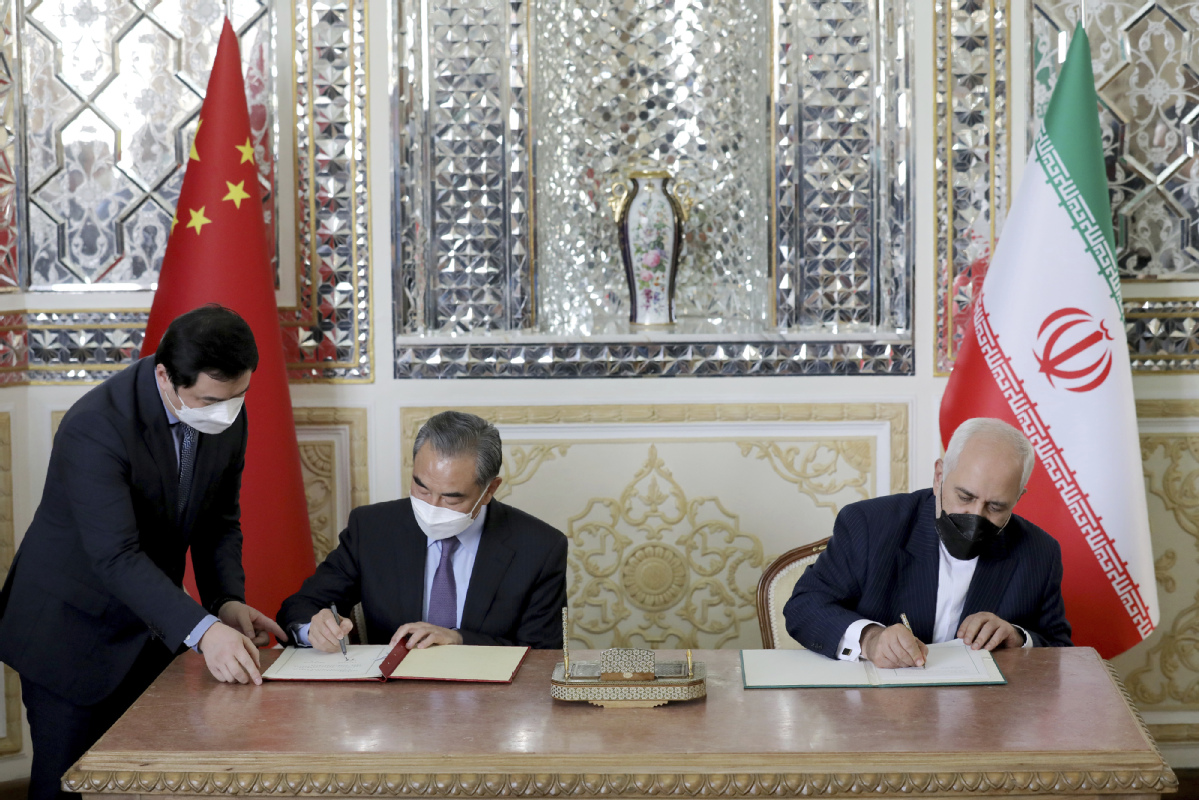 Senior diplomats from Beijing and Teheran have signed and spoke highly of a long-awaited, landmark plan for bilateral comprehensive cooperation, and they also voiced a shared objection to unilateral sanctions and bullying imposed on the two countries.
The plan was signed by State Councilor and Foreign Minister Wang Yi and Iranian Foreign Minister Mohammad Javad Zarif in Teheran following their talks on Saturday.
According to a joint statement for establishing a China-Iran comprehensive strategic partnership in 2016, the two countries agreed to communicate and negotiate on a comprehensive cooperation plan that was expected to cover a duration of 25 years.
The plan was also mentioned at Wang's separate meeting with Iranian President Hassan Rouhani and Ali Larijani, adviser to Rouhani. Wang visited Iran on Friday and Saturday.
At the meetings, Wang said that the cooperation blueprint "taps into the potential for collaboration in areas such as economy and culture", rolls out prospects for cooperation in the long run, and will better benefit the two peoples and contribute to regional and world peace.
Rouhani said the plan's signing will make clearer the road map for Iran-China cooperation, while Zarif, the foreign minister, said the deal's signing will inject new dynamism into win-win collaboration.
Fan Hongda, a professor at Shanghai International Studies University's Middle East Studies Institute, said the plan's signing honors the 2016 joint statement, marks joint efforts from both sides in recent years, and signals that the bilateral ties are "ushering in a new phase".
China staunchly champions the Iran nuclear deal, Iran has firmly supported China in issues related to China's sovereignty and the bilateral friendship moved further during the fight against COVID-19, Fan said in a signed article for The Beijing News.
Speaking on the Iran nuclear issue, Wang said unilateral sanctions imposed upon Teheran "violate international law" and harm innocent Iranian people.
China is ready to work with people of various countries, including Iran, to oppose such hegemonic, bullying behaviors and champion the fundamental norms of international relations, he said.
The Iran nuclear agreement, known as the Joint Comprehensive Plan of Action, was adopted in 2015. Washington quit the deal in 2018 and Teheran suspended fulfilling it last year.
Wang noted that the United States triggered the current impasse by unilaterally quitting the deal, and it should revoke its illegal sanctions on Iran and its "long-arm jurisdiction" targeting third parties.
He called on the US to resume fulfilling the Iran nuclear deal comprehensively with no strings attached.
All parties involved could consider taking synchronized and reciprocal steps, formulate a road map for further fulfilling the deal, work for an early harvest and create conditions for resuming honoring the agreement, Wang said, adding that China is willing to play a constructive role in this regard.
Zarif said Washington, instead of offering unreasonable requirements, should take the lead to revoke sanctions and return to complying with the nuclear deal, adding that Beijing is a reliable partner and Teheran is willing to work with Beijing closely to bring the deal back on track.
Iran also opposes some Western forces' unreasonable pressuring of China, and it will stand firmly alongside China, Zarif said.
Iran looks forward to attending the Beijing Winter Olympic Games next year and will oppose any attempt to sabotage this event, Zarif added.
On Saturday, Wang arrived in the UAE and met with Crown Prince of Abu Dhabi Sheikh Mohammed bin Zayed Al Nahyan.