The bone collector
By Ye Zizhen | China Daily | Updated: 2021-03-29 07:25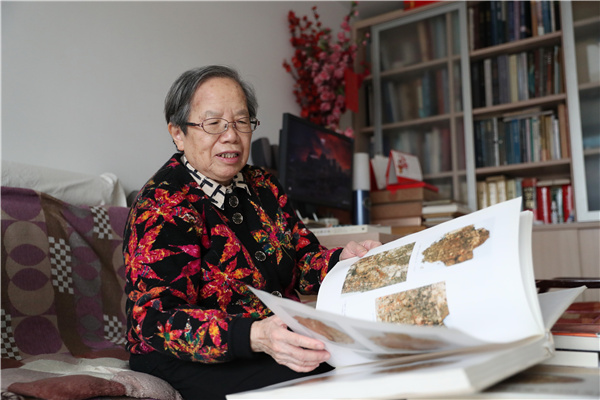 Archaeologist and author Liu Yiman has not let retirement douse a passion for her favorite subject.
History teachers come in at least two varieties: those whose lessons are so fascinating that students are keen to flip open their textbooks to find out more; and those whose lessons are as dry as old bones, so much so that students turn their back on history the minute they leave school.
Liu Yiman can count herself as a lucky woman, someone who had a very compelling teacher of history, and yet managed to end up holding dry bones, ones that have kept her captivated for more than 50 years.
The bones Liu has worked with in Anyang, Henan province, for all those years are very special-oracle bones that have told us so much about Chinese history stretching back thousands of years.
"Curiosity about the past is my passion," Liu says.
Liu, 81, was an archaeologist with the Chinese Academy of Social Sciences before she retired at the age of 65 in 2005.
"My interest in history began in middle school because my history teacher always gave such vivid classes," she says.
However, Liu found the idea of reading archives and documents in a dimly lit library for the rest of her life difficult to countenance.
"I was restless, and I liked things like traveling and sailing, so the kind of research that appealed to me was history in the field."
In the 1950s, archaeology as a main subject was a rarity in Chinese universities, so the Guangdong native went to study at Peking University. That was in 1956.
Liu's first fieldwork, during her second year, was in Zhoukoudian, in Beijing's Fangshan district.
"At the time, few people majored in archaeology, and there were just 24 students in our class. In those days, we used fireworks to crack stones to speed up digging work, something that would be considered inappropriate now."
The inscribed oracle bones were first unearthed in China in Anyang in 1899. The inscriptions, which academics regard as the origin of Chinese characters, are highly revelatory, especially in understanding the lives of royal and elite families, including their habits with regard to hunting, ancestral worship and medical treatment.
Among archaeologists Anyang is almost regarded as sacred ground, so it was highly attractive to Liu, who applied to work there in 1972.
"Many kinds of artifacts were unearthed in Anyang, such as pottery and bronze. But I was attracted by oracle bones and the inscriptions on them."