China, UAE agree to enhance cooperation
By Zhang Yunbi | CHINA DAILY | Updated: 2021-03-30 07:08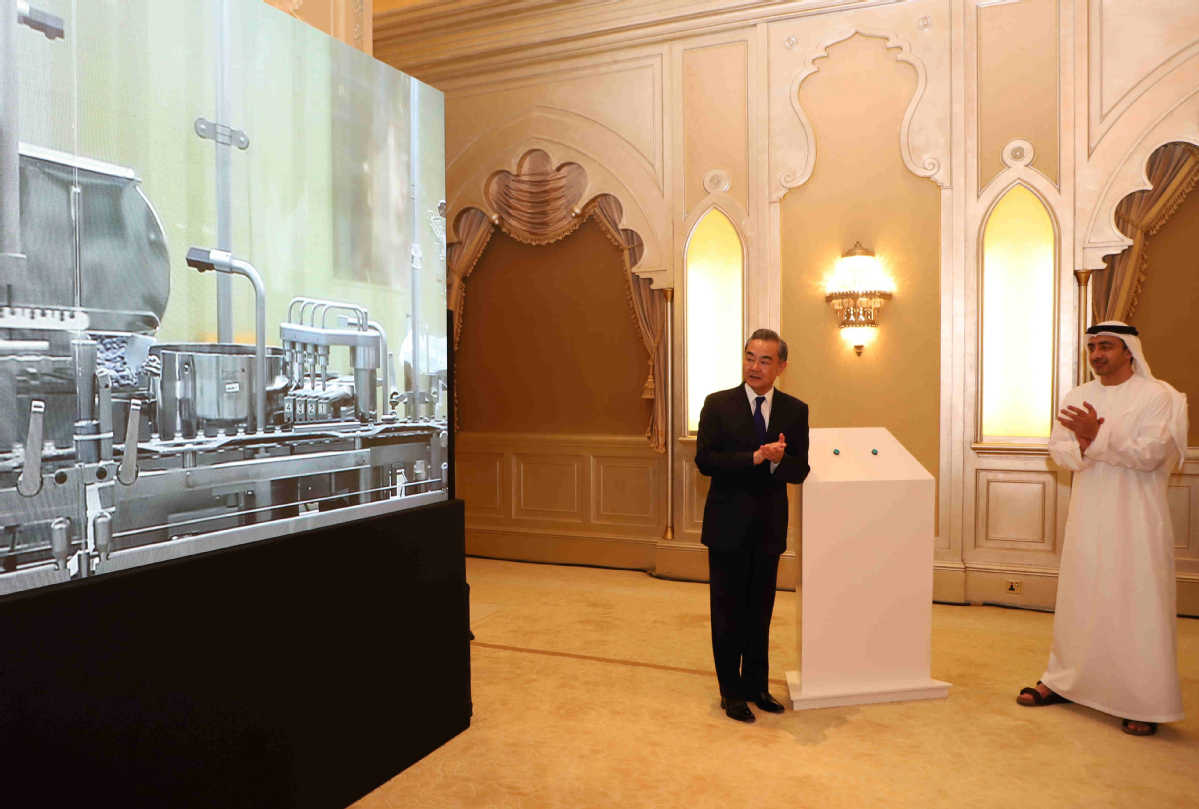 Vaccine collaboration between two nations demonstrates strong relations
China and the United Arab Emirates launched the first COVID-19 vaccine production line in the Middle Eastern country on Sunday, marking major progress following bilateral collaboration on a record-setting clinical trial of a Chinese vaccine.
State Councilor and Foreign Minister Wang Yi and UAE Foreign Minister Sheikh Abdullah bin Zayed al-Nahyan jointly attended the launch ceremony of the project in Abu Dhabi.
The UAE foreign minister said last year's launch of the world's first phase-3 international clinical trial of Chinese vaccine in his country represented a high degree of mutual trust between the two countries.
So far, more than 50,000 volunteers of more than 120 nationalities have participated in the trial, and the results show that the Chinese vaccine is safe and effective, and it is being recognized by the international community, he said.
The UAE is willing to deepen vaccine cooperation with China, and by launching the project, it will become a hub for vaccine production and transportation in the Gulf region and support more countries in the fight against the pandemic, he added.
Wang said the launch of the Chinese vaccine's production line marks "a new stage of anti-epidemic cooperation between China and the UAE".
The cooperation is expected to be rolled out smoothly and effectively, and the UAE will become a platform helping Chinese vaccines benefit more people in the region and make new contributions to building a community of health for all, Wang said.
China-UAE collaboration in conducting the world's first phase-3 international clinical trial of a COVID-19 vaccine has set global records in multinational, large-scale clinical trials, bolstered the world's recognition of Chinese vaccines and contributed to global anti-pandemic cooperation, Wang said.
In a separate meeting with Wang on Sunday, Abu Dhabi Crown Prince Sheikh Mohammed bin Zayed Al Nahyan said the UAE appreciates China's support in terms of COVID-19 vaccines to help the country control the pandemic, which has fully demonstrated their friendship and strong bilateral relations.
Wang envisioned greater cooperation with the UAE in the COVID-19 fight and the two countries are expected to discuss further vaccine cooperation which will benefit more countries.
Also on Sunday, China and the UAE achieved consensus in a plan to set up vaccination sites in the country to inoculate overseas Chinese citizens with Chinese COVID-19 vaccines.
Earlier this month, China announced a plan to establish such COVID-19 vaccination sites in countries that are capable of and willing to facilitate Chinese citizens' vaccination.
Sheikh Abdullah, the UAE foreign minister, said that his country, as China's strategic partner, is willing to host such sites to facilitate vaccinations for Chinese citizens in the UAE and neighboring countries.
The UAE is prepared to discuss detailed cooperation in this regard with China, he added.
Wang appreciated the UAE's response and said this represents the UAE's goodwill toward the Chinese people and its great sense of international responsibility.