Cash-strapped zoos rethink financial strategies
By LIU XUAN | CHINA DAILY | Updated: 2021-03-30 07:11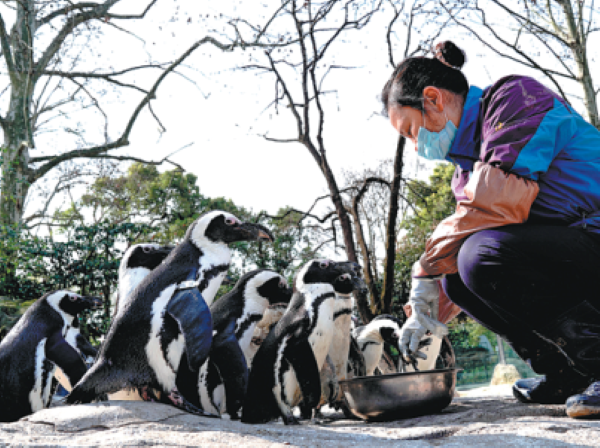 New ideas hatched to raise funds during pandemic
A few days after the Spring Festival holiday in February, Chen Kaiyin and her family members bought themselves a special new year present-an adoption certificate for a panda housed at Nanjing Hongshan Forest Zoo in Jiangsu province.
They decided to adopt a lesser panda, a rare species that has won State-level protection along with the giant panda.
Chen, who comes from Beijing and works in the media industry, said, "I've been following the zoo's activities for some time and finally decided to adopt an animal after seeing an interview with Shen Zhijun (the head of Hongshan Forest Zoo)."
In the 30-minute interview in August, Shen described how animals at the zoo were faring during the COVID-19 pandemic. He said that with the zoo's income falling, he was anxious about their welfare.
Chen, who loves visiting zoos, said she felt an obligation to help the zoo survive and develop, especially as it was focusing on improving the animals' living conditions.
She and her family chose Pang Pang, a female lesser panda, and paid 2,000 yuan ($308) to adopt her for a year. The zoo will use the money to help feed its animals each day and to pay for medical care they may require.
In return, people who adopt an animal receive a certificate, reports on its condition and free entrance to the zoo. They also have the chance to experience the animal being fed and cared for.
Online adoption is one of the projects launched by the zoo to help attract more visitors and raise additional financing during the pandemic.
Last year, the zoo lost more than 30 million yuan, accounting for 40 percent of the previous year's income.
More than 80 percent of its income comes from ticket sales, and lockdowns and a limited flow of visitors during the pandemic have had a significant effect on the zoo's operations.
Around the world, zoos face a similar or even worse situation.
In Canada, Paul Goulet, the owner of Little Ray's Nature Centre, a zoo and animal rescue organization with locations in Hamilton and Ottawa, said he is worried about becoming bankrupt, as the pandemic is killing his business.
Gross revenue is down 94 percent compared with before the pandemic emerged, due to forced closures and limits on capacity during the pandemic, Goulet told CTV News in Canada.
Although he has taken out loans totaling more than C$900,000 ($716,450) to help pay bills and has also cut costs where he can, the vast majority of his costs are fixed, such as food for the zoo's snakes, sloths and tortoises.
Jim Facette, executive director of Canada's Accredited Zoos and Aquariums, a private charitable organization representing the country's leading zoological parks and aquariums, said such facilities across the nation are having a hard time.
"They're hanging on, but it's a struggle,"Facette told CTV News.
He said some of these facilities qualify for the federal wage subsidy program and have received support, but others are not eligible.
"Our institutions are unique-you can't just switch off the lights, lock the door and leave," Facette said.
He has spent a lot of time during the pandemic lobbying governments to find ways to keep zoos and aquariums going.