Shenzhen releases first guideline on preventing sexual harassment
By ZHANG YANGFEI | CHINA DAILY | Updated: 2021-03-30 09:00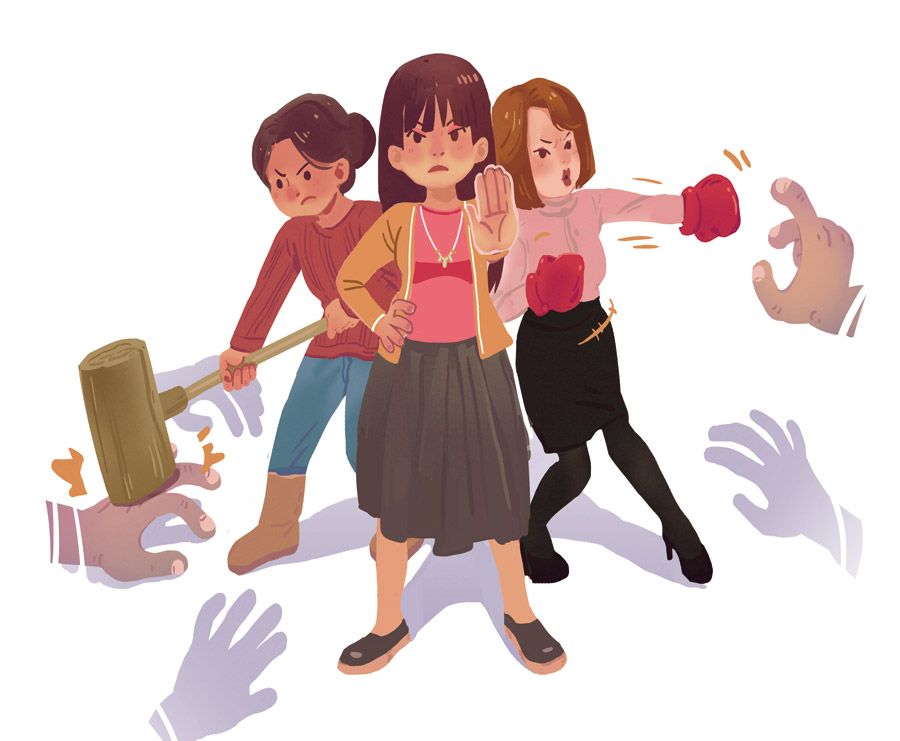 China's first guideline setting out a mechanism to prevent sexual harassment, released recently by Shenzhen authorities, sets a good example in improving the practicality of anti-sexual harassment laws, experts said.
The "Guideline on Preventing Sexual Harassment in Shenzhen", released by the city women's federation and government departments including the public security and education bureaus, refines provisions related to sexual harassment in the Civil Code, which took effect on Jan 1, and clarifies how such offenses are defined, manifested and dealt with.
Compared with the article in the Civil Code, which defines the offense as "sexual harassment to a person by means of words, texts, images and physical acts, against the will of that person", the guideline specifies for the first time the three elements that constitute such an act.
The three elements are that the act is of a sexual nature, is against and unwelcomed by the subjective will of the victim and is an infringement of a person's personality rights and causes adverse psychological feelings or a hostile and unfriendly working or studying environment for the victim.
It also specifies the types of words, texts, images and physical acts that could constitute harassment. For example, verbal offense includes commenting on sensitive parts of a person's body, unwelcome sexual flirting and dirty jokes. Others include repeatedly sending letters, texts, emails or faxes with obscene content or pornographic pictures, patting, pinching, touching, kissing, hugging or caressing sensitive body parts, using work-related rewards as threat to demand sexual favors and exposing sexual organs.
The guideline, the first to establish a mechanism to control sexual harassment, mainly applies to institutions, enterprises and schools, requiring them to set up special supervisory departments, formulate working regulations, conduct training and handle complaints and reports.
It also asks them to give offenders different levels of punishment, ranging from demanding an apology to warnings, dismissal and blacklisting, according to the severity of the case.
It says public places, including public transport, shopping malls and cinemas can implement the guideline for reference, although doing so is not mandatory. It also stipulates that such places should post "No Sexual Harassment" signs, as well as a hotline number for complaints, in conspicuous spots.
Qi Jianjian, a professor of law at the Chinese Academy of Social Sciences, said the guideline was the first to concretize legal provisions on preventing sexual harassment.
She said the concept of sexual harassment is not clearly defined in China's current laws and regulations but the guideline offers good examples to fill the gap.
The requirements for institutions, enterprises and schools to establish a working mechanism, which she described as "groundbreaking", could facilitate complaints, investigation, treatment and feedback and strengthen the practicability of legal provisions.
Li Weiwei, a law professor at Shenzhen University, said the guideline provided a very comprehensive definition of sexual harassment and was another innovation on the nation's path to improving gender equality, with the aim of guiding institutions, enterprises and other organs to reduce the occurrence of sexual harassment and raise public awareness of gender equality.
Li said the key to dealing with sexual harassment is prevention, as has been proved in many countries. The laws of many countries stipulate that when sexual harassment occurs in the workplace, the employers are legally liable, but can be exempt from liability if they can prove prevention efforts were made.
Liu Cheng, an expert from the State Council's National Working Committee on Children and Women, said the guideline demonstrates that same approach and shifts controlling sexual harassment from a private matter to a joint responsibility of individuals and public institutions.
It also promotes the establishment of a set of procedures and mechanisms capable of stopping sexual harassment at the initial stage and effectively solving difficulties in judicial evidence collection, Liu said.
Li Mingshun, vice-president of China Women's University, said,"The guideline fully embodies the basic concepts of respect for human rights, gender equality and shared responsibility.
"It also incorporates, on the basis of China's experience in preventing sexual harassment, a legislative model that focuses on the protection of workers in the workplace and that of people's private rights, responding to and enriching the international community's practice in preventing sexual harassment."
Pei Pei in Shenzhen contributed to this story.