Stranded ship refloated after Suez Canal saga
By JULIAN SHEA in London | China Daily | Updated: 2021-03-30 10:22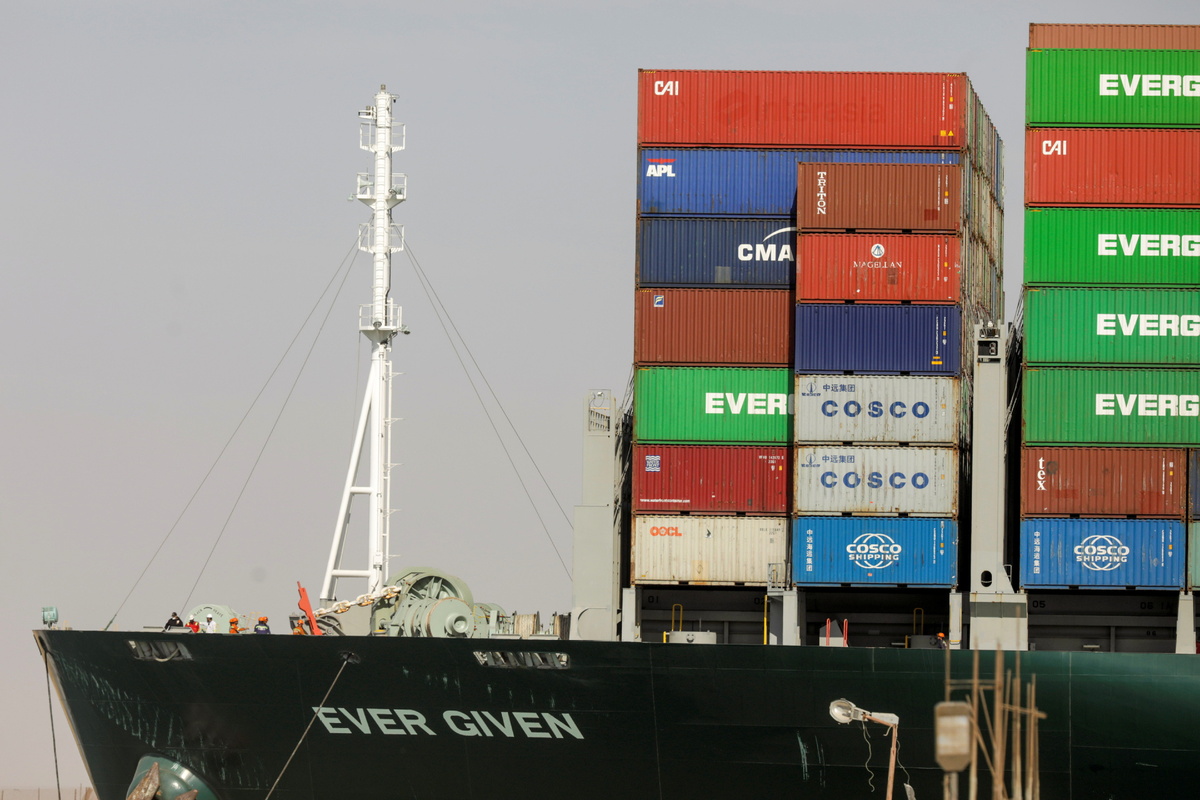 Salvage teams on Monday set free a colossal container ship that has halted global trade through the Suez Canal, a canal services firm said, bringing an end to a crisis that for nearly a week clogged one of the world's most vital maritime arteries.
Leth Agencies said that the vessel had been refloated on Monday. Helped by the peak of high tide, a flotilla of tugboats managed to wrench the bow of the skyscraper-sized Ever Given from the sandy back of the crucial waterway, where it had been firmly lodged since last Tuesday.
Traffic in the waterway would resume, the canal authority said in a statement.
Tugboats were pulling the vessel toward the Great Bitter Lake, in the middle of the waterway, where it will undergo inspections.
Earlier on Monday, engineers had "partially refloated" the ship, authorities said.
Egyptian President Abdel Fattah al-Sisi portrayed the earlier progress as a victory in his first comments on the stranded vessel.
On Monday lunchtime, Egyptian newspaper Ahram reported quoted a Facebook post from the president thanking "every faithful Egyptian who contributed technically and practically to ending the crisis".
"With things back to normal, at the Egyptians' hands, the world is reassured about the path of its goods that pass through this pivotal lifeline," he continued.
"Egyptians have proven today that they are always up to the task and that the canal their grandparents dug and their fathers defended Egypt's right to will always stand witness to Egyptians' determination to chart their own course."
Last week, the 400-meter-long Panama-flagged, Japanese-owned container vessel, which was on its way to the Dutch port of Rotterdam, became stranded after high winds changed its course. This resulted in a backlog of 367 vessels, with an estimated cargo value of $9.6 billion.
Key trade route
The Suez Canal divides Africa from the Middle East and Asia, providing the quickest trade route from Asia to Europe.
The alternative, which involves going round the southern tip of Africa, can add up to two weeks to journey times and increase freight expenses. That is why the canal is so vital, acting as the route for around 12 percent of all global trade.
Sky News reports around two dozen vessels decided to opt for the longer route rather than face the uncertainty of waiting for the blockage to be cleared.
"We apologize for blocking the traffic and causing the tremendous trouble and worry to many people," Yukito Higaki, president of the company that owns the ship, said last week.
Agencies contributed to this story.