Top legislator calls for boosting China-Mongolia relations
By Cao Desheng | CHINA DAILY | Updated: 2021-04-01 07:13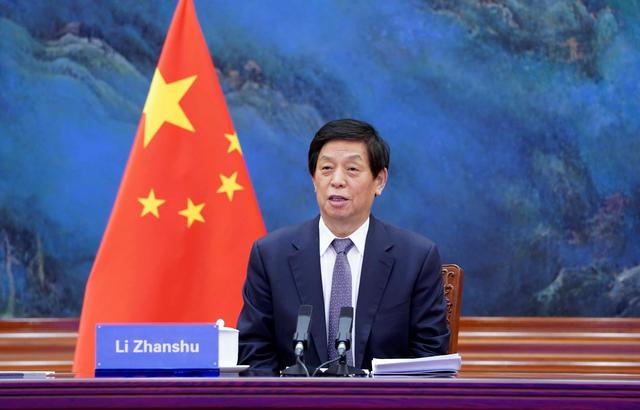 Top legislator Li Zhanshu called on Wednesday for further strengthening political mutual trust between China and Mongolia and boosting the alignment of the China-proposed Belt and Road Initiative and Mongolia's "Steppe Road "program in the post-pandemic period, to promote development of the countries' comprehensive strategic partnership.
Li, chairman of the Standing Committee of the National People's Congress, made the remark in talks with Gombojav Zandanshatar, chairman of the State Great Hural, which is Mongolia's parliament, via video link.
Li hailed the bilateral ties in recent years, saying the high-level exchanges between the two countries are frequent and characterized by enhanced mutual trust, fruitful economic and trade cooperation and closer people-to-people bonds.
The two countries have understood and supported each other in the face of the fallout of the COVID-19 pandemic, Li said, adding that they have set a good example of neighboring countries' joint fight against the virus and vividly demonstrated the concept of a community with a shared future for mankind.
Noting that the NPC and the Mongolian parliament have maintained long-term friendly exchanges, Li said the two legislative bodies should work together to facilitate the implementation of the consensus reached between leaders of the two countries as well as bilateral cooperation agreements.
He called for maintaining closer high-level exchanges in a flexible manner and promoting interactions between related committees and friendship groups.
Efforts should be made to approve, amend or map out in a timely manner legal documents that are conducive to the development of bilateral ties, and to provide legal support for Belt and Road cooperation as well as pragmatic cooperation in various other fields, Li said.
He also suggested that the two countries strengthen exchanges and experience-sharing in the rule of law, facilitating economic growth, improving people's livelihoods and upholding stability to promote common development.
Mongolia's top legislator said the State Great Hural stands ready to strengthen exchanges and cooperation with the NPC to make positive contributions to enhance the Mongolia-China comprehensive strategic partnership.