China urges US to lift Iran sanctions, return to nuclear agreement
By Zhao Jia | chinadaily.com.cn | Updated: 2021-04-06 20:49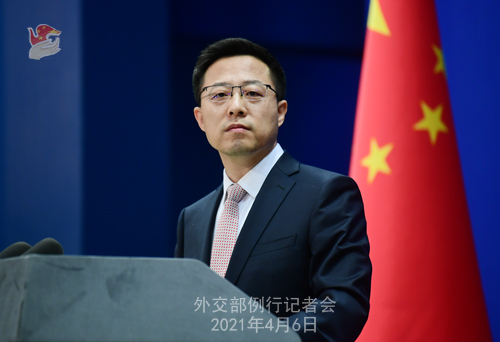 China on Tuesday urged the US to take concrete action on removing sanctions and meet Iran half way to ensure comprehensive implementation of the Iran nuclear deal at an early date, Foreign Ministry spokesman Zhao Lijian said.
His remarks at a daily briefing were in response to a meeting of the Joint Commission of the Joint Comprehensive Plan of Action to be held in Vienna on Tuesday.
The gathering would bring Iran, China, Russia, Germany, France and the United Kingdom together to negotiate resuming the accord.
"The Iran nuclear issue is at a critical moment," Zhao said, adding the Chinese side supports the upcoming meeting that would include discussion of relevant issues, such as the US removing sanctions and Iranian implementation of the agreement.
China also supports the Joint Commission interacting with the US in a proper manner and looks forward to reaching consensus by all parties to bring the US and Iran back to the agreement at an early date, he added.
He stressed that the root cause of the Iran nuclear crisis is US unilateral withdrawal out of the deal, which undermined the consensus reached by all parties.
Zhao said the US should return to the agreement unconditionally, lift all illegal sanctions on Iran and remove long-arm jurisdictions on the third party.
He said the Chinese side has always played a constructive role on the Iran nuclear issue.
"China continues to be committed to pushing (the Joint Comprehensive Plan of Action) back on the right track and firmly uphold its legitimate rights and interests at the same time," he added.