Yunnan's biodiversity thrives under watchful eyes
Xinhua | Updated: 2021-04-07 08:07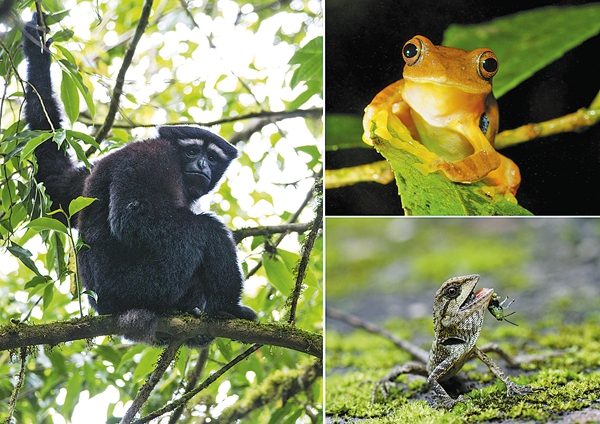 Developing ecotourism
Hou Tiguo, 52, lives in Baoshan's Baihualing, a village in the eastern part of the Gaoligong Mountains.
More than 520 bird species have been recorded in the village, accounting for more than 30 percent of the total number of bird species across the country. It is known as the top bird watching destination in China.
But bird-watching did not always thrive in the region.
"When I was a child, I had no meat to eat. So I went up the mountain to shoot birds with a slingshot," Hou says.
The year 1989 marked the turning point in his life. Two tourists stopped by Hou's house and asked him where they could watch birds. He became their tour guide and took them around the area, receiving some tips in return. This serendipitous encounter inspired him to take up the job of tour guide as a profession.
As Hou's village became a popular bird-watching site and received more tourists, Hou started to work as an ornithological guide.
He discerned that wherever there was water, birds would come to bathe and quench their thirst. So, he built a bird pond that emulated the ecological system so as to enable tourists to take photographs of the birds up close.
As ecotourism has been on the rise in recent years, Hou has served as a guide to tourists from more than 100 countries and regions. Once, he received so many tourists in one day that they could occupy a plane cabin, he recalls with a sense of pride.
Hou's successful endeavors in tourism have set an example for his fellow villagers, and they have followed suit. More than 20 homestays have been built, and more than 60 villagers are now offering tour guide services.
A special bird-watching tour has also boosted catering, homestay, backpacking and transportation services, generating over 10 million yuan ($1.5 million) every year for the village.
China's first environmental conservation organization of farmers was founded in the village in 1995.Today, the number of its members exceeds 150.
With thriving ecotourism and better awareness of environmental protection, the unfavorable practice of shooting birds in the village has, thankfully, had its wings well and truly clipped.