Qinzhou area poised to be hub for development
By ALEXIS HOOI and ZHANG LI in Qinzhou, Guangxi | China Daily Global | Updated: 2021-04-07 12:24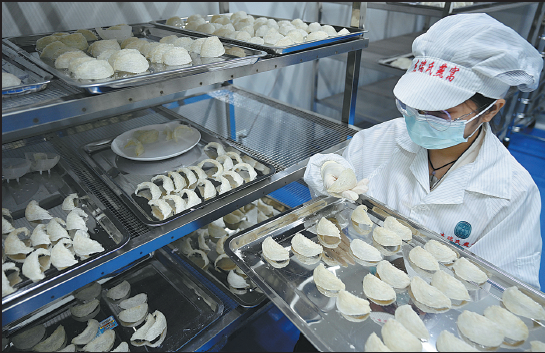 Huang Liting, 32, prodded the intricately laced, palm-sized pod with a penlike device.
She deftly picked out any impurities, looking out especially for flecks of feather.
In 10 minutes, a glistening, translucent piece of edible bird's nest emerged from her hands.
"It is hard, meticulous work," Huang said. "I used to spend a whole hour on just one nest when I started out, but after three months of appropriate training and preparation, I can go through up to 50 nests a day."
Huang is one of more than 30 workers at the processing facility of Sabah Bird's Nest, a company in the China-Malaysia Qinzhou Industrial Park in South China's Guangxi Zhuang autonomous region, where the raw, unprocessed nests are imported from Malaysia.
Edible bird's nests, highly valued by Chinese consumers for their nutritional and other health benefits, are made up of solidified swiftlet saliva. The birds producing the edible nests are mostly of species found in Southeast Asian countries such as Malaysia and Indonesia.
Bird's nests are luxury products. Each nest built by Malaysian swiftlets can sell for more than 3,000 yuan ($460) per 100 grams, with whole nests usually processed, dried and packed before being cooked and served as soups or other delicacies.
The processing of bird's nests reflects the strong economic cooperation and links that have been formed in the industrial park since it was set up nine years ago. The latest investments and development point to the coastal area's significant role in expanding ties between China and members of the Association of Southeast Asian Nations through the recently signed Regional Comprehensive Economic Partnership free trade agreement.
Bird's nests have "always been prized by ethnic Chinese everywhere," said Malaysian businessman Simon Teo Yoke Hua, who heads Sabah Bird's Nest in the park.
"Chinese consumers are increasingly affluent. The nests shipped from Malaysia can now be checked, certified and processed here in Qinzhou for the Chinese market. It's a good fit."
The China-Malaysia industrial park is within the Qinzhou Port Area of the China (Guangxi) Pilot Free Trade Zone, one of six such zones approved by the State Council in August 2019. Qinzhou's waterfront development area, which boasts the trade, logistics and technology sectors, covers more than 260 square kilometers.
Mo Fuwen, deputy director-general of the administrative committee of the Qinzhou Port Area, said the China-Malaysia model allows both countries to work together closely at one site. The China-Malaysia industrial park in Qinzhou has its Malaysian counterpart in the Malaysia-China Kuantan Industrial Park in Pahang state.