Automation expert's invention a boon for farmers
China Daily | Updated: 2021-04-09 08:59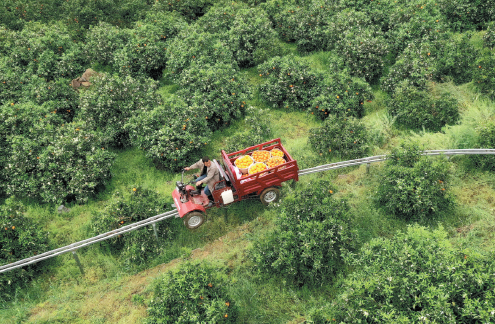 CHONGQING-Akin to a roller coaster, a small truck packed with 200 kilograms of freshly picked navel oranges zigzags on a rail track above the gently rolling terrain of an orchard in Fengjie county, Chongqing.
Zhang Yong, owner of the orchard, steered the truck as it continued moving toward a warehouse nearby upon completing its run on the 96-meter-long track.
Jumping off the truck, Zhang then demonstrated its driverless mode. It can be easily started, put into reverse or stopped by simply pressing the relevant buttons on a remote control, he said.
Thousands of people in Fengjie grow navel oranges and other citrus crops to earn a living. The county is home to over 24,000 hectares of citrus land, generating over 3 billion yuan ($458 million) in revenue every year.
Zhang, who has been growing navel oranges in Fengjie for 10 years, said the transportation system is a blessing.
"In the past, we needed at least four people to carry the oranges on their shoulders or backs. This transporter has made things much easier," he said.
The system was invented by Zhang Runfu, a native of Fengjie who is an entrepreneur and an automation expert.
During the Spring Festival holiday last year, Zhang Runfu, 45, returned from Guangdong province to visit his family and got stranded due to the COVID-19 outbreak. Wandering in the orchards of his hometown, he was astonished by the farmers' primitive method of transporting fertilizers and oranges.
"I thought to myself, how about creating a more convenient transportation system for them using my own expertise?" he said. Within a month, a 3D model of the "roller coaster" system was completed, followed by prototypes of a truck and track.
Zhang Yong's orchard was chosen as a pilot zone, and the following months saw repeated tests of the truck's speed, brakes and other technical aspects.
"The transporter has proved capable of adapting to the hilly fields," said Zhang Runfu, adding that it can bear heavy loads without occupying much space.
The system officially began operations in November. As the news spread, requests for cooperation from locals as well as people from other areas poured in. The inventor plans to install systems in two neighboring villages this year, with the longest track to stretch some 8 kilometers. Eleven transporters will be used.
The invention has not only changed the lives of orange farmers in Fengjie but also prompted Zhang Runfu to remain in his hometown after spending more than two decades working away from it. He has registered a local company, applied for patents and set up a professional team to optimize the system. He has also made the transporter available for display to visitors.
Zhang Runfu's business in Guangdong was to develop automation technologies for urban factories, but now he's seen vast potential in rural areas.
"I should bring back what I've learned and contribute to the development of my hometown," he said.
Zhang Runfu said the transporter is just a start for his new career.
"I also intend to develop an app blending livestreaming and e-commerce," he said. "Customers will be able to adopt a navel orange tree to witness its growth, as well as directly place orders for oranges online."
Xinhua