21 trapped workers located in mine
By MAO WEIHUA in Urumqi and YANG ZEKUN in Beijing | CHINA DAILY | Updated: 2021-04-13 07:16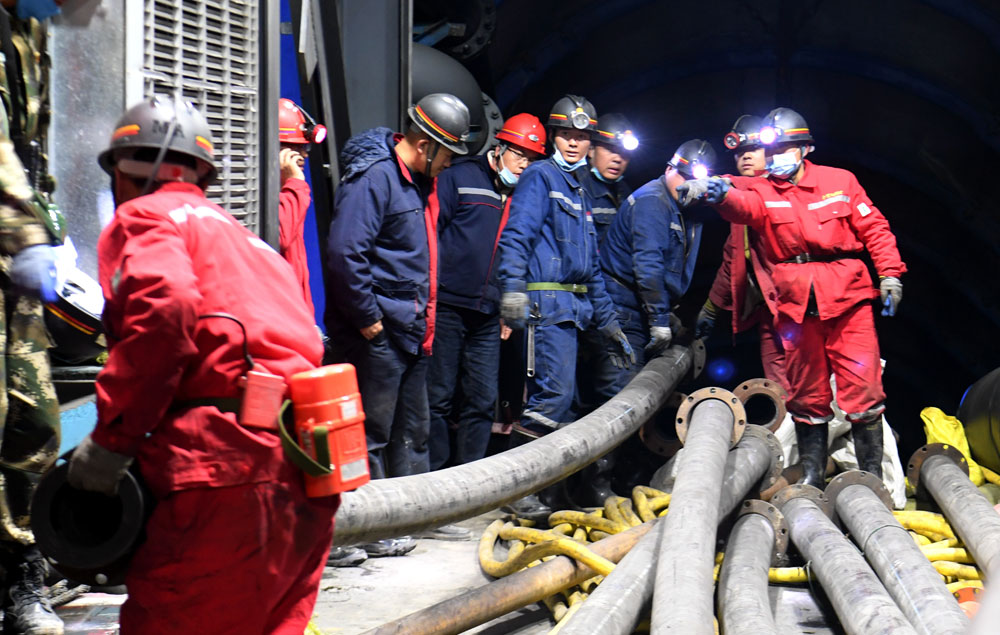 Twenty-one workers trapped in a coal mine in the Xinjiang Uygur autonomous region have been roughly located in three different positions, though the rescue team still cannot contact them due to severed power and communication lines, local authorities said on Monday.
Twelve are on a platform about 1,200 meters below ground, and eight others are on another platform. The last one entered a safe passage channel, but water had entered it and no further details were available, China Central Television reported.
The mine in Hutubi county, Changji Hui autonomous prefecture, flooded on Saturday afternoon as 29 workers were upgrading its equipment. Eight people were rescued on Sunday morning. The flood interrupted power and communications.
Pumps have been put into operation to remove water, CCTV reported on Monday morning.
The oxygen concentration underground appears enough for the trapped workers, Wang Wen, from the Xinjiang mine rescue team, was quoted as saying by CCTV. The water level is continuing to rise, but much more slowly than previously, he said.
Chen Quanguo, Xinjiang's Party secretary, said the region's Party committee and government have attached great importance to the accident and will rescue those trapped at all costs and minimize injuries and casualties.
He asked safety officials in the region on Sunday to carry out a comprehensive inspection and eliminate potential hazards and weak links to prevent major production accidents in the region's mines.
Chen said thorough supervision and inspection should be carried out, and those who have been derelict in their duties or who have failed to implement risk control measures, resulting in such accidents, will be held accountable in accordance with Party disciplines and the law.
A lesson should be learned from the accident, and related departments must strictly enforce the law and show "zero-tolerance" to any risks in the workplace to resolutely plug safety loopholes and prevent serious and major workplace accidents, Chen said.
He said close attention should be paid to key fields such as coal and other mines, petroleum and petrochemicals, metal smelting and dangerous goods, and places with potential risks such as densely populated areas, reservoirs, places prone to geological disasters and construction sites.
Enterprises were asked to strictly abide by safety rules and regulations and improve management systems and operating procedures. He also urged regulators to enhance risk control at the source, tighten work access in high-risk industries and improve emergency rescue capabilities.