Data security pact with Arab states provides model
By LIU XUAN | China Daily | Updated: 2021-04-13 10:02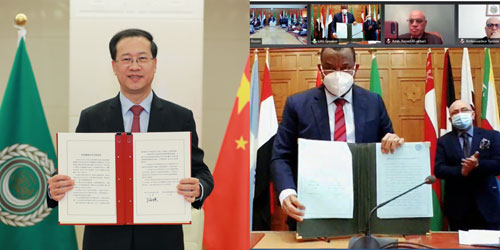 International cooperation should be a guiding force behind progress in digital security, say experts in warning against countries making the field yet another arena for competition.
With its importance in the world's economic development, the experts pointed to digital governance having become a new field of global governance in recent years. But data security risks present a common challenge to all countries.
China and Arab countries have engaged in cooperation in areas such as counterterrorism and energy, initiatives that require high data security, said Zhu Weilie, director of the Center for China-Arab States Cooperation Forum Studies at Shanghai International Studies University.
China and the League of Arab States have recently upgraded their collaboration against rising cyberspace risks and challenges.
The two sides released a landmark proposal, the Initiative on China-Arab Data Security Cooperation, on March 29. The document was signed by China's Vice-Foreign Minister Ma Zhaoxu and the Assistant Secretary-General of the League of Arab States, Hossam Zaki.
The document contains provisions that are meant to keep data and production chains afloat in the digital economy era. It builds on the two sides' increasing collaboration in cutting-edge technologies such as 5G telecommunications and artificial intelligence and teamwork regarding internet security responses, according to officials from the two sides.
With energy making up a big part of the Sino-Arab trade, the signing of the initiative can further strengthen trade relations, Zhu said.
"Both China and some Arab countries have been considering whether the transactions can be realized through digital channels, making the trades more convenient and more in line with the trend," Zhu said.
The need for data security collaboration has become even more pressing with the cyberattacks that have hit the oil-rich region's internet infrastructure in recent years, said the scholar, adding that strengthened cooperation could further ensure the security of trade.
Threats addressed
In September, China issued its Global Initiative on Data Security as a Chinese solution to major issues concerning data and cybersecurity.
Due to historical reasons, China and Arab countries had long been passive recipients of international rules. However, both sides have realized that they must strive to be important participants in global governance.
The China-Arab initiative "injects global digital governance with the wisdom and strength of developing countries", and Arab states were the first to participate in the joint release of a data security initiative with China, Foreign Ministry spokeswoman Hua Chunying said on March 30.
Moreover, Zhu said the cooperation platform was built on mutual interests, and did not target third parties.
"China has become stronger, and it is normal that everyone is willing to communicate with us," he said.
Yang Jian, vice-president at the Shanghai Institutes for International Studies, said China's proposal on digital governance advocates more on peace and sovereignty, especially focusing on respecting the digital sovereignty of developing countries.
"China suggests that all the parties should benefit from the digital world and, in return, this world should be governed by everyone."
Different from other digital governance ideas filled with unilateralism, Yang said China's initiative represents the development trend of world civilizations as well as the voices of more developing countries.
"It is necessary to take into account the situations of both developed and developing countries," he said. "Digital security is a field for cooperation, not an arena for fights."