Biden announces time has come to leave Afghanistan
By AI HEPING in New York | China Daily Global | Updated: 2021-04-15 10:03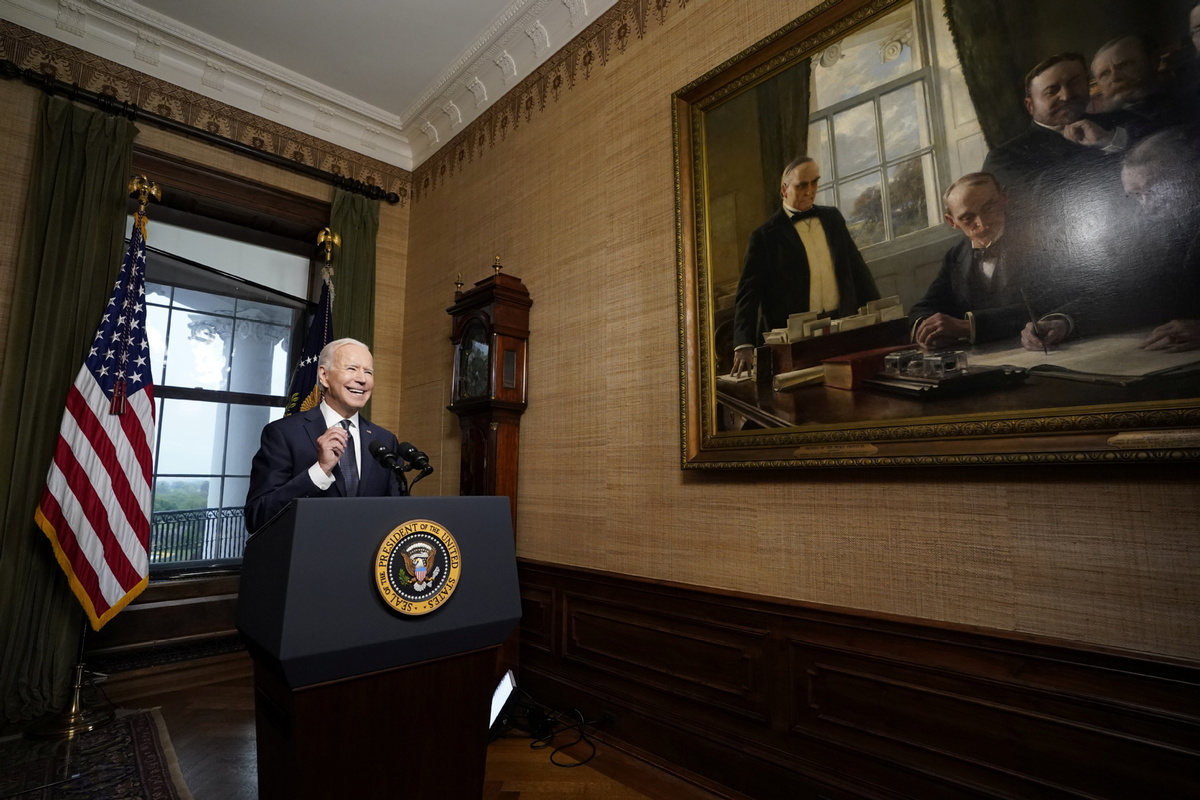 Speaking from the same spot in the White House where then-president George W. Bush announced the start of the war in Afghanistan on Oct 7, 2001, President Joe Biden formally announced on Wednesday that the US will withdraw all forces from the country, ending its longest war.
"It is time for American troops to come home," he said in the White House Treaty Room in announcing the withdrawal by Sept 11, the 20th anniversary of the terrorist 9/11 attacks on the World Trade Center and the Pentagon that led the US into the war.
"We cannot continue the cycle of extending or expanding our military presence in Afghanistan hoping to create the ideal conditions for our withdrawal, expecting a different result," Biden said as he set out a withdrawal plan that ultimately will not be conditions-based.
"I am now the fourth American president to preside over an American troop presence in Afghanistan. Two Republicans. Two Democrats. I will not pass this responsibility to a fifth."
Biden spoke with former presidents Barack Obama and Bush in separate calls Tuesday about his decision to withdraw from Afghanistan, press secretary Jen Psaki said Wednesday.
"Biden has made the right decision in completing the withdrawal of US forces from Afghanistan," Obama said.
There was no immediate comment from Bush.
Afghan President Ashraf Ghani voiced support for Biden's phased withdrawal plan after speaking with him by phone Wednesday morning. "The Islamic Republic of Afghanistan respects the US decision and we will work with US partners to ensure a smooth transition," Ghani said in a statement.
But the speaker of Afghanistan's parliament said on Wednesday that the complete withdrawal of foreign troops from Afghanistan poses the threat of a civil war.
"The withdrawal of these forces is a desire of the Afghan people, but at the moment, the conditions have not been made for this to happen; there is a possibility of the return of civil war, and this will change Afghanistan into a hub of international terrorism," said Mir Rahman Rahmani, according to TOLOnews, Afghanistan's world news television network.
Lawmakers in Afghanistan also said that the main goals of the US war in Afghanistan were to combat terrorism, drug trafficking and to create good governance, which they said haven't been achieved, according to the TV report.
The US will miss the May 1 deadline that the Trump administration negotiated with the Taliban last year for leaving the country. The US officially has 2,500 troops in Afghanistan, but there are about 1,000 additional Special Forces personnel there.
The deadline Biden has set is absolute, with no potential for extension based on worsening conditions on the ground. Officials said that after two decades of war, it was clear to the president that throwing more time and money at Afghanistan's problems wasn't going to work.
After his remarks, Biden said he planned a visit to the section of Arlington National Cemetery where many of America's war dead from Afghanistan are buried.
During his remarks, Biden pulled a card from his suit pocket that he said he always carries and read the number of Americans he said have been killed and wounded in the war as of Wednesday: 2,488 and 20,722.
More than 38,000 Afghan civilians have been killed, and the war that has cost the US as much as $1 trillion.
More than 775,000 Americans have served at least one tour of duty in Afghanistan, with 98,000 troops in the country at the height of the war in 2011 before a steady decline over the last decade.
The decision to withdraw US troops comes as some military officials and members of Congress in both parties warn that a complete withdrawal could lead to more terrorist activity.
Hours before Biden made the announcement, CIA Director William Burns acknowledged at a Senate Intelligence Committee hearing on global threats that there is a "significant risk" that the withdrawal of US and coalition forces from Afghanistan could allow al-Qaida and ISIS to rebuild, but stressed that those groups currently don't have the capacity to attack the US homeland.
Senate Foreign Relations Chairman Democratic Senator Bob Menendez of New Jersey told reporters that if there was a "backsliding on civil society" after US troops leave, he would want to cut off financial aid to the country, which would hamper its ability to rebuild.
A March 30 report by the World Bank on Afghanistan's economy was critical, saying: "Private sector development and diversification is constrained by insecurity, political instability, weak institutions, inadequate infrastructure, widespread corruption, and a difficult business environment."
On Wednesday, Elise Labott, an adjunct professor at American University's School of International Service, warned in the US-based publication Foreign Policy that Afghanistan has consistently been among the largest source of refugees in Europe and could be again because of the US' planned withdrawal.
"Afghanistan's heroin could again flood world markets. Jihadi groups everywhere will see a simple message: They can prevail. And the Biden administration's uncompromising plans for withdrawal may also put new strains on relations with European allies," she wrote.
"Ultimately, Biden may have ended US involvement in Afghanistan if not the Afghan war itself. Biden concluded that delaying the US withdrawal would just be a recipe for open-ended commitment," she wrote. "It may yet be a recipe for a lot worse."