Tang-era riches
By Chen Nan | China Daily | Updated: 2021-04-15 08:14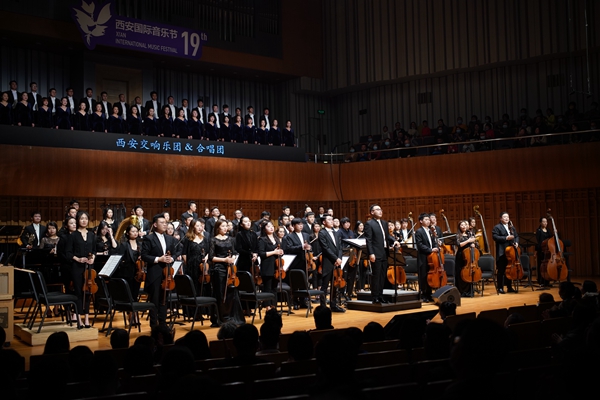 A symphony concert combines the music and poetry of a former capital city, Chen Nan reports.
Chang'an, a symphony concert themed on Tang Dynasty (618-907) poetry, premiered in Xi'an, capital of Shaanxi province, on Nov 14.
The audience enjoyed a combination of classical music, traditional operas and guqin (a zither-like seven-stringed traditional musical instrument) and Tang-era poems recited by veteran actors, including Pu Cunxin and Zhang Guoli.
The concert will be staged by the Xi'an Symphony Orchestra and Xi'an Symphony Orchestra Chorus at Beijing's National Center for the Performing Arts on Saturday and Sunday, as part of the ongoing China Orchestra Festival organized annually by the NCPA.
This year, 21 concerts featuring 22 symphony orchestras from 14 provinces in the country are being presented from April 8 to May 7.
The music piece, composed by Sun Chang, consists of parts of seven famous Tang poems, including A Moonlit Night on the Spring River by Zhang Ruoxu, A Song of Peach-Blossom River by Wang Wei and The Pipa Player by Bai Juyi.
"The poems are timeless, and we read them as children in school. With the arrangement of different musical instruments-both Western and Chinese-as well as human voices and guqin, the music piece gives the audience an experience of communicating with the great poets from the Tang Dynasty," says Sun.