EU to overhaul strategy after J&J jab questions
By ANGUS McNEICE in London | China Daily Global | Updated: 2021-04-15 09:22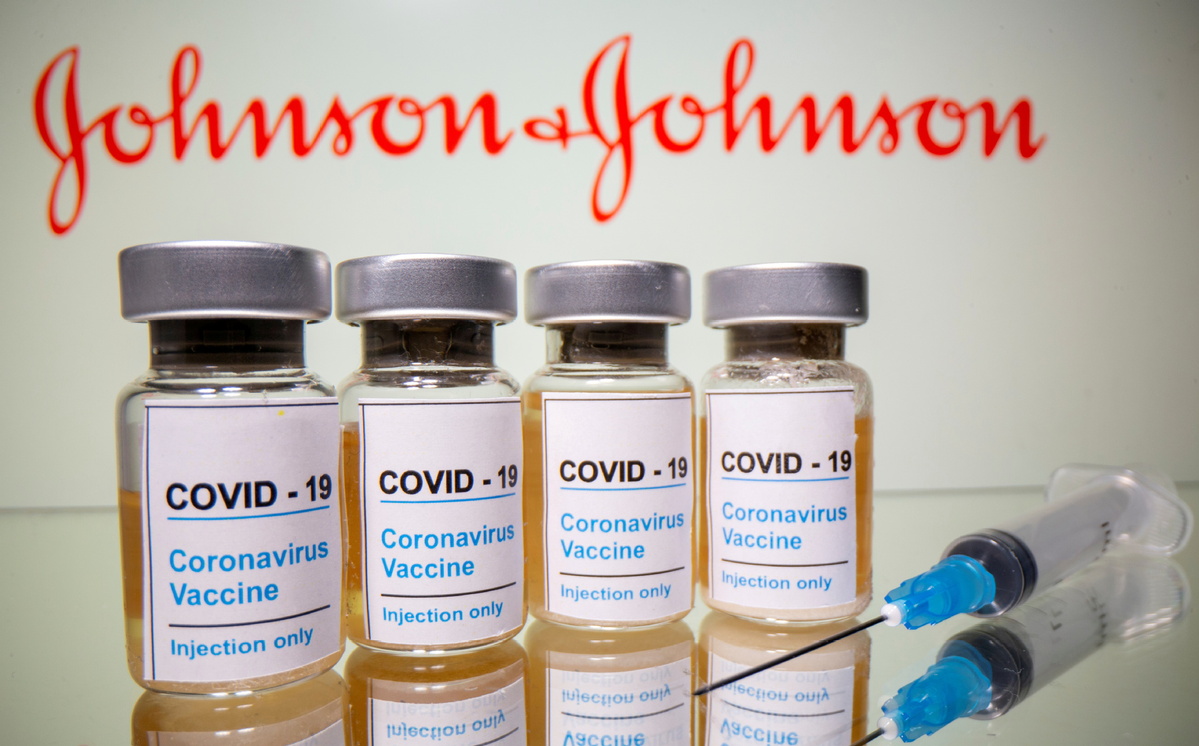 Unexpected pause in use could push back continent's vaccination timeline
The European Union appears set to shift its vaccine strategy in favor of shots that use messenger RNA technology, such as those from Pfizer and Moderna, and decrease its reliance on so-called viral vector vaccines, which include those from Johnson& Johnson and AstraZeneca.
Viral vector vaccine uses modified versions of a different virus to provoke an immune response.
"We need to focus now on technologies that have proven their worth; mRNA vaccines are a clear case in point," European Commission President Ursula von der Leyen said during a news conference on Wednesday afternoon.
Her comments came after Europe's vaccine program was thrown into disarray for a second time due to safety concerns over a viral vector treatment.
The EU was poised to begin the distribution of 55 million doses of the Johnson& Johnson jab, before United States regulators recommended a pause in use of the vaccine following six reports of a rare and serious form of blood clotting among those treated.
Prior to this, a number of EU member states had paused the distribution of the AstraZeneca jab following a small number of reports of blood clots in vaccinated people.
The Johnson & Johnson jab was due to play a key role in the EU's drive to reach 75 percent vaccine coverage among adults by the end of the summer. Member states are now scrambling to prevent further delays to an already sluggish vaccine roll out, which remains well behind those of the US and the United Kingdom.
"If the EU can't use the Johnson&Johnson vaccine indefinitely, it could push the timeline for vaccinating 75 percent of the population back into December," London-based science analytics company Airfinity told Reuters on Wednesday.
More than 100 million EU citizens have received at least one novel coronavirus vaccine so far, Von der Leyen said on Wednesday, representing about a fifth of the population. In comparison, more than a third of the population of the US has received a shot, and almost half of the UK population has been at least partially vaccinated.
Von der Leyen confirmed that Pfizer would bring forward a 50-million-dose order that was initially scheduled for the winter, which will make up for some of the shortfall from the ill-fated Johnson & Johnson rollout. The Pfizer vaccine requires two doses per person, while the Johnson &Johnson vaccine requires one.
The EU is now due to receive a total 250 million shots from Pfizer in the second quarter of this year.
Italian newspaper La Stampa quoted an unnamed source in Italy's health ministry on Wednesday saying the EU Commission may not renew its contracts with producers of viral vector vaccines.
Media outlets in Denmark are reporting that the country will entirely halt the use of the AstraZeneca vaccine, and has also put on hold the use of the Johnson & Johnson jab. South Africa has also confirmed a pause in the distribution of the Johnson& Johnson jab.
Ian Douglas, who is a professor of pharmacoepidemiology at the London School of Hygiene & Tropical Medicine, said investigations into the vaccines are necessary in order to first establish if there is a causal link between the shots and clotting, and subsequently to identify any risk factors among certain populations, to minimize any adverse reactions.
But he also said it is "vital to stress" that cases of clotting are "incredibly rare".
"In this instance, around a one-in-a-million-chance based on what we know to date about the Johnson &Johnson vaccine," Douglas said.