Best destinations to view flowers in southern Shaanxi
chinadaily.com.cn | Updated: 2021-04-15 16:03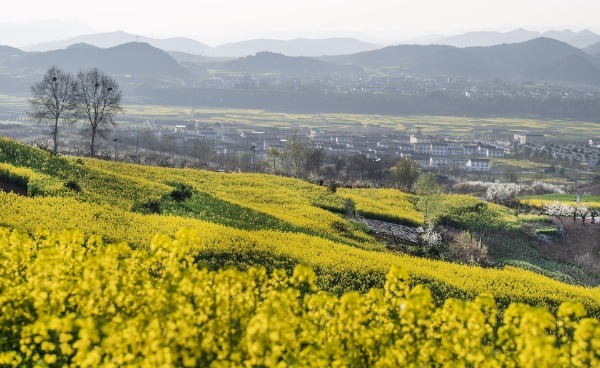 With the arrival of spring, it is time to step outdoors and enjoy the wide relaxed expanse of nature as the landscape is again teeming with vitality and colors after a bleak winter. If you feel like visiting some flower fields, southern Shaanxi definitely has a lot to offer.
Cole flower destinations:
1 Xixiang county, Hanzhong city
The 2021 Hanzhong Cole Flower Festival is already underway. As the festival's main site, Xixiang county boasts a large field of cole flowers, a massive stretch of which is usually compared to a golden paradise. There is also an observation platform with a panoramic view of the field and a European-style windmill.
Travel guide: Train-Xi'an South Station → Xixiang Station (Around 5 hours)
Tips: It is most convenient to take a taxi to Xixiang and all the cole flower fields have no entry fee. Besides cole flowers, the cherry blossoms in Cherry Vale of Xixiang County bloom at the same time. Don't miss it!
2 Yang county, Hanzhong city
Yang county has been famous for its cole flowers since ancient times. The place is known as "the heaven of cole flowers". Besides, there is also a wheat field here, which creates a unique blend of half-green and half-yellow scenery.
Travel guide: Train-Xi'an North Station → Yangxian West Station (Around 1 hour)
Tips: Except for cole flowers, the pear flowers bloom at the same time in Yang county. Last but not least, you can see the exclusive crested ibises here!
3 Hanyin county, Ankang city
There is a well-proportioned terraced cole flower field in the Fengyan Ancient Terraces. Overlooking the field, villages are scattered among a large rolling field of golden flowers. When gazing upon the scenery, it's like being in an oil painting!
Travel guide: Train-Xi'an South Station → Hanyin Station (Around 4 hours)
Tips: We recommend that you drive there yourself, as the transportation isn't very convenient around the terraces.
4 Qishan county, Baoji city
Zaolin town of Qishan county is an ideal spot to see cole flowers, and besides this, Linghui village in Baoji city is also worth a visit for its beautiful country scenery.
Travel guide: Train-Xi'an Station → Caijiapo Station (Around 1 hour 40 minutes)