Biosecurity law goes into effect
By Zhang Zhihao | CHINA DAILY | Updated: 2021-04-16 09:10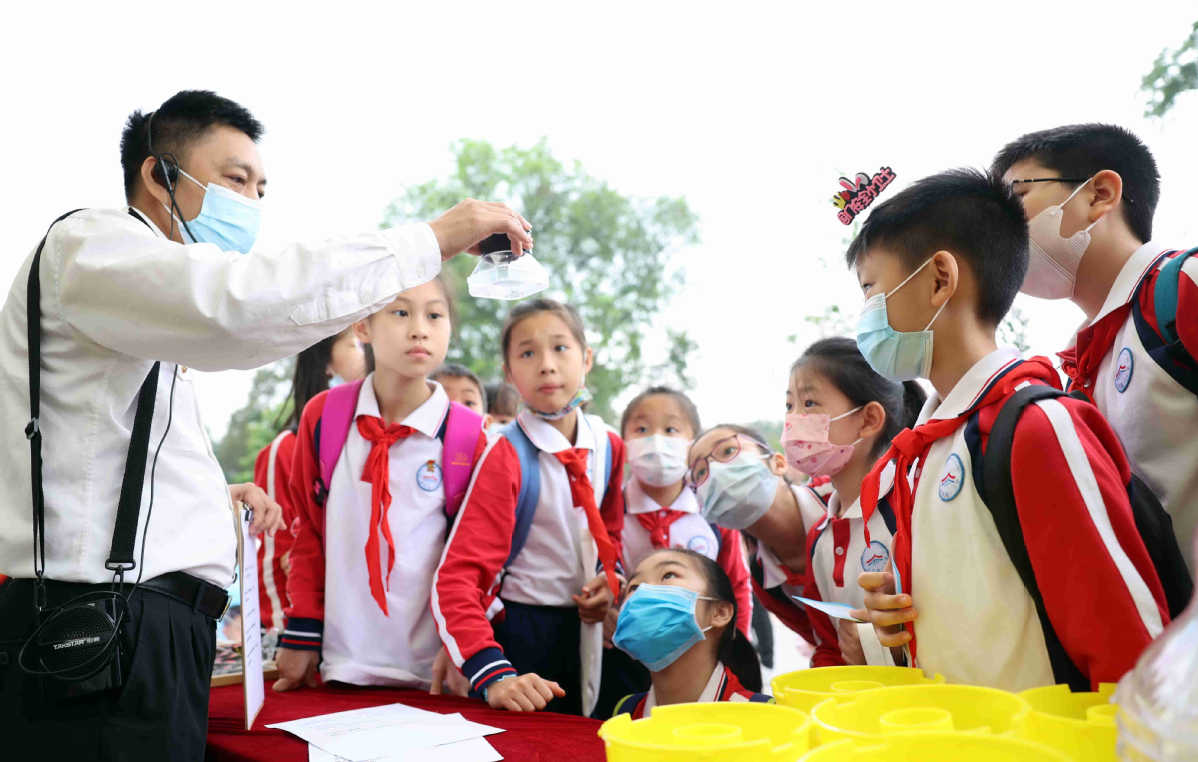 Legislation seen as 'major milestone' protecting people's health, environment
China's first biosecurity law went into effect on Thursday, marking a "major milestone" for upholding the rule of law in areas critical to people's health, the environment and national security, experts said.
The law introduced regulations in eight major categories-infectious disease prevention and control, regulating research and applications related to biotechnology, biological laboratory safety and practices, protecting biological resources and human genetic resources, preventing invasive species and preserving biodiversity, tackling drug resistant microbial infections, deterring bioterrorism, and other activities related to biosecurity.
Experts called the law "foundational legislation" that will guide, coordinate and introduce new laws and regulations related to biosafety, thus supporting a more sustainable and harmonious coexistence of humanity and nature.
China has nearly 100 pieces of legislation and regulation related to biosecurity, according to law firm King & Wood Mallesons. However, many of them are either outdated or are difficult to enforce. The scientific and legal communities had been calling for a robust and unifying biosecurity law for years.
Although experts had been working on the biosecurity law since the 1990s, the legislative process accelerated in recent years due to the rapid development of biotechnology and the controversies that followed, and was then spurred on by the COVID-19 pandemic.
The Standing Committee of the National People's Congress, China's top legislative body, reviewed the first draft of the law in October 2019. In February last year, President Xi Jinping said biosecurity is vital to people's health and the long-term stability of the country, hence it should be included in the national security system. The law was passed in October.
Wu Guizhen, the chief biosafety expert at the Chinese Center for Disease Control and Prevention, said the United States, United Kingdom, Russia and other countries have issued similar laws to increase their biosecurity.
"The new legislation will push China's biosafety protection to new heights," Wu said.
The law says China will establish 11 systems for preventing biosecurity risks. They include risk monitoring and early warning systems, information sharing and publicizing mechanisms, emergency response, supervision, and tracing and investigation.
"These measures can enhance China's ability to proactively evaluate and tackle new biological challenges, ranging from invasive species to emerging diseases," she said.
Zhang Wenhua and Wang Feng, two customs inspectors at a port in Qinzhou, Guangxi Zhuang autonomous region, are safeguarding China's ecological borders with a hammer, a hatchet, a chisel, and some test tubes and tweezers.
Their daily task consists of chipping and prying open the bark of imported lumber stacked at the port to check for any invasive species such as the red-haired bark beetle, local media reported. They send specimens they find to a biosafety lab for analysis.
According to the National Forestry and Grassland Administration, the beetle is native to the Mediterranean and northern Africa. It was first discovered in China in October, prompting the administration to issue a warning in February against the highly elusive pest, which is eating away the roots of pine trees from New Zealand to the United States.
Deng Hua, deputy director of the bureau of laws and regulations at Nanning Customs, told local media that customs is the "first-line of defense against invasive species and other illegal activities related to biological material and goods".