China accelerates project to set up its own cotton standards: media
chinadaily.com.cn | Updated: 2021-04-16 16:45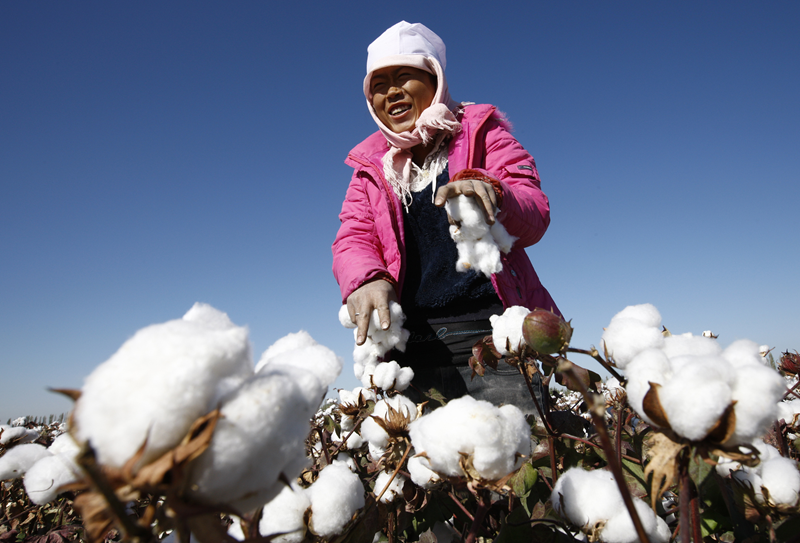 China has stepped up plans to launch a domestic cotton project, forming its own national standards on cotton, according to people familiar with the matter, South China Morning Post reported on Thursday.
Zhongnong Guoji, a Beijing-based cotton vertical service provider, started the Weilai Cotton, or future cotton project, two years ago, and has made some progress since January when two organizations – the China Fashion Association and the Modern Seeds Development Fund – became involved, according to SCMP, citing Zhao Yan, one of the coordinators for the project.
The recent international hostility toward Xinjiang cotton has accelerated the project, which is expected to demonstrate a "national aspiration" at this "crucial moment", Zhao said.
"We have been living with Switzerland's standards for years, but the country doesn't even produce cotton. Now it is time to form our own national standards," said Zhao.
Zhao, who will be the chief brand officer for the project, said the group may also establish a separate company called Weilai Cotton to run the day-to-day affairs and organize various events in the industry, with various preparations still ongoing before the project itself can be launched.
The Weilai Cotton project will first look to recruit Chinese brands before considering whether to recruit international brands, Zhao added, and all cotton garments will eventually be tagged with a QR code which will show the entire supply chain.
"By scanning the QR code, you will be able to see which farm the cotton is grown in, which cotton processing factory and yarn plant it went to next, and you can even trace how much fabric was purchased in the same batch," Zhao said.
Weilai Cotton has recruited 32 members in Xinjiang, as well as some domestic fashion brands, according to Luo Yan, secretary general of the Xinjiang Digital Cotton Research Center, who took part in the early preparation of the project and helped with recruiting members in Xinjiang.
"We hope to improve the overall cotton quality in Xinjiang through this brand," Luo said.
The Switzerland-based Better Cotton Initiative, which sets the global standard for cotton industries and certifies cotton farms worldwide, announced last year that it was ceasing all operations in Northwest China's Xinjiang Uygur autonomous region amid accusations of "forced labor" there, CGTN reported on Thursday.
While the statement has disappeared from its website as backlash grows in China against the organization and its members' attempts to boycott Xinjiang cotton.
In March, BCI Shanghai office said it didn't find any case of "forced labor" in Xinjiang in a statement released on its WeChat account.