Consumption sees steady recovery in Q1
By ZHU WENQIAN and ZHONG NAN | China Daily | Updated: 2021-04-17 07:47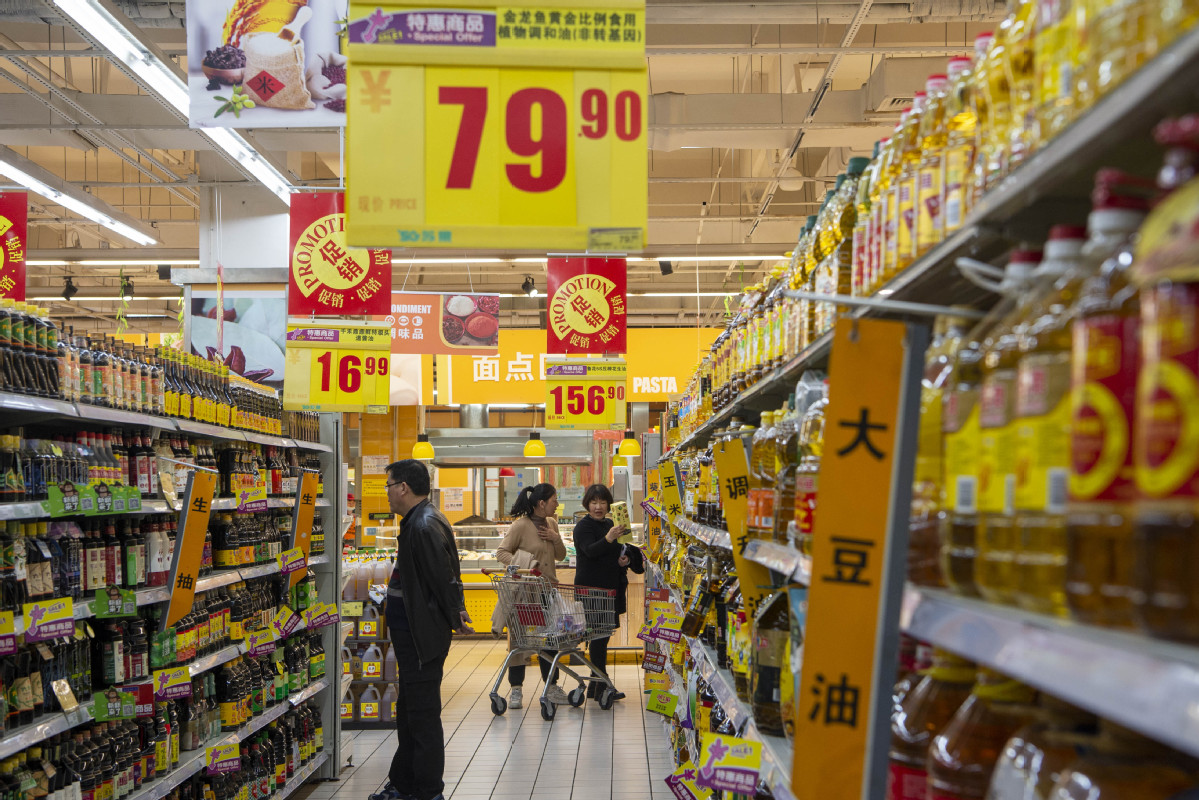 Catering, shopping at stores propel growth and sustain momentum
China's consumption market saw steady recovery during the first quarter of this year, with catering and shopping at brick-and-mortar stores driving growth and providing economic momentum.
During the first three months of the year, retail sales of consumer goods hit 10.52 trillion yuan ($1.61 trillion), up 33.9 percent on a yearly basis, while the two-year growth reached 4.2 percent, the National Bureau of Statistics said on Friday.
Data showed that in the January-to-March period, catering sector income rose to 1.06 trillion yuan, up 75.8 percent on a yearly basis. In March, the average growth over a two-year period for the catering sector stood at 0.9 percent on a yearly basis, the first monthly increase over the levels seen in 2019 before the COVID-19 pandemic.
"This year, the consumption market in China has continued its growth trend, following the gradual recovery on a quarterly basis last year. Catering and offline shopping, which were partly restricted earlier (due to the pandemic), have recovered rapidly," said Liu Aihua, a spokeswoman for the bureau.
Traditional restaurants, which were badly affected last year as most people stayed at home to avoid possible infections from the COVID-19 epidemic, have been actively taking innovative approaches. They have passed the challenging time, as the pandemic has been brought under better control in China, industry experts said.
"In March, spending in the catering sector has turned to the level seen in recent years before the pandemic. We can often see long queues outside some popular restaurants, and the catering sector is on track to recover fast this year," Ren Xingzhou, a research fellow and former director-general of the Institute for Market Economy of the Development Research Center of the State Council, said at an economic forum held by China News Service on Friday.
Retail sales fell by 3.9 percent on a yearly basis in China last year, as sporadic outbreaks of the pandemic in some cities restricted people flows.
During the Spring Festival holiday in February, many cities urged residents to stay at home cities to avoid the risk of possible infection. Thus, much of the demand in transportation and accommodation declined, while spending on goods and eating locally, Ren said.
From January to March, retail sales of sports and recreational products and communication equipment grew by 45.2 percent and 42.4 percent on a yearly basis, respectively, the NBS said.
In the first three months, the added-value of transportation, storage and postal services and that of real estate services grew by 32.1 percent and 21.4 percent on a yearly basis, respectively.
During the period, online retail sales stood at 2.81 trillion yuan, up 29.9 percent on a yearly basis. Online retail sales of physical goods stood at 2.31 trillion yuan, up 25.8 percent year-on-year, and accounted for 21.9 percent of the total retail sales of consumer goods, the NBS said.
Meanwhile, offshore duty-free sales in tropical province of Hainan are expected to double this year for the second year in a row, Shen Xiaoming, Party secretary of Hainan, said on Monday.
The island's offshore duty-free shopping sales are set to exceed 60 billion yuan this year, up from 30 billion yuan last year and 15 billion yuan in 2019, according to Shen.
The trend of backflow of overseas spending has been distinctive, particularly in the growth of spending in cars, luxury products and cosmetics. China's favorable policies in Hainan have continued to attract more consumers, but international travel is still stagnant, Ren said.
"With the weather warming up, the booming tourism sector is also set to drive spending in transportation, catering and accommodation. Besides, education, training and fitness sectors have seen robust growth.
"With effective epidemic control and prevention measures, I'm confident of a further consumption growth. The spending increase in the services sector is likely to be the highlight of the second quarter," Ren said.