Rural reading rooms a gift for future
By Yang Yang | China Daily | Updated: 2021-04-21 08:50
Libraries help change children's lives in villages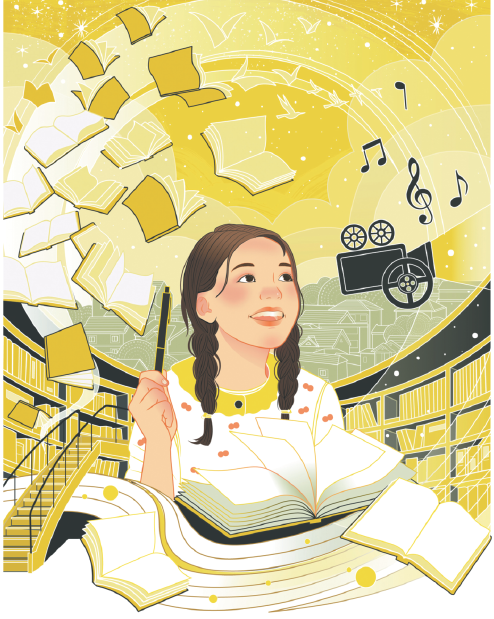 When Zhang Dongdong arrived in Qinglong county in August 2019, he visited a community called Sanbao Street, which was home to people who had moved from poor mountainous areas two years earlier.
Located in the Qianxinan Bouyei and Miao autonomous prefecture in Guizhou province, Qinglong was one of China's most poverty-stricken counties.
Zhang, a manager at the Beijing Chinese Language and Culture College, was sent to the county as temporary Party secretary in charge of poverty alleviation at Zhanma village, Chama township, deep in the mountains. The month after he arrived, Zhang's position was made official.
He discovered that 90 percent of Sanbao Street's residents lived in poverty, and that many of the children had been left in the care of older relatives after their parents moved to large cities to find work.
In those families, he found no reading material except textbooks, and he saw children sitting on low plastic stools while using higher stools as tables to do their homework. Zhang, who has a 3-year-old child, immediately started a campaign among his friends to provide books and quickly amassed more than 3,000 from all over the country.
The day after he arrived, he visited the village primary school, which had 196 students. Zhang found that the various-sized desks in the classrooms had been used for more than 10 years, so the surfaces were badly dented. The school library looked like a warehouse for old books and lacked any space for reading. After school, the students had nowhere else to go to read or study, and they could only amuse themselves by playing in open spaces.
"In response, we renovated the deserted offices of the village committee and opened the village library," Zhang said.
The renovation program began at the end of 2019, and on June 1 the following year, World Children's Day, the Zhanma Village Library opened its doors, dedicated to the local children.
The library, which covers less than 30 square meters, is open from 3 pm to 6 pm every day. It has 20 seats and about 3,000 books. The custodians had planned to close later, but some of the children have to walk for 30 to 40 minutes through the mountains to get home.
"I'm not the only Party secretary in charge of poverty alleviation sent by the central government that has built a library for a village," Zhang, 38, said. "In fact, most secretaries choose to build village libraries as a very important part of our work."
The central government has sent more than 3 million cadres to poverty-stricken villages nationwide. The construction of public cultural spaces, libraries in particular, has become one of the most important tasks to help rejuvenate China's rural areas.
In March, when he delivered the Government Work Report at the two sessions, the meetings of the top legislative and political advisory bodies, Premier Li Keqiang said: "We will promote the integrated development of urban and rural public cultural services and launch new public cultural projects. A love of reading will be fostered among our people."
It was the eighth consecutive year the report had included plans to nurture a society that loves reading. This year, the development of rural public cultural services has become a main priority.
On March 17, the government released a notice specifying seven major tasks to promote reading in society, including the improvement of related services to guarantee the needs of children in rural areas, especially left-behind children whose parents are migrant workers in large towns far away.
The latest available statistics from the Ministry of Civil Affairs show that by August 2018, there were 6.97 million left-behind children, a decline from the 9.02 million registered in 2016.
"As their parents go to cities to work, kids in poor areas stay at home with their grandparents, many of whom are illiterate. Books can be good company for them, enriching their childhoods and maybe their lives," Zhang said.