German conservatives make pick for chancellor
By JONATHAN POWELL in London | China Daily Global | Updated: 2021-04-21 08:54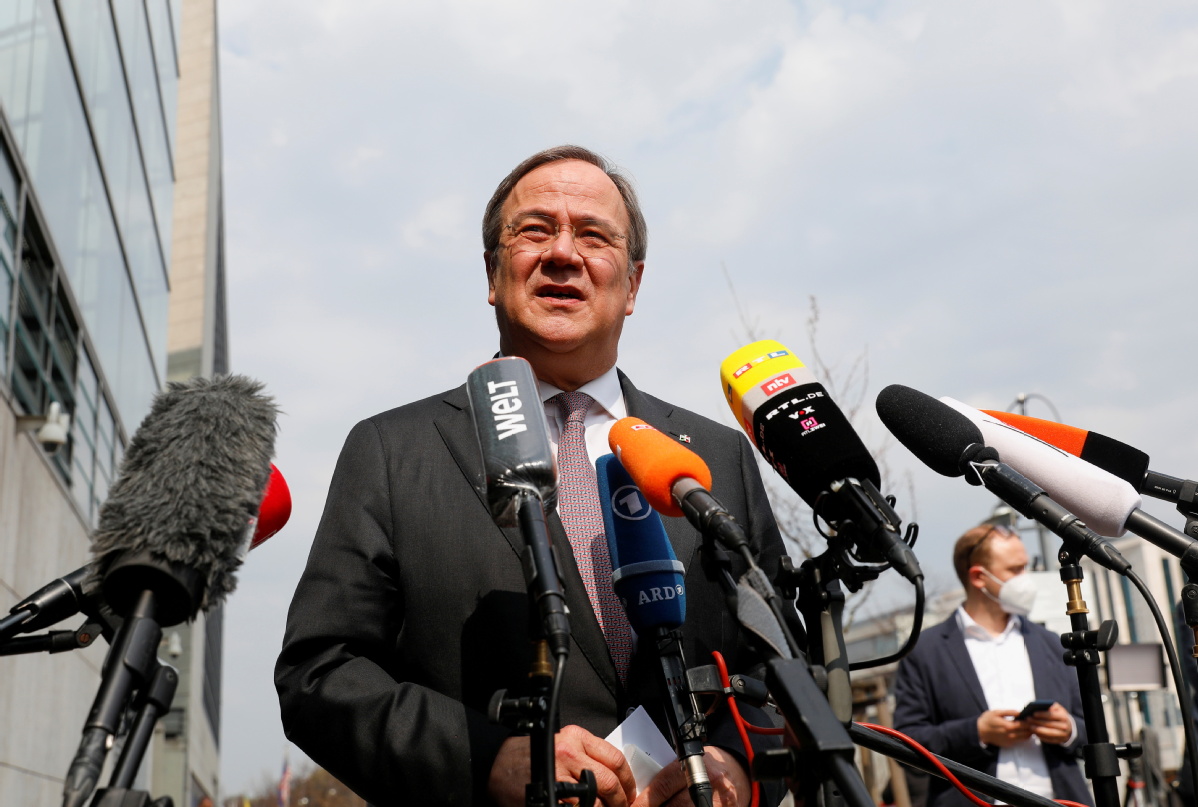 Selection of Laschet ends a week-long stand-off within Merkel's ruling party
Armin Laschet has won his rival's backing to run as the center-right candidate for chancellor when Germans vote in national elections in September.
Officials from the Christian Democrat Union, known as the CDU, voted to nominate party leader Laschet as the conservative bloc's candidate in a secret ballot early on Tuesday morning, the German broadcaster Deutsche Welle reported. The nomination caps a bruising leadership struggle.
It said a majority 77.5 percent of the party board-31 members-voted in favor of Laschet, while Markus Soeder, leader of the ruling bloc's alliance partner the Christian Social Union, known as the CSU, received just 9 votes.
Soeder confirmed later on Tuesday he will back Laschet as the conservative candidate, saying "the die is cast: Armin Laschet will be the chancellor candidate of the Union".
The conservative bloc, known as "The Union", is the last major party grouping to nominate a candidate for chancellor in the Sept 26 parliamentary election.
It brings an end to a struggle within the two parties to settle on a candidate to succeed Angela Merkel, who has been at the helm as chancellor for 16 years and will not seek a fifth four-year term.
Soeder had battled with Laschet for more than a week in a standoff that revealed deep divisions in Merkel's party, The Associated Press news agency said.
A recent poll by broadcaster ARD showed 44 percent of Germans were in favor of Soeder, while Laschet only had 15 percent of support. Soeder was understood to have significant support in the CDU.
Rival respects decision
Soeder had indicated previously he would respect the decision of the CDU party board. He said the CDU, as "the bigger sister party", had the ultimate say, the Agence France-Presse news agency reported.
"We don't want to and we won't see a rift between the CSU and the CDU," he insisted.
Laschet, who is also the governor of Germany's most populous state, North Rhine-Westphalia, was only elected as party leader in January.
The BBC reported Laschet is a "political survivor" who has "bounced back from previous defeats". It said he is known for his "liberal politics, passion for the EU and ability to connect with immigrant communities". He is regarded as the Merkel "continuity candidate".
After the CDU vote on Tuesday, Laschet said: "It's about the best answers to the pressing questions of the future. And I am ready to run for office on our behalf."
The conservative bloc leads the polls, a few points ahead of the environmentalist Greens, who on Monday nominated Annalena Baerbock as their first candidate to be chancellor. The center-left Social Democrats nominated Olaf Scholz as their candidate months ago.