Pubs seek legal permission for earlier opening
By JULIAN SHEA in London | China Daily Global | Updated: 2021-04-21 09:03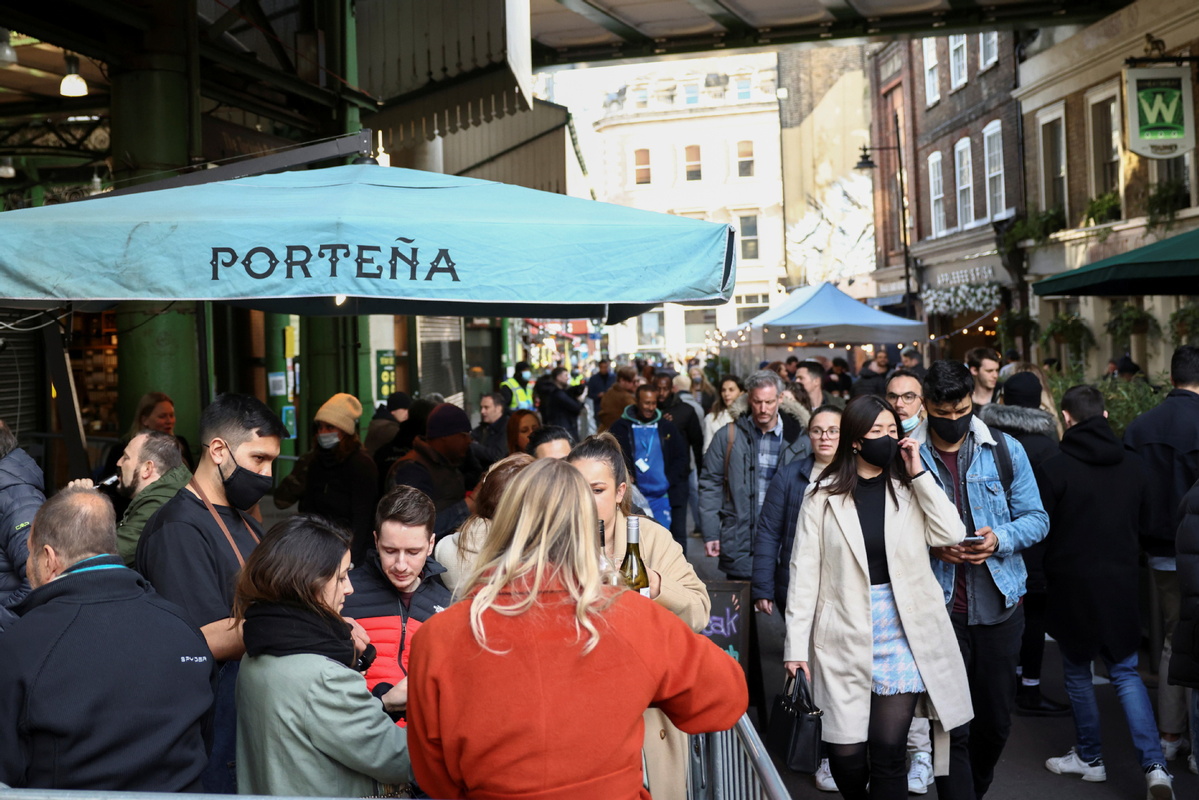 England's beleaguered hospitality sector is hoping a court ruling could allow it to reopen earlier than planned after beginning legal proceedings against the government at the High Court in London.
Restaurants and pubs in England have been hard-hit by successive lockdowns, and although they were allowed to reopen on April 12 at the latest stage of emergence from lockdown, it was only to serve customers in outdoor areas.
On the same date, non-essential shops reopened, unrestricted, and leading lights in the hospitality sector say there is no justification or scientific evidence to back up why they should have to wait another five weeks until the next, still incomplete, level of reopening.
"At the start of this pandemic there was a totally understandable assumption that hospitality venues might be responsible for the spread of infections," Hugh Osmond, former boss of the Pizza Express chain and founder of the Punch Taverns pub group, told BBC Radio 4. "The vision of drunken people in crowded pubs is an easy and obvious target that people understand."
Osmond has teamed up with Sacha Lord, the night-time economy adviser for Greater Manchester, to bring the case, and says their cause has right on its side, backed up by analysis of government data, proving that fears of hospitality leading to the spread of the novel coronavirus were unfounded.
"This data definitively shows that hospitality was not the major source of infections," he said. "This is something of a David versus Goliath battle … we are reassured that David won in that instance."
Lord said anything that the case could achieve would be of huge importance to the sector.
"Even if we open a week beforehand, that's 1.4 billion pounds ($1.95 billion) of sales recovered," he said. "How many jobs and livelihoods would that save? That's why we're doing this."
Rather than increasing the risk, he said, the reopening of licenced premises might play a more positive role.
"You can buy as much alcohol, unchallenged, from supermarkets and we are seeing images of people mixing in parks and households," he tweeted last week. "Hospitality has created safe, secure environments, let's open them up to help proceed with caution."
Pubs in England that have been able to reopen have reported extremely busy trade, and also a community feelgood factor.
"We've never been so busy, it's blown us away," Justine Rosser, owner of the Anchor pub in Oxford, told the Guardian. "People seem so pleased finally to be able to meet up and have fun again and celebrate things moving back towards normality, hopefully.
"One regular told me how much our pub reopening brought the community back together. She lives across the road and said, while we were closed through lockdown, she would look out of her window and see our fairy lights still twinkling 'like a little bit of hope'."