Academically speaking, delivery is important
By LI YINGXUE | China Daily | Updated: 2021-04-21 09:38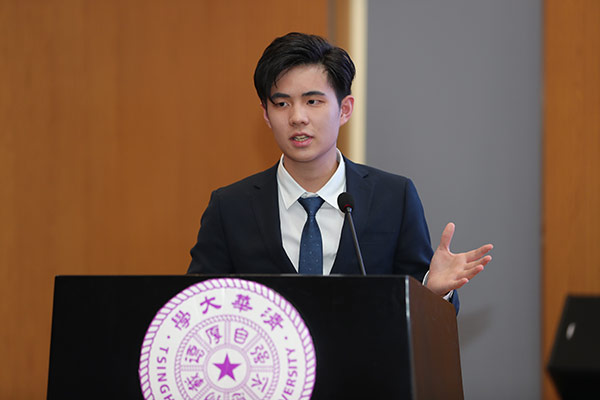 Spring is in the air. And every bachelor degree-seeking student knows that it is the time of year when theses must be defended. But any time of the year can be the season to defend academic work. At Tsinghua University, the school's 15 top bachelor scholarship hopefuls earlier put themselves on the spot to win one of the 10 coveted places up for grabs.
The students who present an exemplary performance will win the scholarship and Chen Yixian, a senior student at the Department of Physics, was one of those who delivered a successful presentation worthy of the ultimate glory.
The 22-year-old, with an excellent academic record, knows that presentation is also one of his strengths and this helps him to better demonstrate his work and communicate with international counterparts.
In 2017, when Chen was studying at Hangzhou No 2 High School in Zhejiang province, he won the 21st Century National English Speaking Competition (senior high category), an event organized by China Daily.
Two years later, Chen took part in the competition again and clinched the prize for the college category on behalf of Tsinghua University.
He later went through to the semifinals of the International Public Speaking Competition in London with five other competitors-each the winner of their own national public speaking competition.
Wu Xia, head of the Department of Foreign Languages and Literature at Tsinghua University, tutored Chen when he prepared for national and international competition.
According to Wu, most participants of the speech contest were students of the arts. As Chen's study focused on physics, his angle was different from others.
"He has solid English skills, and as a science student, he has good logical thinking," Wu says. "The English speech competition is not just a competition on linguistic performance but to evaluate their comprehensive quality and their knowledge reserve."
Chen says he developed the habit of reading English novels and watching English TV series when studying in elementary school, and during middle school he read three books each week to expand his knowledge.
"For me, reading English novels, especially science fiction, is like video games for others; it's a hobby," he says.
Wu says, Chen is not plagued by nerves when speaking publicly and is passionate about his topics, and that he is a hardworking student and much of his time is taken up with laboratory work and academic events. Wu prepared her schedule for Chen based on his requirements. "I could see his passion and persistence for astrophysics, so it's worth adjusting my schedule according to his time," she says.
During Chen's freshman year, he took Wu's course in the art of public speaking. Wu says her intention for holding the course was not to train professional orators but to cultivate an ability in academic reporting.
Wu believes public speaking is important for each person in daily life, whether for study or at work. "The key is that the forms of presentation can be various, while the content needs to be concrete and have a clear logic," she says.
Chen found his passion for astrophysics in his sophomore year and all of his public speaking skills help him do better when he takes part in international communication events about astrophysics.
"I use some presentation skills when doing academic reports and I will change my way of presenting information according to different audiences," Chen says.
"To present your scientific report, which may have taken years to write, in just 10 minutes requires the ability to make your point in a concise way that also interests your audience," he adds.
Chen says that he was inspired by Xue Qikun, an academician at the Chinese Academy of Sciences, who would take 20 days in advance to prepare each scientific presentation.
"It takes thorough preparation for each presentation to be understood well," he says.