Tradition and transformation ensure cultural harvest
Xinhua | Updated: 2021-04-22 07:58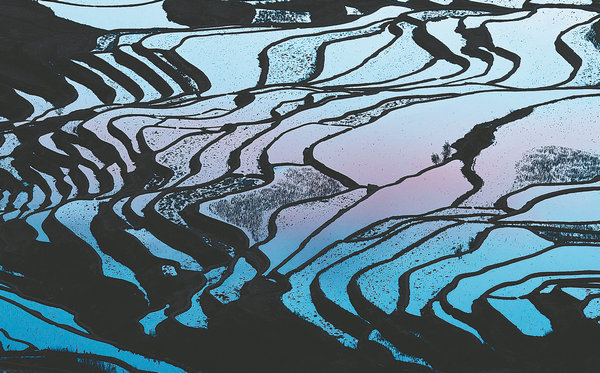 In the 1990s, French photographer Yann Layma stunned the Western world with images of cascading rice terraces in Southwest China. Today the agricultural wonder remains as grand as ever, while the people there are living more radiant lives.
The terraced fields in Yuanyang county in Yunnan province made it to the UNESCO World Heritage List in 2013.
They were created by the Hani, an ethnic group that mostly inhabits the area across the Ailao Mountains.
"I'll show you how to catch fish," Ding Ji'nan, a 24-year-old Hani social media enthusiast, says as she introduces life on the terraced fields to audiences across the country via a short-video platform.
Ding quit her job years ago and returned to her hometown, setting up a new media team introducing ethnic traditions and the local landscape online to the outside world.
In March 2019, the team uploaded their first video, in which Ding, resplendent in her traditional Hani clothing, shared the process of making local pastries.
The rural lifestyle has attracted an increasing number of viewers to her channel, and the young woman has come to be known as a spokesperson of the Hani rice terraces.
Ding's efforts have further raised the profile of the agricultural heritage, and at the same time, transformations have been taking place.
In 2016, 49-year-old Yue Shao returned to Yuanyang and established a company dedicated to the research and development of breeding on paddy fields.
Yue's company launched a platform that allows purchasers to trace the origin of the agricultural products. In addition, a smart service platform was developed to facilitate unmanned monitoring of seedlings and remote consultations regarding crop diseases for paddy where ducks and fish are bred as well.
The creative ecosystem has proven a success.