Johnson & Johnson jab cleared for EU use
By JULIAN SHEA in London | China Daily Global | Updated: 2021-04-22 09:35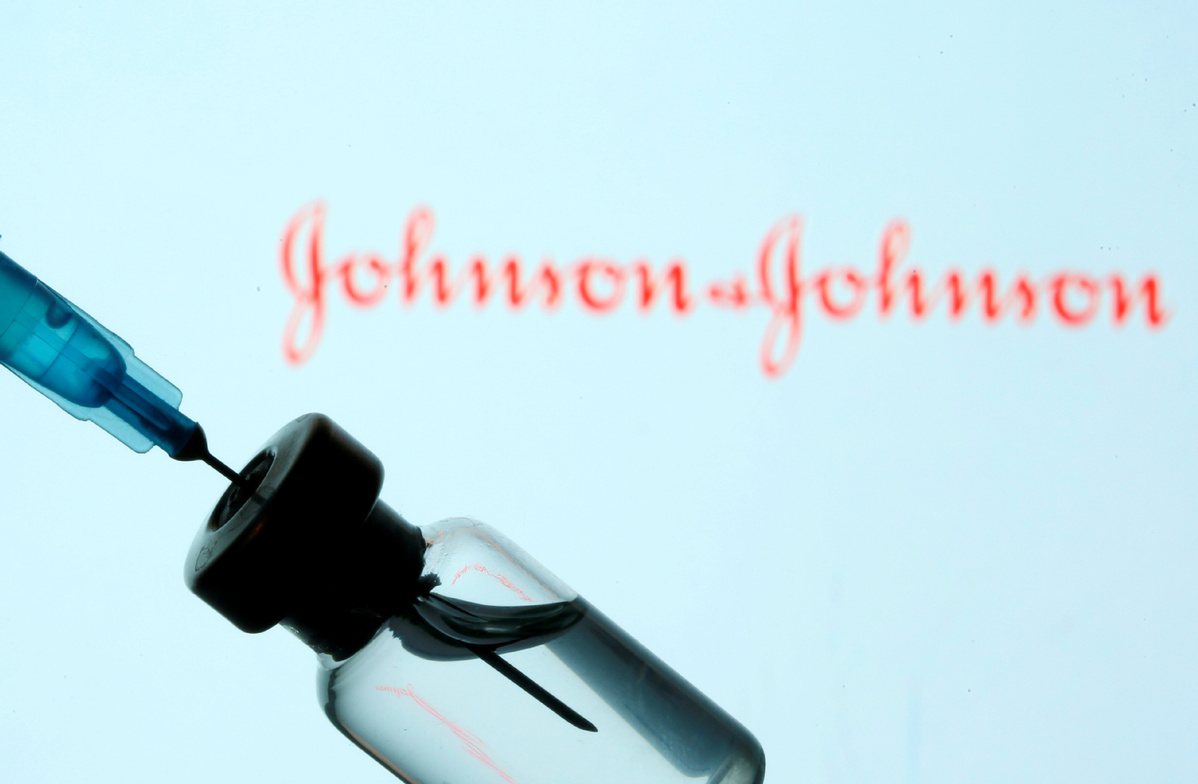 Regulator says benefits outweigh risk of 'rare' clots and low blood platelets
Deliveries of the Johnson& Johnson one-shot COVID-19 vaccine to countries in the European Union are to resume after the European Medicines Agency (EMA) said the risk of blood clots among some people who had received it was outweighed by its benefits.
Last week, countries in the EU, South Africa and the United States paused the use of the Johnson &Johnson jab after it emerged that out of seven million people in the US who had received it, eight had developed rare clots, and one of them died.
This came after similar incidents involving the Oxford-AstraZeneca vaccine, one of the first to have been introduced. Out of 25 million Europeans given the jab, 86 developed clotting, causing some countries to halt its use.
Having studied the US cases, the EMA's vaccine leaflet will now be updated to include reference to the diagnosis and treatment of clots.
"The reported combination of blood clots and low blood platelets is very rare, and the overall benefits of (the Johnson & Johnson) COVID-19 vaccine in preventing COVID-19 outweigh the risks of side effects," said a statement issued by the EMA.
"The cases reviewed were very similar to the cases that occurred with the COVID-19 vaccine developed by AstraZeneca."
With the worldwide death toll from the novel coronavirus pandemic having recently passed 3 million, EMA chief Emer Cooke stressed the impact vaccination continues to make in bringing down infection rates around the world.
"These vaccines play an immensely important role in combating this pandemic," she said. "These vaccines are going to prevent hospitalization and death from COVID-19."
EU member states are due to receive 55 million doses of Johnson& Johnson by the end of June, and although the EMA has given it the green light for use, it is up to individual countries how they want to deploy it, among which age groups.
"Use of the vaccine during vaccination campaigns at national level will take into account the pandemic situation and vaccine availability in individual member states," the EMA added.
Last week Denmark became the first country to completely abandon using the AstraZeneca vaccine, after two cases of clotting, one of which proved to be fatal, and a decision is due to made about Johnson & Johnson next week, after more testing is conducted.
Millions of doses of Johnson &Johnson have been ordered for the United Kingdom, even though it has not yet been cleared for use there. Three people under the age of 30 died of blood clots having received the AstraZeneca jab, so it is no longer used for that age group.
However, an Oxford University study says the risk of the virus itself causing blood clots is eight times higher than the risk of developing them following the AstraZeneca vaccine.