US to probe Minneapolis police practices
By BELINDA ROBINSON in New York | China Daily Global | Updated: 2021-04-22 11:28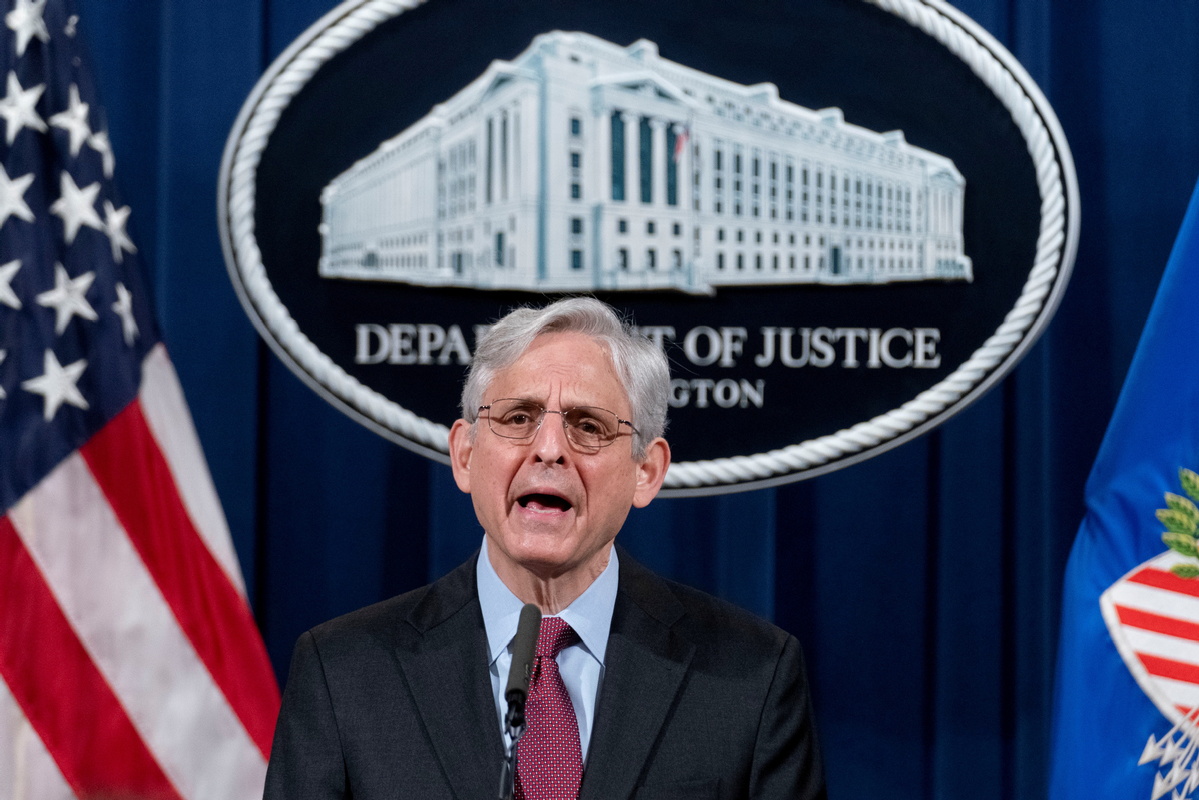 The US Justice Department (DOJ) has launched a federal investigation into the Minneapolis Police Department's practices in the wake of former police officer Derek Chauvin being found guilty for killing George Floyd.
US Attorney General Merrick Garland announced the investigation during a briefing on Wednesday, a day after Chauvin, a white police officer, was found guilty of murder and manslaughter in the May 2020 death of Floyd, an unarmed black man, after putting his knee on his neck for 9 minutes and 29 seconds.
"The Justice Department has opened a civil investigation to determine whether the Minneapolis Police Department engages in a pattern or practice of unconstitutional or unlawful policing,'' Garland said.
"Yesterday's verdict in the state criminal trial does not address potentially systemic policing issues in Minneapolis," he said. "Most of our nation's law enforcement officers do their difficult jobs honorably and lawfully. I strongly believe that good officers do not want to work in systems that allow bad practices."
The DOJ investigation will examine whether the Minneapolis Police Department uses excessive force, even during protests.
It will look at whether it has shown discriminatory conduct, especially toward those with health disabilities. DOJ officials will also examine its training, supervision and policies. If the investigation finds any evidence of abuse, the department will issue a public report.
Minneapolis Mayor Jacob Frey and Governor Tim Walz welcomed the investigation "to rebuild trust between law enforcement and the communities they serve".
The DOJ is already investigating whether Chauvin and the other officers involved in Floyd's death violated his civil rights.
The three other former police officers who assisted Chauvin — J. Alexander Kueng, Thomas Lane and Tou Thao — will go on trial together on Aug 23 at Hennepin County Courthouse, where Chauvin was convicted.
The state has charged each man with two counts of aiding and abetting — one for second-degree murder and one for second-degree manslaughter. They could each face a maximum of 40 years in prison.
Chauvin will be sentenced in eight weeks. It was recommended that he get 150 months or 12 1/2 years in prison under sentencing guidelines. But the prosecution wants a higher prison term that could lead to 30 years in prison, due to "aggravating factors".
Chauvin has been transferred from the custody of the Hennepin County Sheriff's Department to the Minnesota Department of Corrections.
He is being held in solitary confinement for 23 hours a day in Minnesota's only maximum-security prison.
Meanwhile, in Columbus, Ohio, officials urged calm Wednesday following the fatal shooting of a black teenager by a Columbus police officer. The teen was shot 20 minutes before a guilty verdict was announced against Chauvin.
Officials identified the officer who fired the shots that killed Ma'Khia Bryant, 16, as Nicholas Reardon, who has been with the department since 2019. He was placed on leave.
Less than six hours after the incident Tuesday afternoon, Columbus police released body camera footage, in which the teen apparently has a knife.
In one of two 911 calls played at a news conference Wednesday, screaming could be heard as a caller reported a girl trying to stab the individual, then the call disconnected.
Officers responded to the scene and reported the shooting at 4:45 p.m. A portion of the body camera footage was shown to the media Tuesday night by the city and police. Additional footage was played during Wednesday's news conference.
The video shows Reardon approaching a group of people standing in a driveway. In the video, Bryant pushes or swings at another person, who falls to the ground.
Bryant appears to swing a knife at a girl on the hood of a car, and Reardon fires his weapon, striking Bryant, who died a short time later.
Minutes after the shooting, a crowd gathered, yelling at the officers.
"Why'd you shoot her?" one bystander said. "You didn't have to shoot her."
During a news conference Wednesday, Columbus Public Safety Director Ned Pettus urged patience.
"I understand the outrage and emotion around this incident," Pettus said. "A teenage girl is dead, and she's dead at the hands of a police officer. Under any circumstances, that is a horrendous tragedy. But the video shows that there is more to this. It requires us to pause and take a close look at the sequence of events and, though it's not easy, wait for the facts as determined by an independent investigation."
Interim Columbus Police Chief Michael Wood said that 90 seconds after shots were fired, a medic was called. Bryant was transported in critical condition to a nearby hospital, where she was pronounced dead at 5:21 pm, police said.
"She was a child," White House press secretary Jen Psaki said Wednesday. "We're thinking of her friends and family in the communities that are hurting and grieving her loss. We know that police violence disproportionately impacts black and Latino people in communities and that black women and girls, like black men and boys, experience higher rates of police violence."
In Elizabeth City, North Carolina, a deputy shot and killed a black man in the serving of a search warrant Wednesday, authorities said, spurring an outcry from community members who demanded the immediate release of body camera footage.
Authorities wouldn't provide details, but witnesses said that Andrew Brown Jr, 42, was shot while trying to drive away, and that deputies fired at him multiple times.
The Associated Press contributed to this story.