The weakness of Joe Biden's infrastructure plan
By Ronny P Sasmita | chinadaily.com.cn | Updated: 2021-04-22 17:17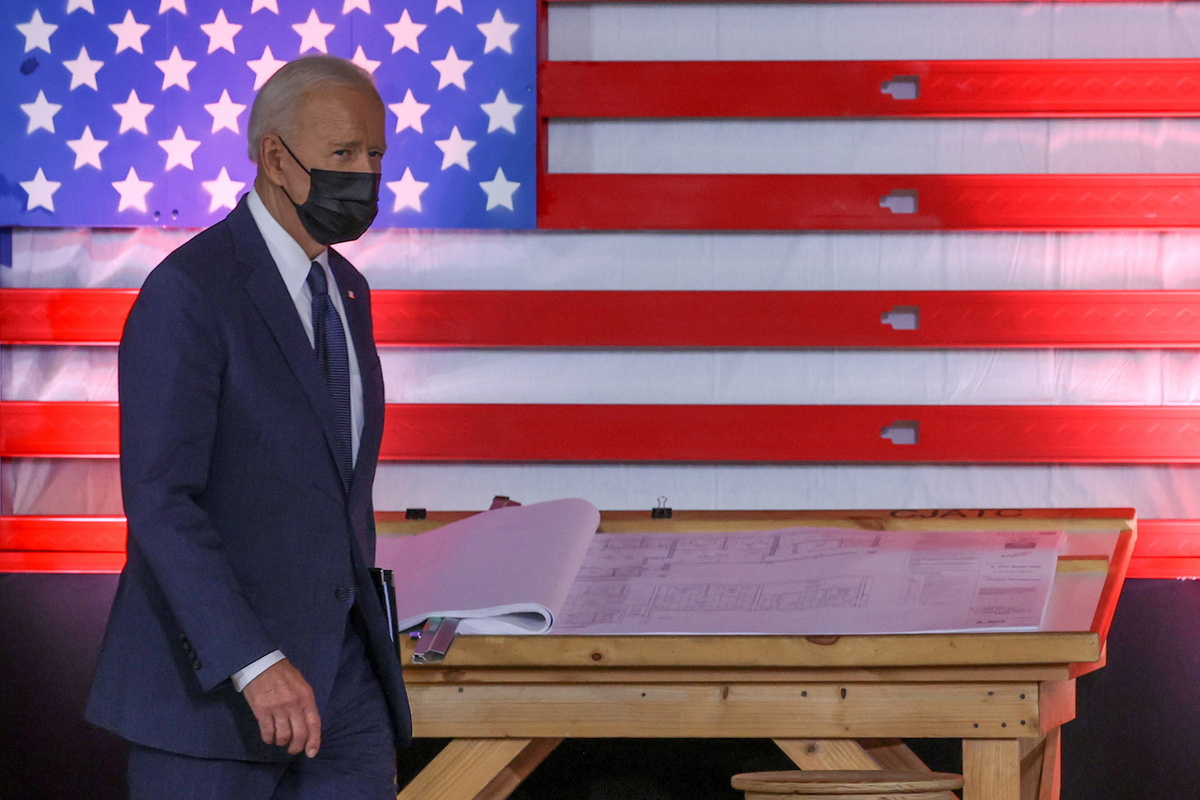 US President Joe Biden unveiled a roughly $2 trillion jobs proposal focused on infrastructure and the climate crisis in a recent speech in Pittsburgh, stressing his support of labor unions and his hope the investment would lift the middle class. Biden's next major legislative push, the American Jobs Plan, would heavily invest in rebuilding the nation's crumbling infrastructure and shift to greener energy over the next eight years.
Biden plans to pay for his proposal by raising corporate taxes and eliminating tax breaks for fossil fuels, which was one of his core campaign promises. The White House says this tax hike would raise more than $2 trillion over the next 15 years. Joe Biden's proposal sounds very ambitious, as if it will be the sole answer to dealing with China's fast growth.
Certainly there is nothing wrong with infrastructure projects, as long as the capacity and governance of domestic production are also well developed. This ensures domestic production can enjoy the ease of distribution, not only imported.
So what's the problem? First, in the perspective of the political economy, infrastructure is a project. It could have been built without being linked to the interests of increasing national production, but instead being linked to the interests of "project rent". In other words, infrastructure projects could become a means of repaying Joe Biden's gratitude to his fellow contractors and businessmen, without really having to do with the interests of the American people.
Second, infrastructure projects become markets for imported capital goods and supporting raw materials. The increase in imports of materials like steel and cement is certainly going to be drastic. Moreover, US domestic steel production has been dying since the trade war. If the conditions and governance of domestic production are assumed to be "constant" or "moving naturally", and the distribution is accelerated with infrastructure projects, it will not be the actors of domestic production that receive benefits, but producers and sales of imported goods and imported raw materials.
And the vulnerability of national production capacity will be doubled as inflation increases, because demand also goes up after various stimuli are disbursed. So the capacity of domestic products previously untouched by the government policies have become increasingly unable to compete, due to increased investment and production costs in the country.
Third, if the capacity and governance of domestic production are not addressed, the infrastructure will increase competitiveness of imported products as the domestic distribution cost margins are cut. The more dependent the US is on consumer goods, capital goods, and raw materials from abroad at a time of chaotic capacity and governance of domestic production, the more vulnerable its economic security and durability will be going forward.
What lessons can Biden learn? First, infrastructure projects worth $2 trillion must be ensured to increase production capacity, as well as improving competitiveness. Second, it must be ensured the majority of capital goods for infrastructure projects and labor come from within the country and are available domestically. And third, financing infrastructure projects with the increase of corporate taxes will not damage the performance and growth prospects of corporate businesses in the coming years. In other words, it must be ensured infrastructure projects do not undermine the ability of American domestic corporations to absorb a larger workforce at a later date, nor an increase in the price of their production that will add inflation.
On the other hand, to realize his grand plan, Biden will also be trapped in large amounts of new debt and all efforts to pump capital into the economic system so the American economy can keep moving. But the 1.9 trillion dollar stimulus and the 2 trilion jobs proposal will increase US domestic demand without being followed by an increase in domestic production capacity. Infrastructure projects are long-term projects, and can increase employment (through demand) but do not guarantee an increase in domestic production capacity.
So this step will cause two things. First is inflation and second is an increase in the trade deficit, particularly with China, due to the increase in demand being met by imports. These two risks will make Biden bring the US economy into a new crisis. The more inflation increases, the purchasing power of Americans will also be depressed, without being followed by a significant increase in labor absorption and wages, and the end is a new stimulus and new debt, which will make the economy warmer and more contracted.
Ronny P Sasmita is a senior fellow for the Indonesia Strategic and Economic Action Institution.