Oversight on livestream sales welcomed
By CAO YIN | China Daily | Updated: 2021-04-27 09:44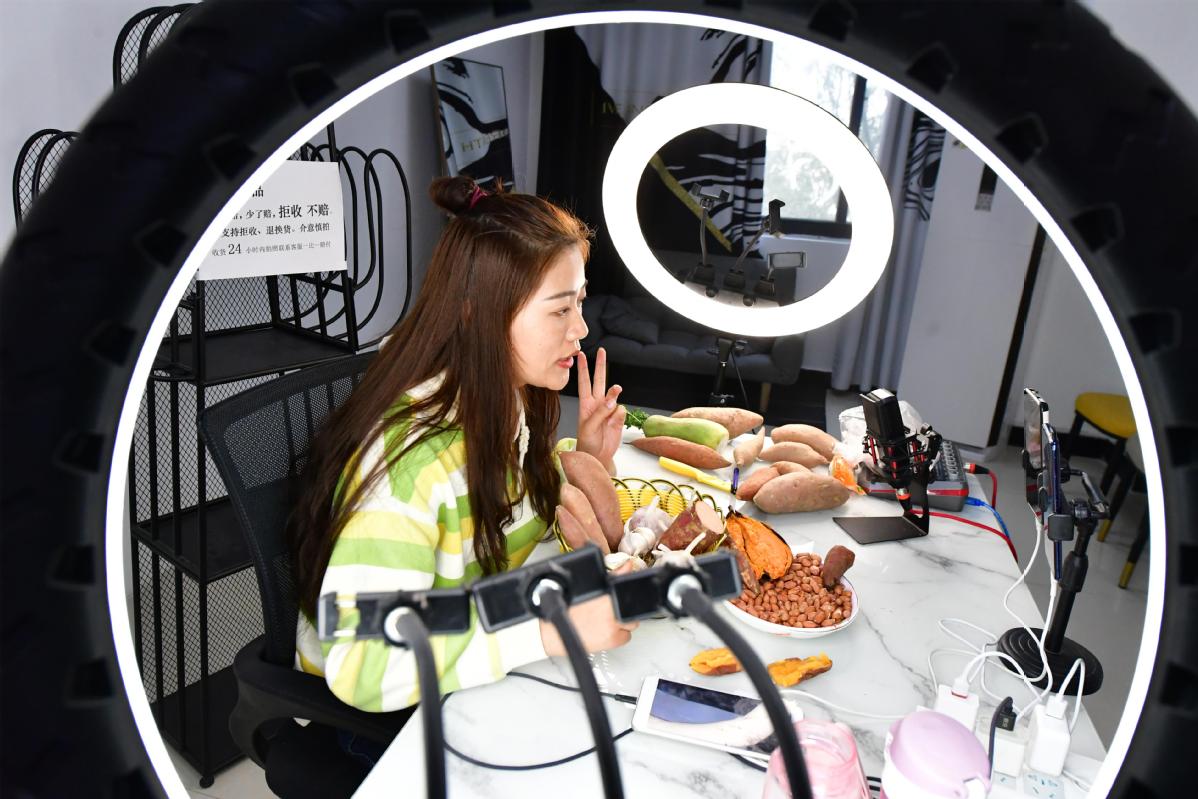 Legal experts said a regulation on marketing through internet livestreaming issued last week can help protect the legitimate rights of consumers, purify the online environment and maintain the healthy development of cyberspace.
Seven government agencies, including the Cyberspace Administration of China and the Ministry of Public Security, jointly issued the regulation on Friday. It makes clear that individuals engaged in livestreaming marketing or operations should be aged 16 or above, and it requires livestreaming platforms to blacklist those with records of serious violations, including immorality.
The regulation, which will take effect on May 25, stipulates that people engaged in livestreaming marketing must provide true, accurate and all necessary information about the products. No content that could mislead or defraud consumers is allowed.
It also prohibits activities such as selling counterfeit goods, infringing upon intellectual property rights, falsifying online views and tampering with transaction figures.
Zhu Wei, deputy director of the Communication Law Research Center at the China University of Political Science and Law, said the new rule will help regulate the booming livestreaming e-commerce sector so that it can develop in a healthier way.
Livestreaming marketing, a new internet business model, has thrived in recent years. Last year, there were about 24 million e-commerce livestreaming events on key online platforms, with an estimated total turnover exceeding 1 trillion yuan ($154 billion), according to a report released in March by the Chinese Association of Market Development, Taobao Live and Ali-Research - the research arm of e-commerce giant Alibaba.
The report said sales-oriented activities via livestreaming contributed a lot to the resumption of consumption during the COVID-19 pandemic last year. For example, a single Taobao livestream for apple sales in Aksu prefecture, Xinjiang Uygur autonomous region, in April last year attracted about 400,000 viewers and resulted in more than 3,600 orders.
But Zhu said disorder also exists in the industry, such as the sale of counterfeits and unqualified livestreaming hosts.
Zhu said the new regulation draws a "visible line" for entities, adding that it's time to specify who can be engaged in the business and what responsibilities each entity should take.
"The new rule manifests the government's consistent resolve to protect consumers' rights and maintain order in the market, no matter what kind of marketing activities are undertaken," he said.
Zhao Zhanling, a lawyer at Yunjia Law Firm in Beijing, said the minimum age requirement is in line with the Labor Law, which stipulates that only those over 16 can be employed as laborers.
He also welcomed a requirement in the regulation that those aged from 16 to 18 should get permission from their guardians, saying it was a strong move to protect minors.
As for the blacklist system, Zhao said it will help purify the online environment and rectify online disorder in a timely manner, "as it's an overall ban for those who commit serious violations or immoral acts during livestreaming marketing" and that "marketing hosts guilty of such misbehavior may lose access to the industry forever".
The regulation will provide a legal basis for enforcement by administrators, making inspection and punishment more efficient, he added.