More efforts needed to protect tigers
By ZHANG MINGHAI | China Daily | Updated: 2021-04-28 07:29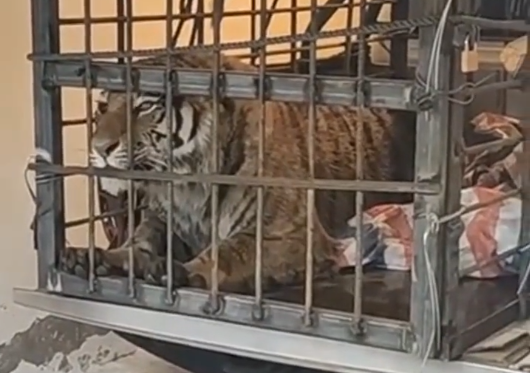 Authorities rescued a male tiger in Mishan city, Northeast China's Heilongjiang province, on Friday. A tiger was recently sighted on the Sino-Russian border, but there is no evidence to suggest this is the same tiger or that it had strayed from Russia.
Wherever it may have come from, cross-border protection of endangered species is a problem. According to Ma Jianzhang, a senior wild animal researcher in China, tigers know no borders, which have been built to stop humans from illegally crossing over. However, these borders also curb the free movement of tigers, thus inhibiting their breeding and exchange of genes.
The Sino-Russian border also comes in the way of protecting tigers in the region. Data show about 500 to 550 Siberian tigers, or over 90 percent of the species, live in the wild in Russia; 27 live in the wild in China, and 50 in the border region.
Sometimes tigers stray across the border and that is hindering efforts to curb illegal hunting and protecting them. Fortunately, both China and Russia have realized this problem and are working toward solving it. As early as 2010, the two countries established a cross-border protection network aimed at enhancing communication on protecting tigers in the northeast and leopards in the far east. The countries have also held joint ecological probes and anti-poaching activities.
In 2019, two national parks from the two countries signed a three-year deal to share research data on tigers and leopards, greatly improving the living conditions of Siberian tigers in the wild.
However, much more needs to be done to protect the species. It is necessary to merge the tiger protection zones in the two countries. That will require greater efforts from both sides and some difficulties might remain even then. However, it is worth the effort to provide the endangered species a better home.
ZHANG MINGHAI, A PROFESSOR AT NORTHEAST FORESTRY UNIVERSITY