Male consumers spur medical aesthetics industry in China
By ZHENG YIRAN | China Daily | Updated: 2021-04-29 07:29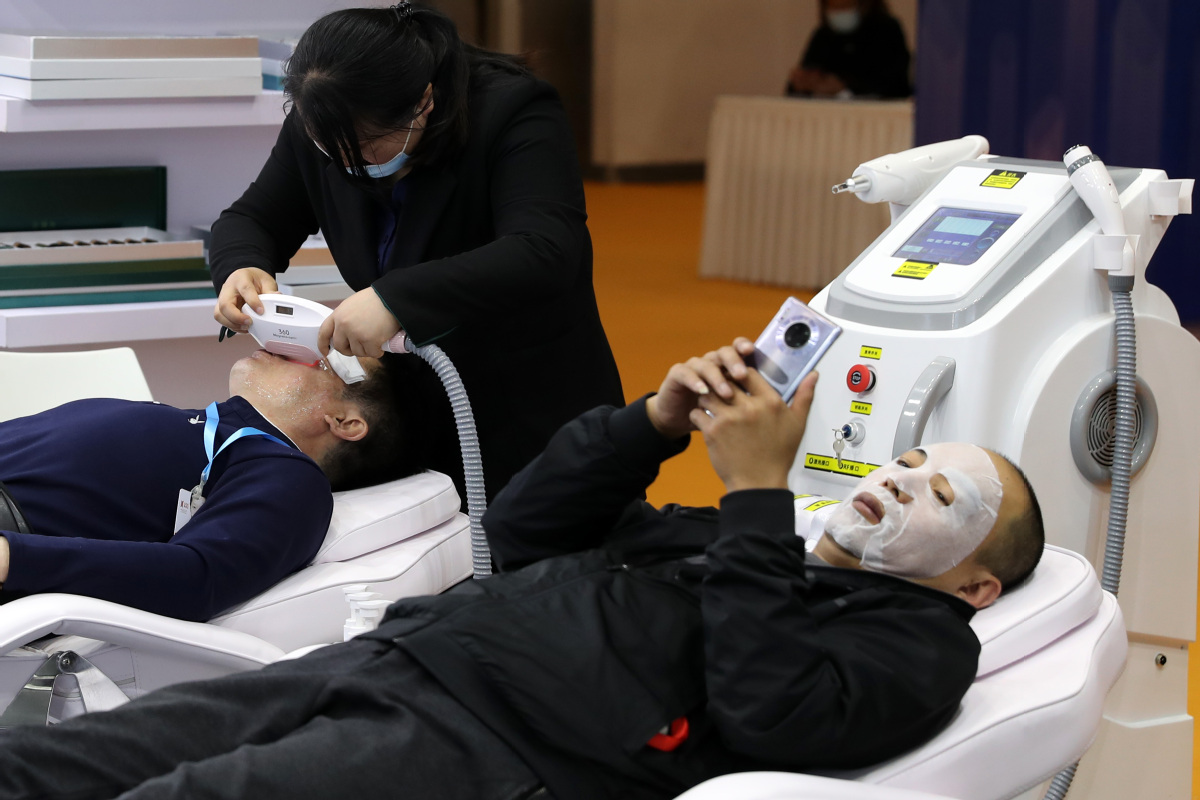 Segment in high gear as men make up bigger ratio
Looking good is no longer a women's business in China, judging by the growing number of men opting for medical aesthetics procedures in the country during the last two years.
China's rapid urbanization and consumption upgrade are making a growing number of people realize that being physically attractive places them in a more advantageous position, both at workplace and in daily life.
Wang Yang, a 27-year-old internet engineer in Beijing, is one of those who swears by medical aesthetics procedures. The young professional gets a Botox injection every six months to reduce his masseter muscle and make his face more symmetrical.
"I started taking the injections in 2015 when I was taking an ID photo and found out that the left and right sides of my face were asymmetrical. After careful thought, I decided to opt for medical aesthetics procedures to make slight adjustments. The Botox injections have made me look better and given me more confidence in the workplace," Wang said.
Zhang Hai, a 21-year-old university student from Beijing, underwent his first medical aesthetics procedure during the winter break to remove bags from under his eyes.
"I had been planning to undergo the procedure for months and had saved up for the same. The total cost of the procedure was 6,000 yuan ($924). Though it was a bit high, I did not mind as it resolved the pouch problems that had troubled me for several years," Zhang said.
"Having medical aesthetics procedures is just another way to look better. I did not really mind if people around me know about it or not. As a matter of fact, several of my friends also underwent medial aesthetics procedures," he added.
Zhang and Wang are among the several men in the country turning to medical aesthetics to make them more physically attractive and successful in their careers and studies.
Liu Jing, a senior medical aesthetics consultant in Chengdu, Sichuan province, said that in the last two years, she has witnessed an increasing number of male consumers coming to the beauty clinic where she works.
"Every one out of 10 consumers that comes to the clinic for consultation is male," she said.
According to a recent report from Shanghai-based market consultancy iResearch, in 2020, 30 percent of the medical aesthetics consumption market was generated by male consumers. A report from online aesthetic medicine platform SoYoung showed that in 2019, China's male medical aesthetics consumption market accounted for 9.98 percent of the total.
"The era when a good-looking person is more likely to gain attention and favor than an ordinary looking person has arrived. Be it at the workplace or in love, good looks are an advantage. Furthermore, with people's opinions changing, medical aesthetics is no longer exclusive to women. The market is seeing an increasing number of male consumers," said Ke Yang, a columnist at online finance media baobiannews.
"Currently, more and more cosmetics brands are inviting male celebrities to be spokesmen, and attractive male TV celebrities are becoming immensely popular. With male consumption upgrades and their changing concepts of self-awareness, men are now paying more attention to their looks.
"Curiosity for new things and pursuit of beauty among millennials and Generation Z have also prompted more young men to seek medical aesthetics procedures," Ke said.
Mu Liang, client manager in the marketing department of Mylike Younger-the high-end outlet of Beijing-based beauty salon giant Mylike Aesthetic Plastic Hospital Group-said that during the past five to six years, China's medical aesthetics sector has witnessed great changes.
"With the advancement of technology and the changing of the external environment where key opinion leaders and key opinion consumers are admitting to having plastic surgeries, medical aesthetics is gaining increasing acceptance among Chinese consumers.
"Women are not the only consumption group. Instead, they are bringing their boyfriends, husbands and sons to such institutions and encouraging them to have face-lifting injections, eye bag removals and hair transplants," Mu said.