How Liuzhou made its snack famous
China Daily | Updated: 2021-04-29 07:47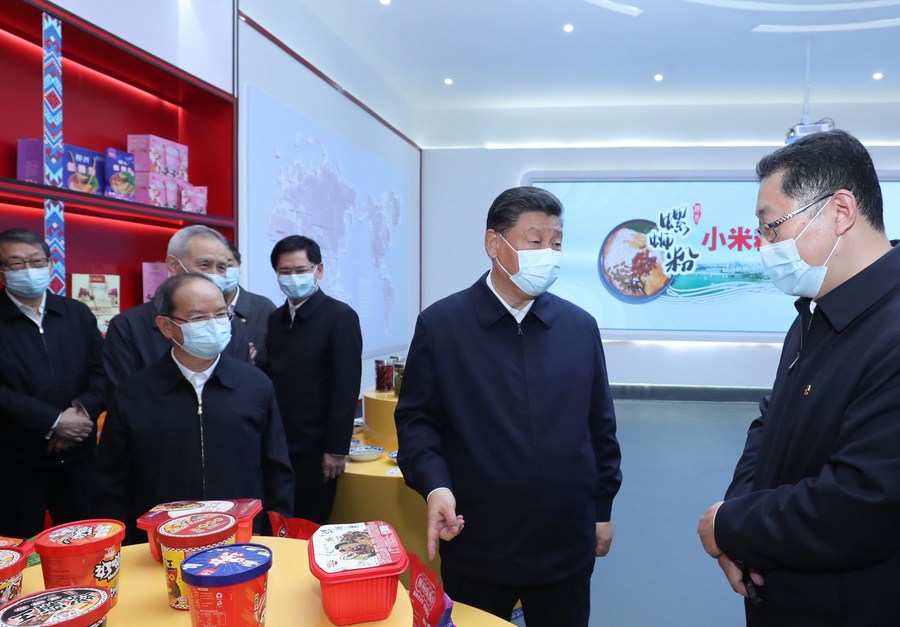 President Xi Jinping visited the production zone of river snail rice noodles during his inspection tour of Liuzhou city in the Guangxi Zhuang autonomous region on Saturday. The noodles, which date back to the 1970s, are the secret behind Liuzhou's success story.
Xinhua reports that the annual sales of river snail rice noodles in more than 20 countries and regions exceeded 10 billion yuan ($1.54 billion) in 2020, while providing over 250,000 jobs across the industrial chain.
On Sina Weibo, China's equivalent of Twitter, river snail rice noodles are often among the top 10 trending topics. Chinese cuisine is popular the world over. Hundreds of rice noodles and thousands of local snacks are famous across the country. So how exactly did this hitherto lesser-known snack from Liuzhou become so famous?
The turning point came in 2014, when some local shops began packing the noodles in plastic bags, enabling its online sale and turning it from a local to a national brand, which is popular even abroad. Its makers chose to innovate not because they had fallen upon bad days, but because they wanted to expand their business through innovation.
The noodle makers have also broken the myth that innovation is impossible without the application of advanced technology. They have achieved success by simply making better quality noodles using better quality ingredients, introducing new flavors and adopting modern marketing techniques such as hiring entertainment stars to promote their products through livestreaming.
Cooperation between the enterprises and the local government has also helped. Innovation is not the job of enterprises alone. The local government in Liuzhou, too, played a key role in putting Liuzhou's favorite snack on the world's culinary map by introducing quality standards.