Draft outlines food security measures
By ZHAO YIMENG | China Daily | Updated: 2021-04-29 09:24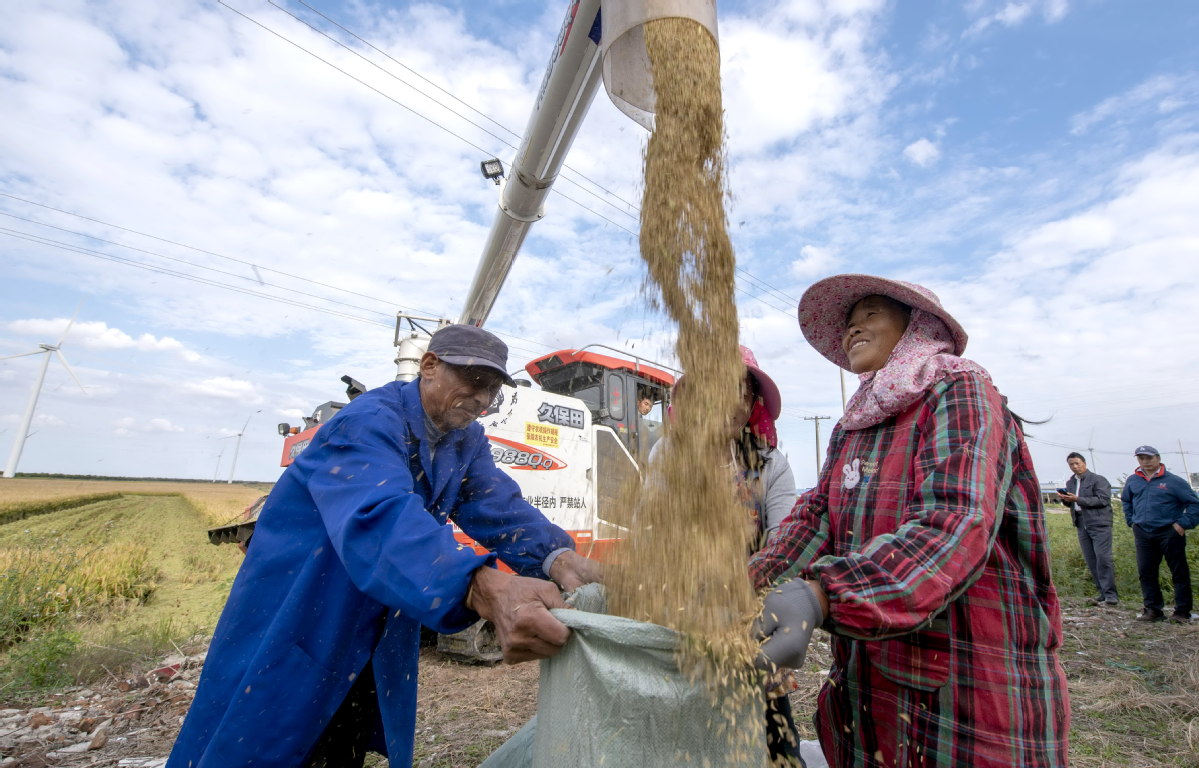 A draft law on promoting rural vitalization has added stipulations regarding farmland improvements and seed protection to emphasize the significance of China's food security.
The draft law was submitted at a session of the Standing Committee of the National People's Congress, China's top legislature, for a third review on Monday.
Stipulations on ensuring national food security have been shifted to the general provisions of the draft law, while the national strategy of "improving farmland and technology" has been added to the implementation principles.
Li Fei, a senior legislator with the constitution and law committee of the NPC, said China should take steps to increase food production capacity, build major grain producing areas and improve food processing and circulation to ensure national food security.
The draft also includes new stipulations on ensuring the safe and effective supply of agricultural products. It strictly controls transferring farmland for forestry or construction use, Li said.
Liu Luxiang, deputy director of the Institute of Crop Sciences at the Chinese Academy of Agricultural Sciences, said the draft law summarized the country's efforts to ensure food security, and it will push governments at all levels to take measures.
"The draft will assemble various resources in fields related to food security so that local governments can roll out measures in accordance with the law," Liu said.
"The draft shows that the central government has put a premium on the issue," he added.
Kong Xiangbin, a professor at China Agricultural University, said ensuring the area and quality of farmland will help increase the country's food capacity amid today's troubling times.
"Given uncertainties caused by the Sino-US relationship and the pandemic, we need to guarantee sufficient arable land area and improve land quality by, for instance, tackling salinization to ensure domestic food production," Kong said.
China has to balance farming resources to ensure food security in the process of urbanization, he said, adding that short-term and long-term strategies are needed.
The No 1 central document released in February stated that China will ensure 120 million hectares of arable land and build 6.67 million hectares of high-standard farmland with better yields and stable production this year.
China is building major grain producing areas and distributing food production based on geographical advantages.
"Wheat, corn and rice are mainly planted in North China, where farmland is suitable for large-scale and mechanized production, while more fruit is grown in southern areas with premier weather conditions," Kong said.
"The reasonable division and efficient production will provide excellent and healthy agricultural products for Chinese consumers," he added.
Li said a new stipulation has been added to guarantee seed safety, which includes strengthening the protection and use of germ plasm resources and building seed banks. China will make scientific and technological breakthroughs in cultivating good crop and livestock varieties, he said.
Kong said that China has to enhance the use and protection of wild seed resources.
"China is the hometown of soybeans, and the northeastern part of the country owns the most comprehensive varieties. But due to the lack of seed protection, we now have to import soybeans from other countries that have bred and improved ours," he said.
Last month, the Ministry of Agriculture and Rural Affairs launched a three-year effort to research and collect the nation's germ plasm resources.
In addition to breeding technology, China should cultivate more agricultural talent who know how to use technology to spur grain growth.
"Modern farmers are expected to use mechanized equipment and be able to operate farms," Kong said.