Johnson faces two inquiries over his makeover funding
By JULIAN SHEA in London | China Daily Global | Updated: 2021-04-30 10:07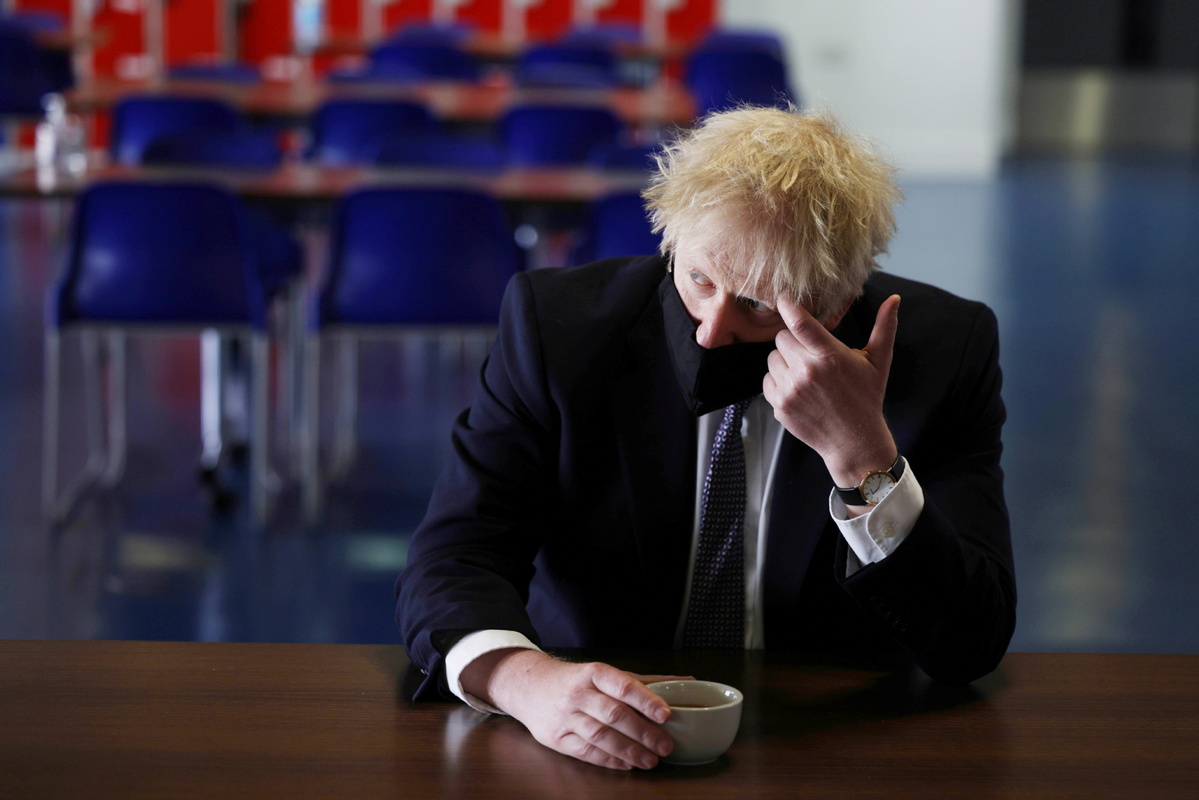 British Prime Minister Boris Johnson is facing two inquiries into how he funded the refurbishment of private rooms at his official residence in Downing Street, but there has been an angry response to the news that he himself may end up making the final decision on whether there was any impropriety in one of them.
On Wednesday the Electoral Commission announced it would be looking at where the money had come from, after leaked emails seen by the Daily Mail showed that Conservative Party donor Lord Brownlow had offered the party a 58 thousand pound ($80,000) donation last year, which was listed to "cover the payments the party has already made on behalf of the soon to be formed 'Downing Street Trust'".
But Electoral Commission records only show a donation of 15 thousand pounds was formally declared, with no mention of any other payment.
"We are now satisfied that there are reasonable grounds to suspect that an offence or offences may have occurred," said the Commission. "We will therefore continue this work as a formal investigation to establish whether this is the case."
Brownlow is a former police officer turned businessman, who was ranked as the 521st richest person in the United Kingdom by the Sunday Times rich list, with an estimated fortune of 271 million pounds.
He was made a peer by former prime minister Theresa May in her resignation honors list, and served as vice-chairman of the Conservative Party from 2017 to 2020.
Johnson insists he paid for the refurbishment work, but has refused to be drawn on whether he paid for it up front, or whether the bill was picked up by the Conservative Party or a donor, and then repaid by him.
"If there has been a loan and that person is looked on favorably the risk is the prime minister could make a decision that favors that donor," said opposition Labour Party shadow cabinet member Liz Kendall.
It was also announced on Wednesday that adviser on ministerial standards Lord Geidt would investigate the payments controversy, but there are concerns he does not have the power to take any serious action after a Downing Street spokesperson said that Johnson himself would be the final arbiter of whether any wrongdoing had occurred.
"We need an absolutely independent adviser on ministerial interests who has the power to initiate investigations," Kendall told the BBC.
"Let's not forget that the last one quit when the prime minister overruled his finding that (Home Secretary) Priti Patel had bullied staff .It's been months since the new one has been appointed, and saying that Lord Geidt can only suggest investigations take place isn't good enough.
"It's not just that Johnson would be marking his own homework, he wouldn't be setting his own homework in the first place. We need to have complete openness, honesty and transparency if we (are going) to have confidence in the system."