EU urged to welcome back Scotland
By EARLE GALE in London | China Daily Global | Updated: 2021-04-30 10:08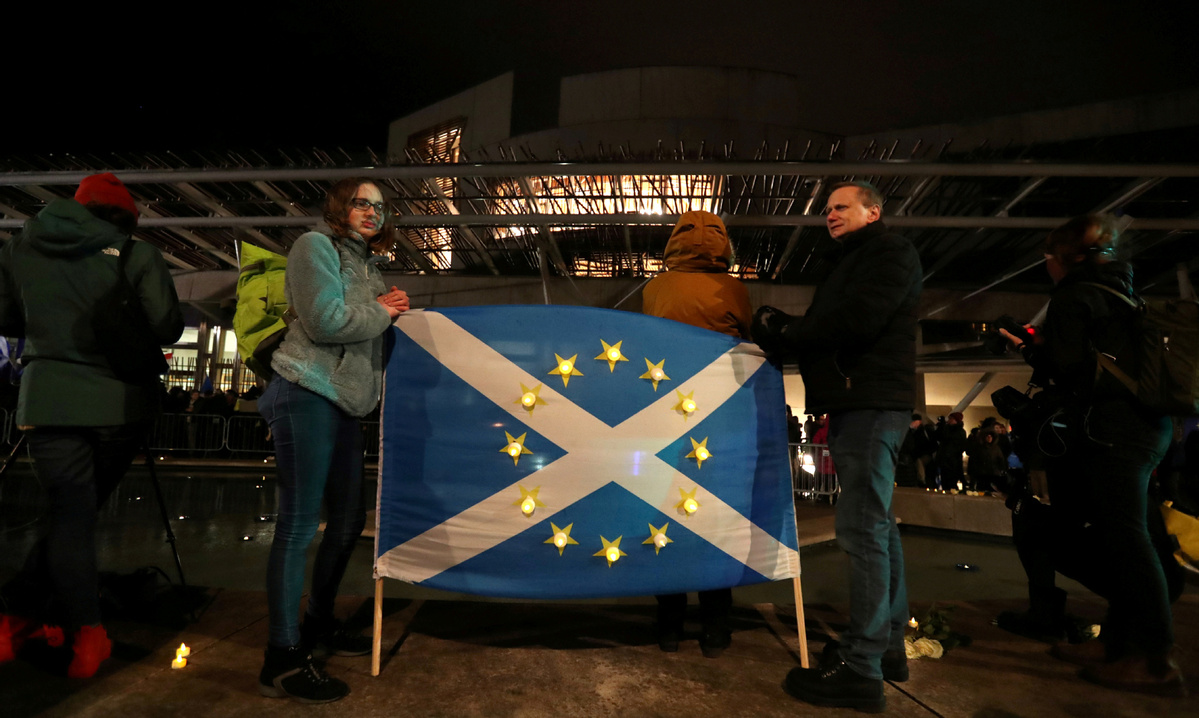 The European Union should tell the people of Scotland their nation would be welcomed back, if it breaks from the United Kingdom and wants to rejoin, an open letter signed by 170 prominent people has claimed.
With the clock ticking down to elections next week for the devolved Scottish Parliament, at which the separatist Scottish National Party, or SNP, is expected to do well, the letter claims the bloc should tell voters EU membership is at stake.
Nicola Sturgeon, the leader of the SNP and Scotland's current First Minister, has already said an independent Scotland would immediately move to rejoin the EU.
"The EU and its member states should make a unilateral and open offer of membership: an exceptional proposal to match Scotland's exceptional circumstances," the letter says. "Generous terms should be offered to support Scotland's budget in the challenging months of the transition before rejoining the EU."
The letter was written by a group called Europe for Scotland and published on Thursday in newspapers throughout the EU and carried online in 19 European languages.
The Guardian newspaper, which was one of the publications that carried it, noted the signatories were diverse and included the Italian novelist Elena Ferrante, the English fantasy writer Neil Gaiman, the Slovenian philosopher Slavoj Zizek, the English theater director Richard Eyre, and the Greek political scientist Kalypso Nicolaidis.
The letter noted the Scottish people were keen supporters of the EU who had voted by 62 percent to 38 at the 2016 referendum to remain within the bloc, although the result across the whole UK was 52 percent in favor of leaving.
The Daily Express newspaper said Sturgeon, who said as the UK left the EU that Brussels should "leave a light on" for Scotland, will waste no time in attempting to rejoin the bloc.
Anthony Barnett, one of the letter's writers, told the Guardian: "We want to shift the narrative from the negative spirit of Brexit to one of positive solidarity. Scotland-where every region voted remain (within the EU)-must not be left on its own by Europe while being subjected to bullying by the UK government."
The letter mentions an earlier promise that Brussels made to the people of Northern Ireland, which is also part of the UK and which also has many separatist citizens, that it would be welcome back in the bloc if it left the UK.
The Daily Telegraph reported on Thursday that Douglas Ross, the leader of Scotland's Conservative Party, had said pro-UK unionists essentially have one week left to stop the SNP from winning and holding a second independence referendum.
"Scotland stands on the brink," he said during a speech close to the border with England. "If we do not address the threat next Thursday, the SNP will have a green light to charge ahead with a hard border."