Enjoying a brush with social media fame
By Zhou Jin | China Daily | Updated: 2021-05-03 11:50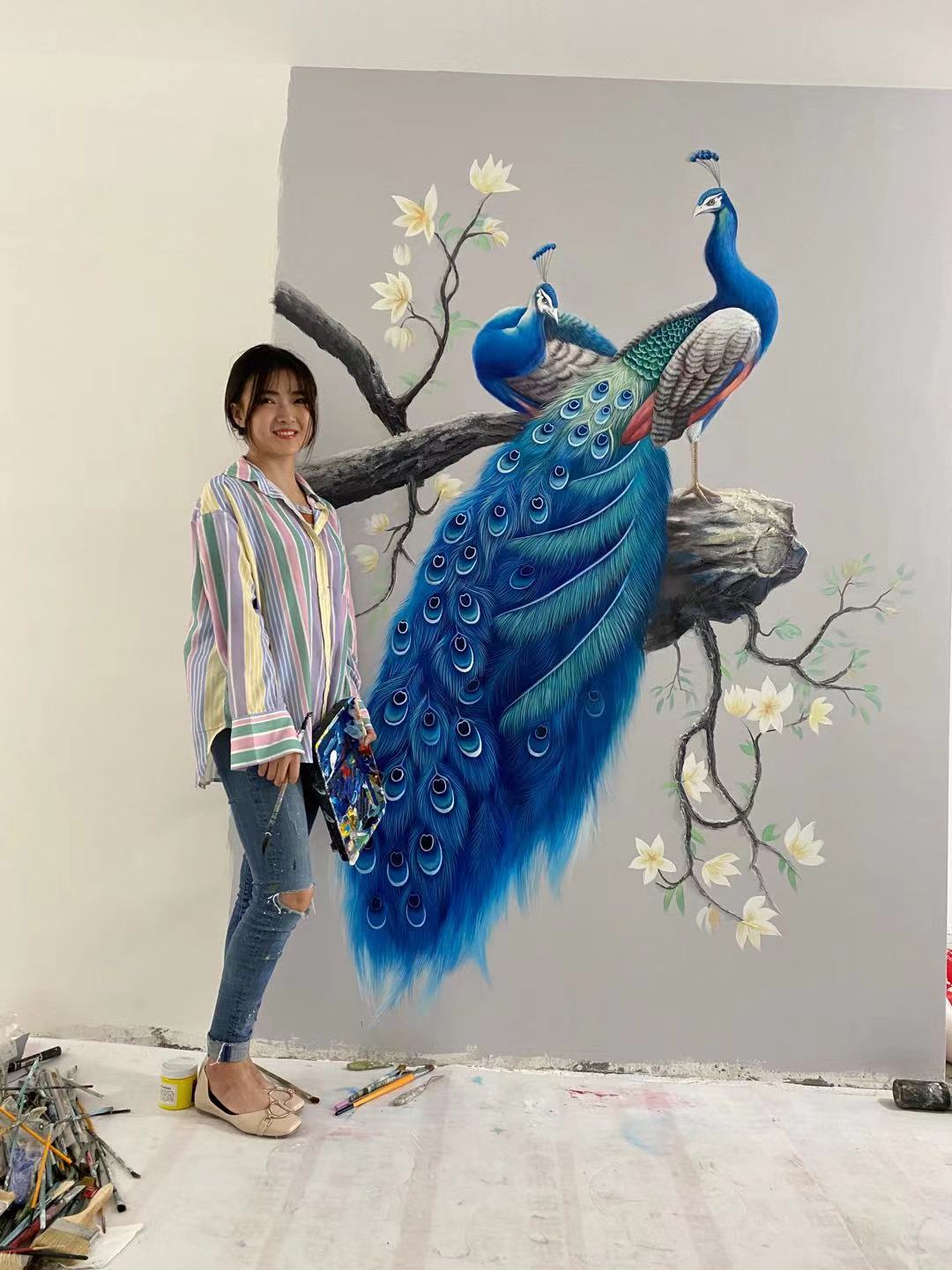 TikTok videos help mural artist carve out a lucrative niche with her own unique style, Zhou Jin reports.
With a spatula, some brushes and buckets of lime plaster-like paint, a thin girl uses her magic to embellish white walls with vibrant and colorful murals, giving them infinite charm. With the help of video sharing platform TikTok, she is able to share her painting process, and the finished artworks, with the public.
Zhang Lijia, 25, is the artist and vlogger that has mesmerized over 6 million followers on TikTok. Most of her works are murals for home and office decoration depicting classic chinoiserie, such as landscapes with splendid mountains and rivers, vivid lotuses, deer and peacocks. Sometimes, she paints portraits and cartoons commissioned by her clients.
"Murals convey good messages. For example, the deer represents good luck and longevity, and the peacock implies wealth and auspiciousness," Zhang says, adding that the murals embody blessings and wishes for a better life, expressing a hope that more people will see the beauty of the paintings and welcome their wishes of good fortune into their own homes.
"One person, six days, 40,000 yuan ($6,159)"-one of her most widely viewed videos shows that although it is not easy work, mural painting is highly paid and enables Zhang to enjoy financial independence.
Zhang often spends hours on scaffolding, allowing her to paint the higher areas of a mural. It takes days to finish a mural, and the hours of brushwork leaves her hands and clothes stained with paint.
"When painting murals, I look no different from a plasterer, and the first time I climbed up a scaffold, I was scared. Now, however, it is just an everyday occurrence."
Mural painting, like most art, can be time-consuming. Zhang first draws the design on the wall with chalk, before using a spatula or putty knife to apply white paint from which she can form details with a relief effect, like petals and mountains. After polishing the surface, she will add color to the image and apply a protective layer of lacquer to ensure the mural's longevity.
It might seem boring to some, but as a mural artist who is passionate about her work, Zhang says that, when painting on the wall, all of her attention is directed to each stroke of the brush. "Painting calms me down and I feel like the whole world falls into silence," she explains.
Zhang's fascination for painting dates back to her childhood, when she spent much of her leisure time drawing.
"I liked copying the illustrations in my textbooks and, while I was in high school, I made up my mind to study art."