New York state to lift capacity limits starting May 19
By AI HEPING in New York | chinadaily.com.cn | Updated: 2021-05-04 04:13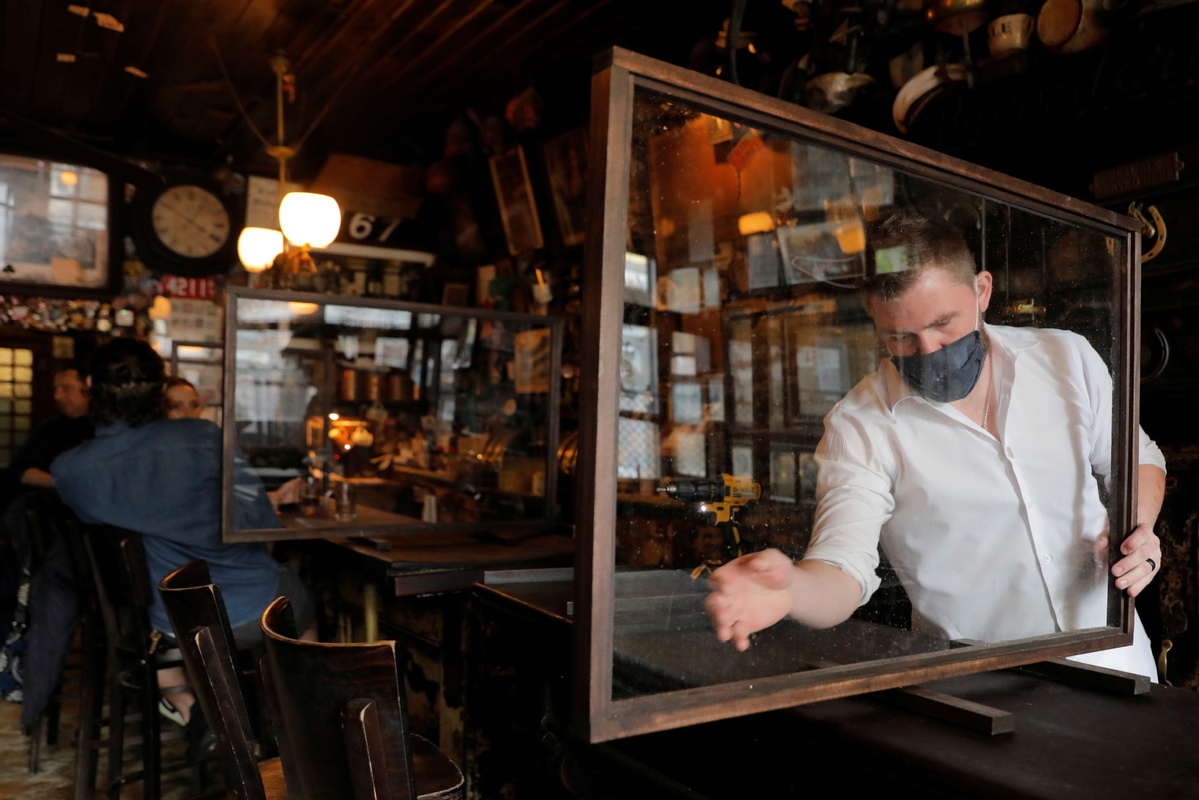 New York City Mayor Bill de Blasio last week announced that the Big Apple will fully reopen by July 1, but Governor Andrew Cuomo on Monday went more than a month better, setting the date as May 19 for the city and the rest of the state to end virtually all capacity restrictions put in place due to the coronavirus pandemic.
The neighboring states of New Jersey and Connecticut also are making similar — though not identical — moves on May 19.
New Jersey Governor Phil Murphy and Connecticut Governor Ned Lamont joined Cuomo as they revealed plans in a joint regional announcement Monday.
Cuomo's announcement came less than a week after de Blasio's announcement that the city will "fully reopen'' by July 1, which Cuomo called "irresponsible" for giving a full reopening date, while also offering his own vague timeline: "I don't want to wait that long. I think if we do what we have to do, we can be reopened earlier."
What the mayor didn't do was to explain that Cuomo has the ultimate say over capacity restrictions in the state.
Cuomo's announcement will end capacity restrictions at restaurants, offices, museums, retail stores, restaurants, bars, gyms, fitness centers, amusement parks, recreational venues, hair salons, offices and live entertainment venues. The governor also announced that the New York City subway will resume 24-hour service starting May 17.
Cuomo said a steady decline in the positive rate of coronavirus tests and hospitalizations across the state showed it was time to begin the reopening process.
The percentage of New Yorkers testing positive for the coronavirus dropped 50 percent over the last month, and hospitalizations for COVID-19 decreased by 37 percent during the same period, he told a news conference.
"New Yorkers have made tremendous progress," Cuomo said. "It's time to readjust the decision made on the science and on the data."
While capacity limits will be lifted in most places in the city and state, Cuomo said establishments must observe a 6-foot social distancing recommendation set by the US Centers for Disease Control and Prevention (CDC). The restriction would be lifted for events where all individuals who attend provide proof of a full vaccination or a recent negative coronavirus test, he said.
Restaurants may have tables closer than 6 feet if they have installed partitions or barriers, according to state officials.
The lifting of the state's capacity restrictions is a first step toward the reopening of Broadway theaters after their shutdown on March 12, 2020, when Cuomo instituted the statewide limits.
Cuomo acknowledged that the various industries, including Broadway, "may make their own economic decisions" about when to reopen.
Broadway producers have insisted that social distance requirements are a non-starter for the industry because the cost of staging a production demands full-capacity availability.
The governor indicated that live venues could work around still-existing social distance requirements by requiring of patrons proof of vaccination or a negative coronavirus test upon entry. Whether theater owners and producers will institute a vaccine-only policy is unclear.
The Broadway League, as well as various other industry insiders, have indicated that a September reopening of some shows is likely.
New York's move comes just more than a year after businesses across the state closed and others limited capacity to combat one of the country's worst coronavirus outbreaks. It follows updated guidance released by the CDC last week, which said people don't need to wear masks outdoors where social distancing is possible.
Cuomo said, however, that a 33 percent capacity limit will remain for large outdoor stadiums.
New York is working with New Jersey and Connecticut on protocols that would allow for increased capacity at stadiums based on attendees being vaccinated or tested for the coronavirus, the governor said Monday.
The state had already announced outdoor curfews at restaurants and bars will be lifted May 17, and indoor curfews will be removed May 31.
Florida Governor Ron Desantis on Monday also announced he was signing an executive order that overruled and suspended all local COVID-19 emergency orders, saying that widespread vaccination made it safe to do so.
Reuters