Pandemic pushes frontline workers to brink
Share - WeChat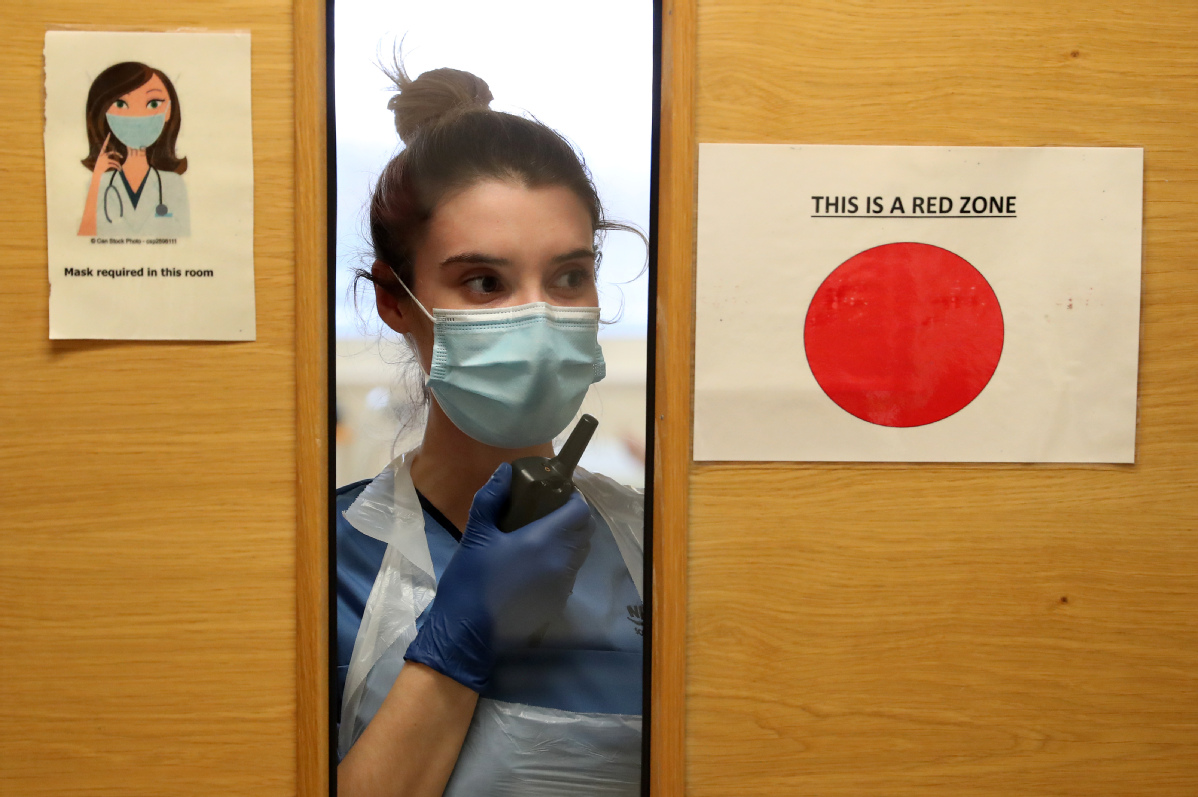 Little respite
Anne also had to take charge of redeployed medical workers from other departments drafted in to help the COVID-19 ward despite being fairly new to the job herself, which she said was overwhelming.
It would become too much for some of the redeployed workers, and they would leave or go home early, leaving her alone to care for the patients.
She recalled one night shift where she had no respite from her heavy workload, as well as dealing with the unprecedented levels of illness and death.
"My patient was dying, I called the family at 3 am and she died at 4 am with no one beside her," she said.
A few hours later, Anne was ringing the relatives of a second patient who was close to dying, asking the family to come in.
More than 127,000 people have died of COVID-19 in Britain since the pandemic began.
Though Anne and her colleagues are doing all they can despite the exhaustion, they still feel a sense of guilt, thinking they could have done more.
"You just feel so guilty for not being able to carry out your job to the best of your abilities, but you literally can't and are fighting a losing battle," she said. "New shifts turn up and I felt sorry for them. You stay behind a couple hours longer to help out and it felt like it was just getting worse. That day after work I didn't sleep, I had a breakdown."
The pressure on ICU staff has been particularly high, working in areas where the perceived risk of COVID-19 exposure is high for long periods, fear of transmission to family, and there is illness or death among friends and colleagues.
Healthcare workers also have to wear personal protective equipment for longer hours, deal with ethically challenging decisions, as well as staff management and equipment shortages.
Anne felt she needed to go into work otherwise she would be letting her team down. But in January, she was having suicidal thoughts.
"That's when I told work I couldn't go back in and got signed off by my doctor," Anne explained, adding she was having constant anxiety, crying frequently at night and having flashbacks of working in the COVID-19 ward.
Anne is just one of many other frontline healthcare workers across the world dealing with mental health trauma.
Research published in the March edition of scientific journal PLOS One found that more than one in five healthcare workers experienced anxiety, depression, or post-traumatic stress disorder during the pandemic.
The paper looked into 65 studies surveying 97,333 health workers across 21 countries. It identified a high prevalence of moderate depression, anxiety and PTSD among healthcare workers during the COVID-19 pandemic.
The study found that healthcare workers in the Middle East suffered from the highest rates of anxiety and depression.
A separate study revealed that healthcare workers in Italy experienced high levels of psychological distress and they may be at risk for future psychological health related consequences. Italy was badly hit by the virus during the first wave of the pandemic.
A survey by the Yale School of Public Health showed that nearly a quarter of all healthcare workers showed signs of PTSD out of the 1,092 healthcare workers surveyed in the United States, and almost half of them had probable alcohol use disorder.
According to a Reuters report, psychiatrists at the Mount Sinai Hospital in New York City predict that 25 to 40 percent of frontline healthcare workers and first responders in the US may suffer from PTSD as a result of their involvement in the pandemic.