Highways help villagers in Gansu out of poverty
By MA JINGNA in Lanzhou and CANG WEI in Nanjing | China Daily | Updated: 2021-05-04 10:17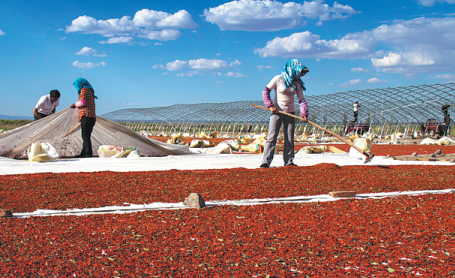 When Yang Shengxiang first arrived at Jinhe, a village in Guazhou county, Gansu province, in 2003, all he could see was barren saline-alkali soil surrounded by the endless Gobi desert.
Local farmers led a hard life by growing corn and wheat, until Yang, then 21 years old, taught them how to grow Chinese wolfberry, or Goji berry on the poor soil.
As of 2021, with the construction of the expressways, they managed to transport their Goji berry products to Beijing, Russia and the European Union.
Yang moved to the village together with his family to help the local fight against poverty in 2003. He shared his thoughts with the farmers and gradually earned their trust by helping them repair their houses, doing farm work and building roads.
In 2013, he was elected chief of Jinhe village and started to grow Goji berry after he visited a neighboring village that succeeded in growing the red fruit in saline-alkali soil. He first grew 3 hectares of the fruit, and expanded to about 35 hectares in three years.
Many local farmers joined his Goji berry company. The company also attracted 13 young people who were familiar with e-commerce and managed to cooperate with some of China's biggest online sales platforms.
Now, its products, with zero pesticide residue, which meets the standards of the EU, have been sold to, Russia and many European countries.
"The village now grows more than 1,930 hectares of Goji berry," said Yang. "The average yearly income of local farmers has grown from 5,760 yuan ($888) to 9,841 yuan."
"I just tried what I could to help the locals improve their former poverty-stricken lives," he said.
Zhang Wenyu is another village chief who has helped local farmers change their lives in Xinfeng village of Yumen city, Gansu province.
To set an example for the local farmers and attract them to grow Chinese chives, Zhang once spent 100,000 yuan to build greenhouses to grow the vegetable.
The construction of highways near the village also helped him and his colleagues transport the vegetable to cities across the country.
In 2020 and 2021, their high-quality Chinese chives were transported to Beijing during the "two sessions", the country's top two political meetings.
Thanks to the convenient transport links, they have set up 16 retail centers in many cities, including Urumqi in the Xinjiang Uygur autonomous region and Xining in Qinghai province.
Contact the writers at cangwei@chinadaily.com.cn