Air travel, tourism steadily rebounding
By HENG WEILI in New York | China Daily Global | Updated: 2021-05-04 11:11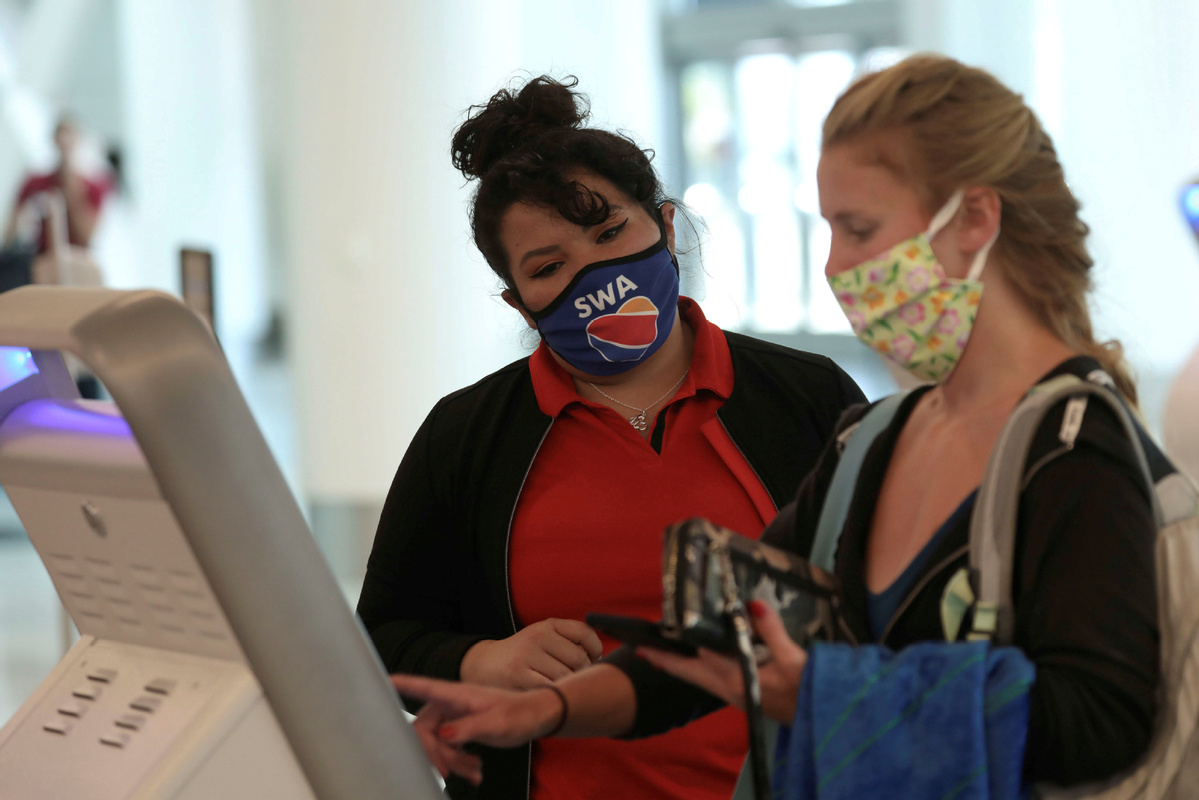 Perhaps the most telling signs of pandemic recovery are the levels of air travel and tourism. With the peak summer travel season approaching, things appear to be moving closer to normal.
The United States set a record over the weekend for the number of air travelers since the COVID-19 pandemic took hold.
Nearly 1.67 million people were screened at US airport checkpoints Sunday, according to the Transportation Security Administration (TSA) — the highest number since March 12, 2020, when passenger flying sharply dropped.
Airlines started to see an increase in bookings around mid-February, and the TSA has screened at least 1 million people daily since March 11.
Vacation destinations have been the most popular but business travel, which is more profitable for airlines, remains drastically reduced. Business trips likely will follow if and when more workers return to offices in major cities.
Airline executives are cautiously optimistic about summer travel as more Americans get vaccinated against COVID-19. The Centers for Disease Control and Prevention says it is safe for vaccinated people to travel within the United States, although it continues to warn against travel to most foreign countries.
Over the weekend, Delta Air Lines reopened middle seats on its planes. It was the last US airline to limit seating as a coronavirus safety precaution.
Major tourism destinations in the US have been on the rebound for some time.
Las Vegas is booming again after casino capacity limits were raised Saturday to 80 percent and social distancing was dropped to 3 feet (0.9 meters).
"Now that the virus has been reduced and there's vaccine solutions in place and everyone has availability to it by May, that means that you're starting to see the floodgates open up," Lori Nelson-Kraft, a spokeswoman for the Las Vegas Convention and Visitors Authority, told The Washington Post. "That pent-up demand, you can just really feel it."
Las Vegas has been one of 2021's most popular domestic travel destinations, according to Priceline, a hotel and flight booking website. The number of visitors has been climbing steadily for months, along with the famed Strip's gambling revenue.
The region's major airport, McCarran International, processed nearly 2.6 million passengers last month –– up 961,000 from about the 1.6 million arriving and departing in February, according to the Reno Gazette-Journal.
Florida, which has long favored minimal coronavirus restrictions, also remains a top travel destination.
"We're optimistic recent industry trends indicate a sustained travel recovery that will help fast-track FLL (airport) back to pre-COVID-19 performance levels or higher," Mark E. Gale, aviation director of the Fort Lauderdale-Hollywood International Airport, told the South Florida Sun Sentinel.
Florida Governor Ron DeSantis signed legislation giving him authority to invalidate local emergency measures put in place during the outbreak. While the law doesn't go into effect until July, the Republican governor said he will issue an executive order to more quickly drop local mask mandates.
"I think this creates a structure that's going to be a little bit more respectful, I think, of people's businesses, jobs, schools and personal freedom," he said.
Travelers also appear willing to open their wallets at airport shops.
"We're noticing that travelers who are shopping are buying high-ticket, luxury items, including jewelry, high-end handbags, sunglasses, and wallets. Things we wouldn't expect pandemic passengers to buy," Jim Tyrell, chief revenue officer at the Philadelphia International Airport, told NBC News. "It's like you have people who have decided to travel and now they are all in."
Los Angeles County, a major tourism destination that has long been a favorite of Chinese tourists, reported no coronavirus deaths on Sunday and Monday, a sign that could move the county to allow an increase in capacity at events and venues and indoor service at bars.
LA County still has the most coronavirus cases and deaths of any US county, with more than 1.23 million infections and nearly 24,000 deaths, according to the John Hopkins University Coronavirus Resource Center.
The Los Angeles Tourism & Convention Board estimates visits to LA will increase 42 percent this year over 2020 but won't reach 2019 levels until 2024. The area also expects to see fewer international travelers. In 2019, about 85 percent of LA visitors were domestic; the board estimates almost 92 percent will be domestic this year.
Government restrictions have limited international travel, another lucrative part of the airline business.
In a letter Monday, nearly 50 US and UK travel-industry groups urged President Joe Biden and British Prime Minister Boris Johnson to lift travel restrictions between the two countries.
The groups called for "the full reopening of the US-UK air travel market for both US and UK citizens" before the G7 meeting in early June.
EU officials also announced a proposal Monday to relax restrictions on travel to the 27-nation bloc this summer, though the final decision is up to its member countries.
"Time to revive EU tourism industry and for cross-border friendships to rekindle — safely," European Commission President Ursula von der Leyen said.
"In Germany, Bavarian officials canceled Oktoberfest for a second year in a row because of safety risks. In Italy, medical experts and politicians expressed concern about a possible spike in infections after tens of thousands of jubilant soccer fans converged on Milan's main square Sunday to celebrate Inter Milan's Serie A league title.
More tragic news is coming out of India, which on Monday reported nearly 370,000 new coronavirus cases and more than 3,400 deaths.
US pharmaceutical company Pfizer said Monday it is holding talks with the Indian government over an "expedited approval pathway" for its COVID-19 vaccine.
The Associated Press contributed to this story.