China to back multilateralism in UN Security Council turn
By LIU YINMENG in Los Angeles | China Daily Global | Updated: 2021-05-04 11:12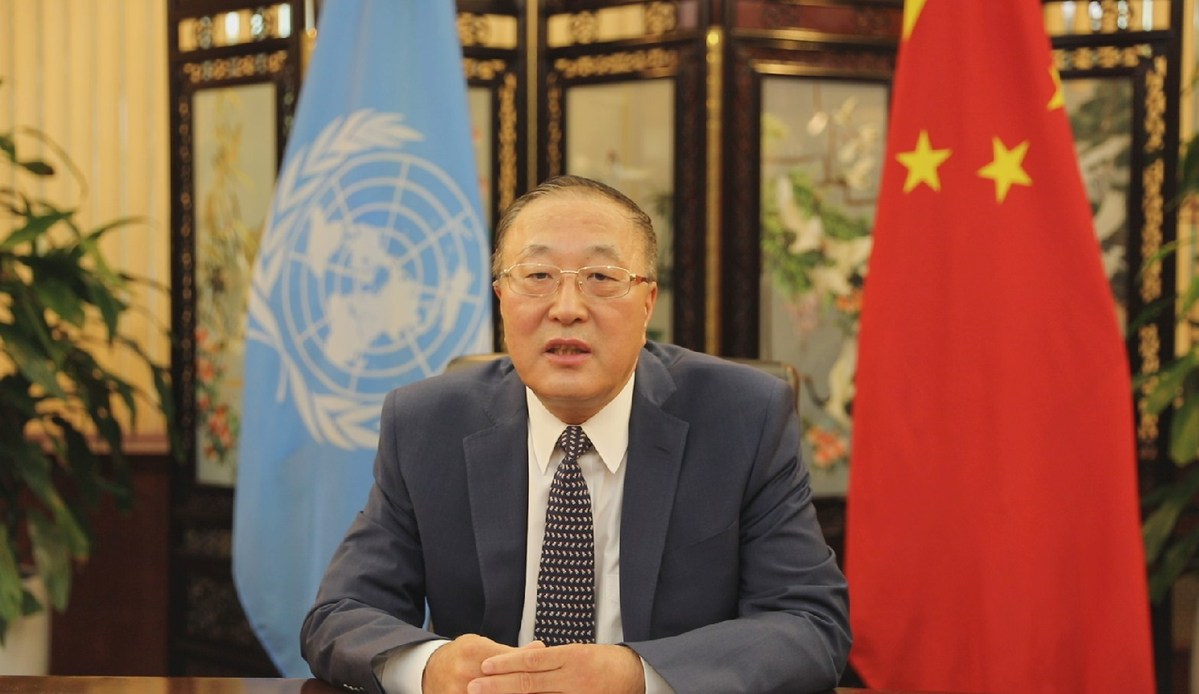 China pledges to uphold multilateralism and push for enhanced cooperation in the United Nations Security Council in its capacity as rotating council president for May.
In a press briefing on Monday, Zhang Jun, China's permanent representative to the UN, said the Security Council bears the primary responsibility of maintaining peace and security.
In the face of various global challenges, the international community looks to the Security Council to strengthen unity and cooperation, play a greater role, and maintain a peaceful and stable international environment, he said.
"For China, we will adopt a responsible and constructive approach in presiding over the work of the council for the month of May. We will try our best to maintain the continuity, the openness, the inclusiveness, the transparency of the council," the ambassador said.
Zhang said China will stay in close contact with all Security Council members and all member states of the General Assembly as well as other main bodies to make sure the council plays its part this month.
"For China, of course, this is not our first presidency, however, we do attach great importance to the work of the presidency, and we fully understand our responsibilities," he added.
Zhang highlighted several priorities in the program of work for May, the first of which is "firmly upholding and practicing multilateralism to support the UN in playing a central role", Zhang said.
"It is becoming more and more evident that in tackling the current global crisis, multilateralism represents the right way out," the envoy said.
In that regard, China will convene a high-level meeting on May 7. The meeting is expected to be chaired by China's State Councilor and Foreign Minister Wang Yi. General Assembly President Volkan Bozkir will give a briefing.
Another issue that China intends to tackle is promoting solidarity and cooperation to fight the COVID-19 pandemic and restore development in conflict areas.
Conflicts in Africa account for more than half of the situations on the Security Council agenda, Zhang said. It's the shared responsibility of the international community to help African countries in conflict to overcome the pandemic and promote post-conflict reconstruction, peace-building and pandemic recovery.
As a result, the Security Council will host a high-level debate on "Peace and security in Africa: Addressing root causes of conflict while promoting post-pandemic recovery in Africa" on May 19.
It will be chaired by Wang Yi and briefed by Secretary-General António Guterres, UNDP Administrator Achim Steiner and a representative of the African Union Commission.
To effectively respond to increasingly complex security threats in the world, the UN needs to strengthen its capacity and institution building as well as to further improve its working methods and the effectiveness of its work, Zhang said.
Taking peacekeeping as an example, there have been major changes in the scale and intensity of conflicts over the past 20 years, the envoy said. Traditional and non-traditional security factors constitute severe threats to the safety of UN peacekeepers.
China will call for an open debate on "United Nations peacekeeping operations: Improving safety and security of peacekeepers" on May 24.
China hopes to encourage the international community to increase input and seek appropriate solutions to major challenges facing peacekeepers.
Another issue that China seeks to examine is the impact of emerging technologies on international peace and security and how to mitigate potential risks. The Security Council will take a closer look at this issue in an Arria formula (informal) meeting scheduled for May 17.
China will continue to push for improvement of the Security Council's working methods to raise efficiency, transparency and inclusiveness, Zhang said. It will also step up communication on all sides.
The ambassador said May will be "a busy month" under China's presidency, with more than 20 meetings with the aim of promoting peaceful settlement on regional hot spot issues.
Meetings on Bosnia and Herzegovina, Syria, the Middle East, Yemen, Iraq, Somalia, Sudan, and protection of civilians in armed conflict are on the agenda.
The extension of mandates of the United Nations Interim Security Force for Abyei, sanction measures on South Sudan, and the United Nations Assistance Mission for Iraq also will be discussed.
"In Chinese culture, the month of May is a time to work," said Zhang. "An old Chinese saying goes, farmers have little time for idleness, and the month of May is a busiest time. Only by working hard can we expect a good harvest."