Biden ramps up vaccine target amid hesitation
By AI HEPING/BELINDA ROBINSON | China Daily Global | Updated: 2021-05-06 08:45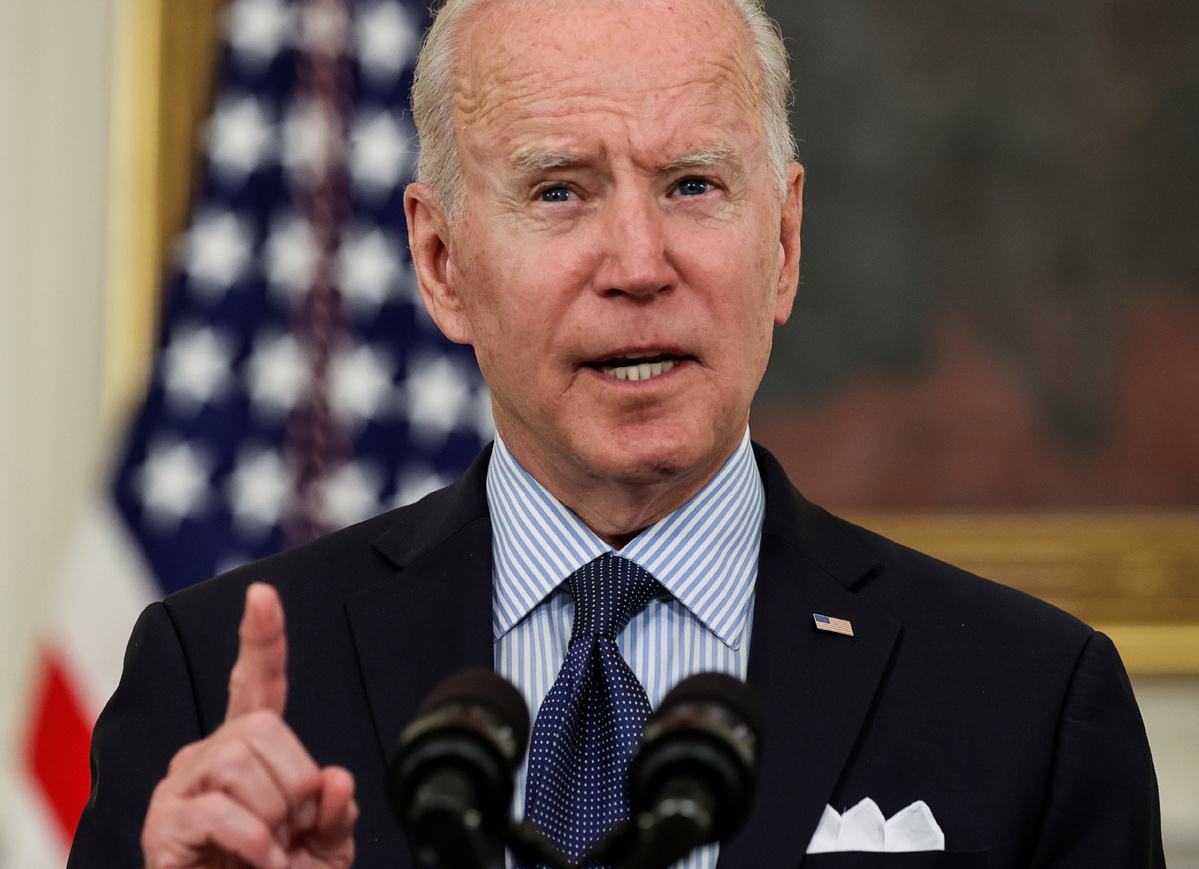 US among many nations boosting jab plans to combat COVID-19 outbreak
US President Joe Biden on Tuesday announced a new goal to have 70 percent of US adults vaccinated with at least one COVID-19 shot by the July 4 holiday, and to do so the administration will shift some vaccine doses to those areas with greater demand.
Biden's target came as the pace for vaccinations has fallen markedly in part because people are hesitant about the vaccines. It would mean administering 100 million shots over the next 60 days, senior administration officials said on Tuesday. The US administered about 220 million shots in Biden's first 100 days as president.
"Now that we have the vaccine supply, we're focused on convincing even more Americans to show up and get the vaccine that is available to them," Biden told reporters in an afternoon address from the White House. "If we succeed in this effort … then Americans will have taken a serious step toward a return to normal."
Biden had previously announced the Fourth of July, Independence Day, as a target date for when people can gather in small groups to signal a return to greater normalcy.
A US official told reporters that 105 million US residents are fully vaccinated, and more than 56 percent of adults, or 147 million people, have received at least one shot.
Despite a flood of vaccines available, providers are administering about 2.29 million doses per day on average, a decrease of 32 percent from the peak of 3.38 million doses reported on April 13, according to data from the Centers for Disease Control and Prevention.
The White House is also developing plans to speed up vaccinations for adolescents aged 12-15 as the Food and Drug Administration is expected to authorize the Pfizer vaccine for those in that age group next week.
Those who are hesitant to get a COVID-19 vaccine are being offered a host of incentives, including cash and gift cards by states and cities.
Scientist Jonathan Berman said that people opposed to vaccines tend to remain steadfast in their refusal to get vaccinated. But the vaccine-hesitant can be persuaded.
"Vaccine-hesitant people usually end up getting vaccinated but may need encouragement or to be reassured," he told China Daily.
Shikha Jain, an assistant professor of medicine at the University of Illinois in Chicago and co-founder of IMPACT, a group that works to improve the equitable distribution of vaccines, told China Daily that some people also don't have easy access to smartphones or computers to book an appointment.
Booster trials
In Britain, which like the US got off to an early start with its vaccination program, everyone aged over 50 will be offered a third COVID-19 vaccination jab in the autumn, The Times newspaper reported.
It is hoped the booster shots will eradicate the threat from the infection entirely by Christmas. Trials of two options are under way, the newspaper said.
Some 34.6 million people in Britain have been given a first dose of a COVID-19 vaccine, government statistics showed on Tuesday.
People from Britain will be able to fly to Gibraltar and Malta, but not to Spain and Greece, under UK Prime Minister Boris Johnson's green light system for travel, The Sun newspaper reported on Tuesday.
With vaccines among the main weapons in the fight against the pandemic, pharma giant Pfizer reported a 45 percent jump in first-quarter revenue largely due to its COVID-19 shot, as a campaign for patent waivers gathers pace for poorer nations to get more vaccines.
Among the leaders of that campaign is India, which is grappling with one of the world's worst outbreaks.
"The devastating speed with which the virus affects different regions of the country has to be matched by swift and wide-ranging actions," Reserve Bank of India governor Shaktikanta Das said as he announced $6.7 billion in cheap financing for vaccine makers and hospitals.
On Wednesday, the Philippines' Food and Drug Administration granted emergency use authorization for a vaccine from Moderna, FDA Director General Enrique Domingo said.
Moderna's is the seventh COVID-19 vaccine given the green light by the FDA.
Agencies and Xinhua contributed to this story.