Creating synergy
By Cheng Yuezhu | China Daily | Updated: 2021-05-06 07:33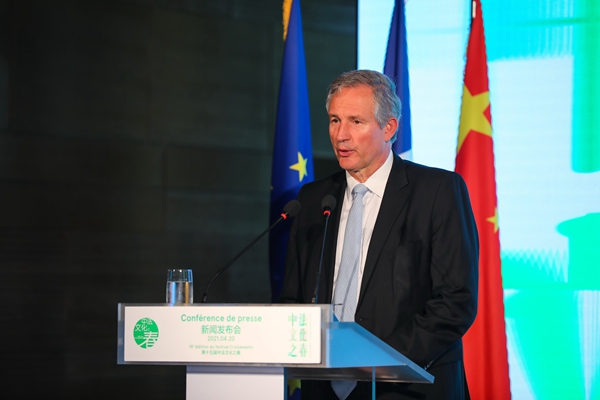 French cultural festival in China resumes with an eclectic repertoire of events in 14 cities, Cheng Yuezhu reports.
Festival Croisements returns this year with an eclectic repertoire of events from the fields of music, drama, visual arts, cinema, dance, books and fashion.
Organized by the French embassy in China and Institut Francais, the festival, after a year of suspension due to the COVID-19 outbreak, began on April 21. It runs through July 31, with some 78 events being hosted in 14 cities in China, including Beijing, Shanghai, Chengdu in Sichuan province and Wuhan in Hubei province.
The festival aims to promote cultural exchanges between France and China.
Laurent Bili, French ambassador to China, says each year the festival provides Chinese and French artists new opportunities to collaborate and highlight their work.
This year's festival also proves the vitality of creativity and an urge for bilateral cultural exchanges, Bili adds.
As 2021 marks the centenary of the death of French composer Camille Saint-Saens, the Chinese musical group DNA Trio, comprising pianist Zhang Jialin, violinist Zhang Jingye and cellist Song Zhao, together with composer Zhou Jing, will present a tribute concert at the Forbidden City Concert Hall in Beijing on June 24.
The works of Saint-Saens, along with those of French composers Cesar Franck and Hector Berlioz, will also be available online, with a concert performed by Orchestre National de France at the Paris Philharmonic concert hall, which will be streamed on Chinese platforms Bilibili and Sina Weibo to accommodate a wider audience amid COVID-19 travel restrictions.
Works created jointly by Chinese and French artists will be highlighted at this year's festival.
Qfun Theater, a troupe dedicated to children's drama education in China since 2013, has worked alongside Hybridites France-Chine, an organization founded in France that promotes France-China artistic exchanges, in adapting Flowers in the Mirror by Chinese novelist Li Ruzhen (1763-1830) into a stage play. Performed entirely by children, the play uses puppetry and masquerading to realize surreal scenes and plots of the classic fantasy.