Travel on rail network peaks as holiday ends
By LUO WANGSHU | CHINA DAILY | Updated: 2021-05-06 08:42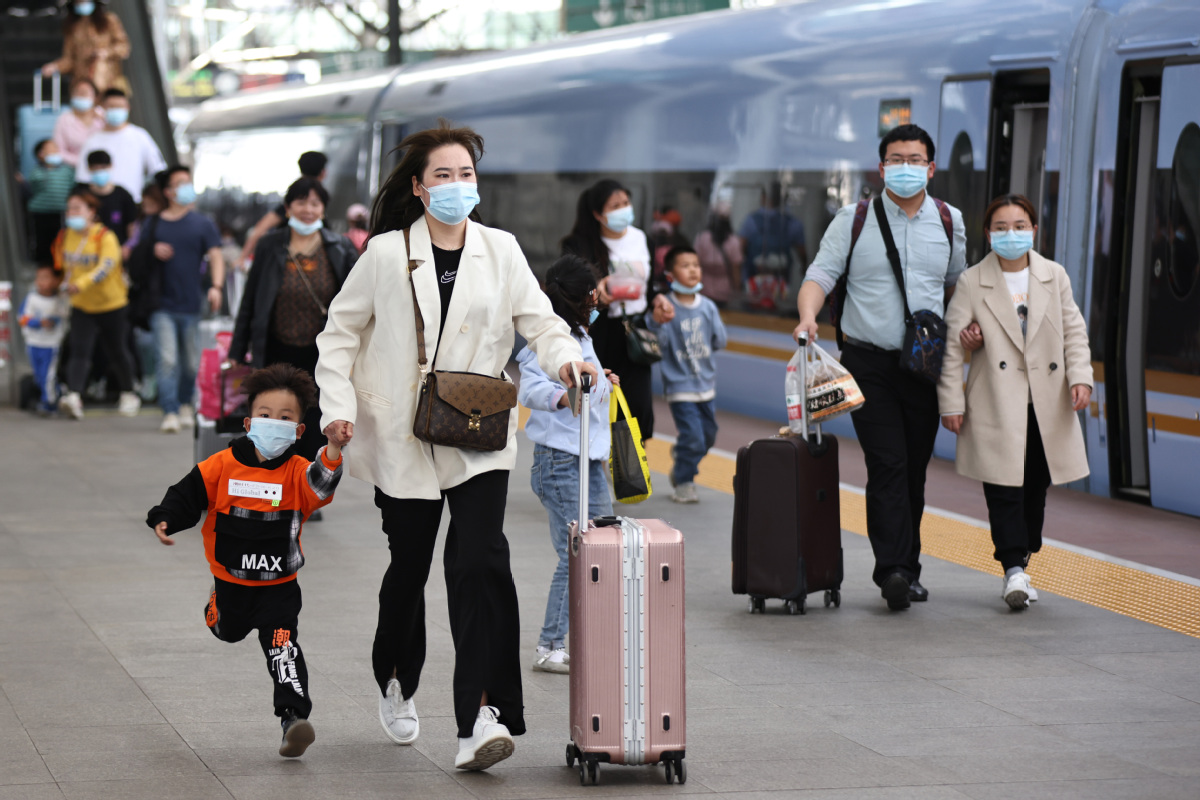 China's railway network saw a return-travel peak on Wednesday as the May Day holiday ended, and the daily number of railway passenger trips during the holiday period exceeded pre-COVID-19 levels.
On Wednesday, the last day of the five-day holiday, 17.2 million railway trips were expected to be made, an increase of 30 percent from the same period in 2019, according to China State Railway Group, the national railway operator.
On Saturday, the first day of the holiday, the country saw 18.83 million passenger trips, up 9.2 percent compared with 2019, before the COVID-19 breakout.
The May Day holiday travel boom follows the rush during the three-day Tomb Sweeping holiday in early April. People were encouraged to stay put during the Spring Festival travel rush from January to March due to pandemic control concern.
On Saturday, some rail passengers' trips were interrupted as they were stranded at Beijing West Railway Station due to delays of high-speed trains. A power outage caused by strong winds had occurred at a section of rail in Dingzhou, Hebei province, on the Beijing-Guangzhou high-speed railway.
It caused several cancellations and delays as thousands of passengers were stranded at the station. Railway operators were blamed for a poor response in handling the emergency, including failure to provide travel information updates to passengers.
The station later posted a statement on its social media platform, apologizing to passengers, explaining the reason for the delays and saying affected passengers could get a full refund in 30 days.
According to Beijing Railway Group, the power failure was caused by plastic sheets used in farming. Railway police in Shijiazhuang, Hebei, found that a farmer surnamed Zhao had used the plastic sheets near the Beijing-Guangzhou high-speed railway. An investigation was underway.
During the holiday period, strong winds also caused other objects to interfere along rail lines, including along the Beijing-Xiongan and Beijing-Shanghai lines, and this, too, resulted in power failures and delays.
According to a guideline for the safe operation of high-speed railways that was jointly issued by seven ministries, including the Ministry of Transport, airborne objects including kites, balloons and flying lanterns are forbidden within 500 meters of high-speed rail lines.
In addition, also within 500 meters of rail lines, lightweight materials such as plastic sheets, advertisement boards and webbing to prevent dust are required to be secured or removed by the owners of the material during windy conditions to prevent hazards along rail lines.
He Chenglin, an engineer from Beijing Railway Group, said electricity is the sole power used in the operation of high-speed trains, and objects that interfere with power lines above the rails can cause outages.
He said the equipment is stable and safe, but controlling stray objects is a challenge. Such objects include plastic bags used in farmers markets, anti-dust webbing at construction sites and the string of kites.
"Those objects are hard to control. Except for tunnels, railways run in open spaces, and risks remain when passing through cities and villages," he said. Preventive measures include patrolling along rail lines to prevent such objects from interfering.
A comparison of satellite imagery to detect stray objects along railway lines can advise operators in advance to better address the problem in the future, Beijing Daily reported.