China major talking point at London G7 gathering
By EARLE GALE in London and ZHAO HUANXIN in Washington | CHINA DAILY | Updated: 2021-05-06 09:01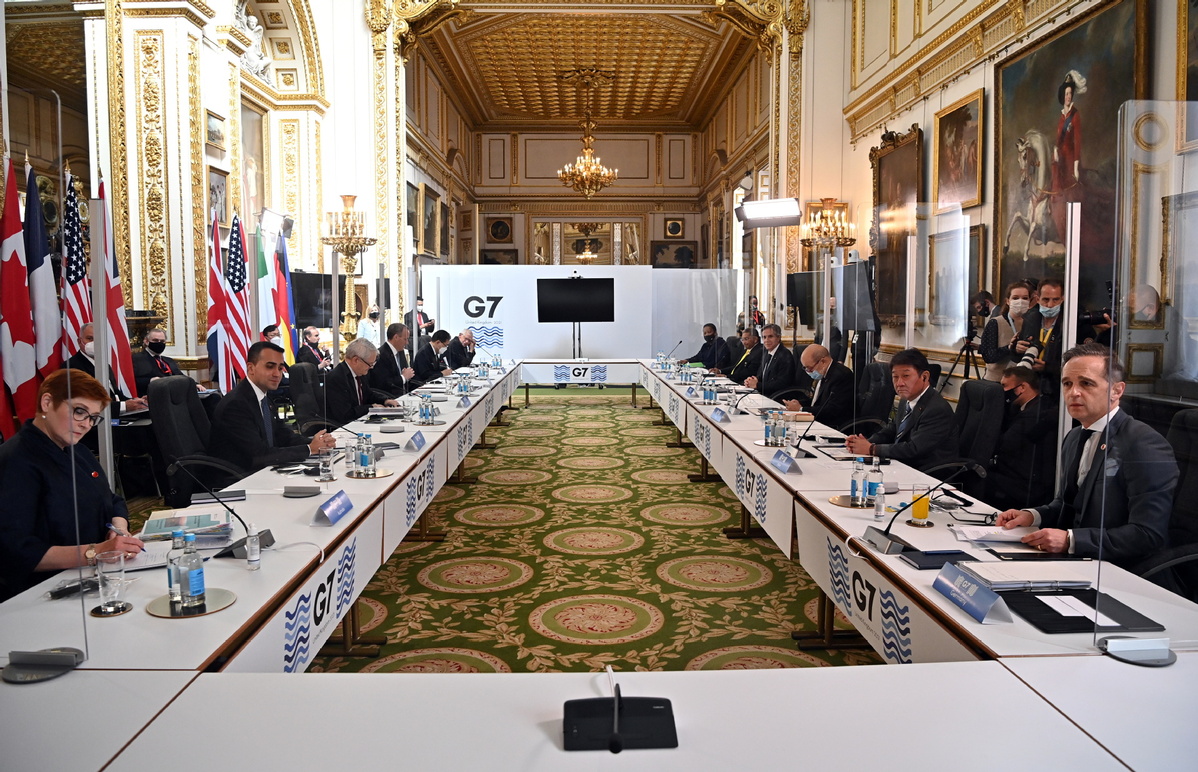 China loomed large on the agenda when foreign ministers from Canada, France, Germany, Italy, Japan, the United Kingdom and the United States sat down in London this week for the first face-to-face G7 meeting for two years.
The gathering, experts said, will have done little to persuade China that the world's leading industrialized powers are not out to get it. And the fact that the UK, the holder of the rotating G7 presidency, invited India, the Republic of Korea, South Africa and Australia may have added to that feeling.
UK Foreign Secretary Dominic Raab told the BBC that the gathering on Tuesday and Wednesday "demonstrates that diplomacy is back".
The talks on Tuesday reportedly started with an hour-and-a-half session about China, and half-hour sessions on Myanmar, Syria, Libya and Afghanistan. A separate discussion covering Russia, Ukraine and Belarus reportedly lasted 90 minutes.
Reuters reported that an unnamed US official said at a news briefing after the first day: "China was the dominant topic today. We opened with it because it was the most important agenda item for us, out of the many important things that we had to discuss."
The official added that all participants said nations must counter challenges arising from China's economic growth. He said they also resolved not to attempt to contain Beijing, or to escalate tension.
The US has in recent years pressured some of its allies to take moves against the overseas growth of Chinese enterprises, such as telecom giant Huawei. It has also joined hands with some Western countries to accuse China of violating human rights in places such as its Xinjiang Uygur autonomous region.
The Chinese government said that they have built their accusations on fabrications and lies that are not supported by any solid evidence and they are attempting to thwart China's normal development.
The London meeting is likely to culminate in the release of a communique from US Secretary of State Antony Blinken and his counterparts that sources say will include a call for the Chinese province of Taiwan to be invited to join international organizations, including the World Health Organization.
The editor-in-chief of China's Global Times newspaper, Hu Xijin, wrote in response that G7 ministers should not meddle in China's affairs.
"I couldn't help but say that they are the most good-for-nothing elite since the end of WWII, because they have abandoned a basic sense of shame and do not seek truth based on facts," he wrote.
Blinken insisted in an interview with the Financial Times that Washington is not obsessed with "trying to contain China, or to hold China down".
"What we are about is upholding the international rules-based order that we've invested so much in over many decades, that has served us well, but not just us," he said. "We think, for all its imperfections, it's served the world pretty well."
He said "anyone who takes action that would disrupt that order", or who seeks to undermine it, will be opposed.
The BBC said on Wednesday that UK Prime Minister Boris Johnson and Blinken met privately in London to discuss the "close alignment" of the UK and US.
A spokeswoman for the UK prime minister said they agreed to collaborate on tackling the novel coronavirus as well as on trade and defense.